NC State football countdown to kickoff: 74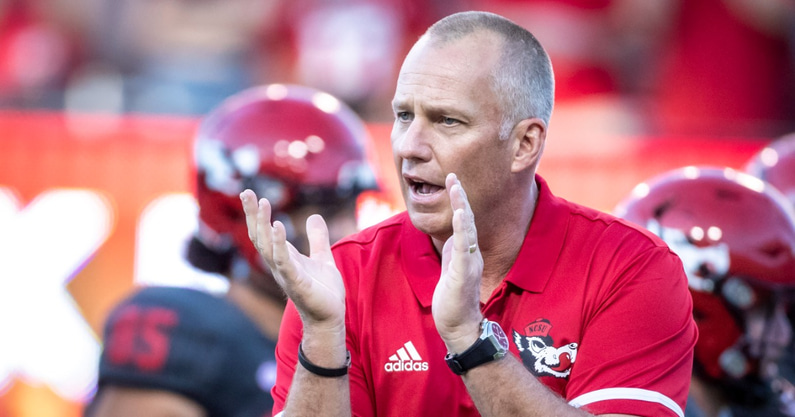 The NC State football season opener for 2022 is at East Carolina on Sept. 3 — or 74 days away from Tuesday. The Wolfpacker continues its countdown for the season with a note about the number 74.
74: Significant moments involving the number 74 in NC State football history
• Few teams in NC State football history could run the football like the 1974 squad. Led by the running back tandem of Stan Fritts and Roland Hooks and Johnny Evans at quarterback, that team shattered quite a few rushing records.
Fritts ran 245 times for 1,169 yards, a rushing total that marked just the second time a Wolfpack runner eclipsed 1,000 in a season and was a school record at the time. Nearly 50 years later, Fritts' season total is still fifth all-time in NC State football history. He ran for at least 100 yards in five games that year and was named a second-team All-American by the Associated Press.
Hooks rushed 136 times for 850 yards that year, which is still 19th most in one season at NC State. He scored 13 touchdowns — nine on the ground and four in the passing game. Hooks had the record for most touchdowns by a NC State player in a season who had both multiple running and receiving scores until Matthew Dayes in 2014 ran for eight TDs and caught five to tie Hooks.
Both Fritts and Hooks went over 100 yards rushing against Clemson in 1974, combining to rush 40 times for 284 yards that day.
For good measure, Evans ran for 227 yards from the quarterback position. That's the 13th highest total in NC State history for a single season by a quarterback. Evans to date remains the all-time leader among Pack signal callers in rushing yards with 1,259.
That team overall would average 246.6 yards per game, which remains the third-best mark in NC State history for a season.
The 1974 squad coached by Hall of Famer Lou Holtz also holds the distinction for the highest finish in the AP poll — checking in at No. 11 after going 9-2-1, highlighted by a late-season 12-7 home win over No. 7 Penn State.
• One of the most important players on this year's roster wears No. 74. Redshirt sophomore tackle Anthony Belton is in contention to replace All-American Ikem Ekwonu at left tackle. At 6-foot-6, 330 pounds, the Tallahassee, Fla., native looks the part.
He was a junior college transfer who had an interesting recruitment. Belton originally committed to TCU before reopening and considering other schools. Then Belton waited till the last day of the December signing period to sign with NC State over a late push from Kentucky.
——
Talk about NC State football inside The Wolves' Den
Subscribe to our YouTube channel
Learn more about our print and digital publication, The Wolfpacker
Follow us on Twitter: @TheWolfpacker
Like us on Facebook