NC State football countdown to kickoff: 99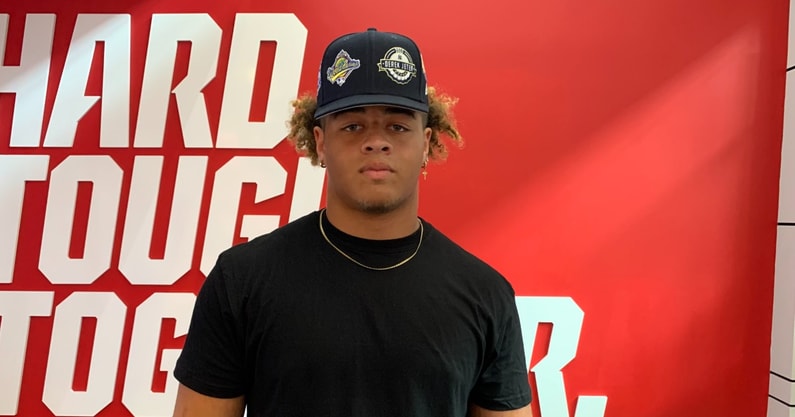 The NC State football season opener for 2023 is at Connecticut on Aug. 31 — or 99 days away. TheWolfpacker.com's countdown for the season looks at the significance of the number 99 in Pack history.
NC State Football And No. 99
• The current No. 99 on the NC State football roster is D.J. Jackson, a redshirt freshman defensive tackle from Sumter (S.C.) High. Jackson has an opportunity this fall to get on the field as a reserve along the interior of the line, but first he must prove to be healthy.
NC State landed Jackson despite a early summer push from South Carolina just as Jackson was getting close to deciding. Had that Gamecocks' offer come earlier, it's possible Jackson would have been in Columbia instead of Raleigh, but Jackson chose to reward NC State's loyalty.
Unfortunately for Jackson, he tore his ACL the summer prior to his senior season. He has been working his way back ever since. He did not play in NC State's spring game.
• The year 1999 was the last season as head coach of NC State football for Mike O'Cain. The Wolfpack went 6-6 that fall, including 3-5 in the ACC. The year began promisingly with an upset win at No. 16 Texas, coached then by Mack Brown, followed by home wins over South Carolina and William & Mary.
However, a stunning loss in Charlotte to a North Carolina team who had one prior win and was quarterbacked, due to injuries, by a converted safety followed by a season-ending 23-6 defeat at No. 21 East Carolina sealed O'Cain's fate.
He ended he tenure at NC State with a 41-40 overall record. Counting Dave Doeren, the last five coaches for the Wolfpack have had winning records. O'Cain had the lowest winning percentage of the five at 50.6 percent, but his 46.4 percent success rate in ACC games is actually second best amongst the group, although Doeren is not far behind at 46.3 percent.
• Twice, NC State football has had a 99-yard play.
Former running back/receiver Darrell Blackman. In 2007, Blackman had a 99-yard return for a touchdown during a 42-20 home loss to Clemson in Raleigh. Blackman is still third all-time in school history with an average of 26.3 yards per kickoff return.
Cornerback Sebastian Savage would have five interceptions in 1991, and two of them came in the red zone against North Carolina. The latter of the two practically ended the game.
With NC State leading 17-7, UNC had a third and goal from the NC State 6-yard line with 20 seconds left. North Carolina quarterback Chuckie Burnette was intercepted off a tipped pass by Savage at the 1-yard line, and the cornerback sprinted away the Heels 99 yards for a touchdown, crossing the goal line with four seconds to go for the final 24-7 margin.
NC State would finish the regular season 9-2 and No. 21 in the poll before losing to No. 12 East Carolina in the Peach Bowl.