NC State wrestling tied for fourth at NCAA championships after day one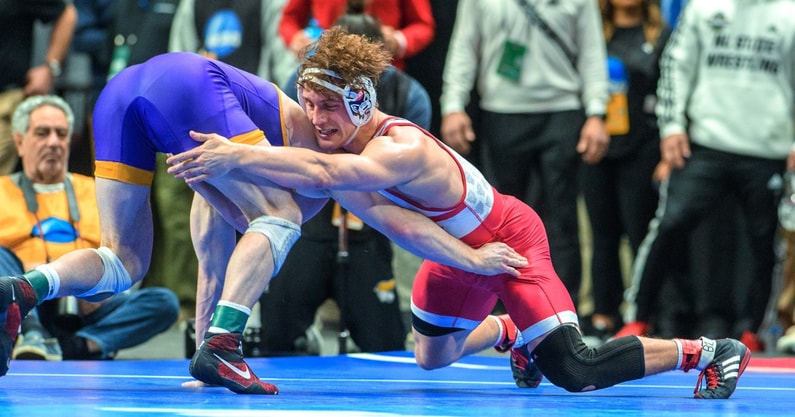 NC State wrestling started strong at the NCAA Championships in Tulsa, Okla., and although the second round was not as kind for the Wolfpack, 8 of 9 wrestlers are still alive going into day two. Overall, the Pack is tied for fourth in the team standings.
Subscribe to The Wolfpacker today with our limited-time $29.99 deal for premium access until 8/31/23
Seven of the eight won their opening round matches, highlighted by redshirt sophomore 133-pounder Kai Orine executing another cement mixer for a pin. Orine used a similar move in sudden death overtime to win the ACC Championship in his most previous bout.
Redshirt junior 184-pounder Trent Hidlay had a technical fall for bonus points, while redshirt sophomore heavyweight Owen Trephan contributed more bonus points by winning via major decision.
Redshirt junior 125-pounder Jarrett Trombley was also able to score an upset, as the No. 20 seed topped No. 13 seed Dean Peterson of Rutgers , 4-3.
The second round though saw all but Orine and Hidlay drop their matches, with two Pack wrestlers pinned in the process. Both Orine and Hidlay, though, added more bonus points after each won by major decisions over their respective opponents to reach the quarterfinals. A win in their next match would clinch All-American status for each.
The only wrestler for NC State eliminated was redshirt junior 174-pounder Alex Faison, who lost a pair of competitive decisions in the double-elimination format.
Those were defeated in round two need to win three straight matches to reach All-American status, which is a top 8 finish.
Here is a quick preview of the action on Friday at the NCAA Championships for NC State wrestling
Quarterfinal — 12 pm (ET) on ESPNU
133: No. 5 Kai Orine (NC State – 17-5) vs. No. 4 Michael McGee (Arizona State – 22-10)
– The two met in Las Vegas in early December. McGee claimed an 18-4 major decision.
184: No. 2 Trent Hidlay (NC State – 22-1) vs. No. 7 Hunter Bolen (Virginia Tech – 21-5)
– Hidlay won the dual this year, 5-3 in OT. It was the first match-up between the two that had more than one takedown. Bolen won the first three showdowns between the two, but Hidlay has won the last three.
Consolation Round 2
125: No. 20 Jarrett Trombley (NC State – 14-7) vs. No. 14 Noah Surtin (Missouri – 17-6)
141: No. 5 Ryan Jack (NC State – 21-4) vs. No. 22 Malice Hines (Lehigh – 18-12)
149: No. 16 Jackson Arrington (NC State – 21-8) vs. No. 18 Mitch Moore (Oklahoma – 19-8)
157: No. 8 Ed Scott (NC State – 19-8) vs. No. 23 Peter Pappas (George Mason – 24-4)
197: No. 6 Isaac Trumble (NC State – 20-5) vs. No. 28 Jacob Koser (Navy – 26-11)
285: No. 7 Owen Trephan (NC State – 22-4) vs. No. 25 Michael Wolfgram (West Virginia – 21-13)
From The Wolves' Den message board — paths to the podium for each wrestler in the consolations
NCAA Championships team scores after rounds 1 and 2
Penn State – 26
Iowa – 21.5
Missouri – 17.5
Minnesota – 16.5
NC State – 16.5
Cornell – 15.5
Nebraska – 15.5