Where do NC State's 2023 commits rank in the new On300?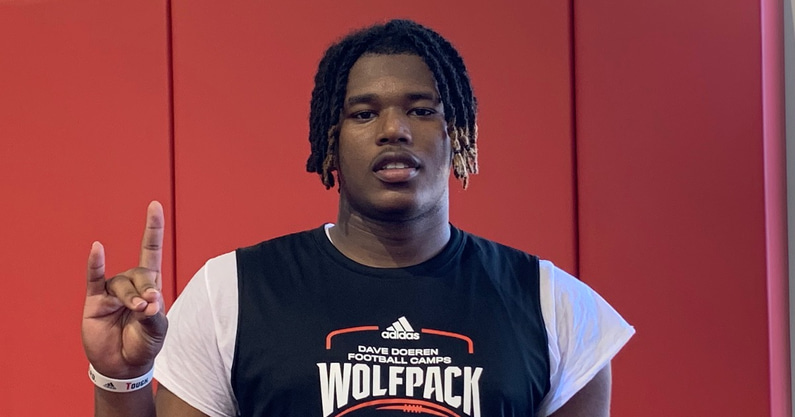 With one month until the class of 2023 starts signing its national letters of intent, On3 released its most recent senior class top-300 rankings. The announcement solidifies the four-star prestige of four recruits in NC State's 2023 class and slots the program at No. 36 in the team ranking. 
Four-star tight end Javonte Vereen, four-star cornerback Brandon Cisse and four-star offensive lineman Darion Rivers all made the list. Daemon Fagan, a four-star safety commit, dropped off of the list.
Subscribe to The Wolfpacker today with our limited-time offer for potential new subscribers: $10 deal for premium access until 8/31/23
Here's a breakdown of where NC State's top-ranked commits ended up in the On300.  
Darion Rivers 
New ranking: No. 235
Old ranking: No. 258
The Breakdown: Rivers climbed up the rankings 23 spots to become the highest-ranked prospect in NC State's 2023 class. He just wrapped up his senior season with West Charlotte High and plans to enroll early at NC State. Florida, Florida State and Penn State have all reached out, but he is solid with the Wolfpack. 
"I am not going anywhere else," Rivers told The Wolfpacker. "All these other schools, they can talk to me and everything, but I'm very solid. I'm set."
On3 considers him the No. 9 prospect in North Carolina and wrote this scouting report on the offensive tackle. 
"Long and lean tackle prospect who brings his body control and athleticism from the hardwood to the gridiron on Friday nights. Body type appears to be able to carry substantial weight. Stands in at 6-foot-5.5, 250 pounds with over a 6-foot-9 wingspan and nearly a 10-inch hand. Two-way player who is a solid defensive end in his own right. Shows burst and twitch when coming off the line of scrimmage. Extremely impressive foot quickness and balance in pass protection. 
"Plays under control and with excellent leverage. Plays violently and looks to finish defenders on every snap. Lacking ideal functional strength but is a given due to lack of mass at this point. Will naturally get bigger and stronger as he physically develops. Has top-100 NFL upside off size and athletic traits alone. If he can add the necessary strength and mass, he has one of the highest ceilings in the country along the offensive line."
Javonte Vereen 
New ranking: No. 255
Old ranking: No. 239
Senior year stats: The four-star NC State-commit caught 72 passes for 1,098 yards and 10 touchdowns, and rushed for 36 yards and 5 more scores. He also has 2 interceptions on defense and a passing touchdown. 
The Breakdown: Vereen put together another solid season playing all over the field for Havelock High's offense. He lined up as a wide receiver frequently but also played tight end, took direct snaps at times and even threw a touchdown pass at one point this fall. The tight end picked NC State over Georgia and others, and he has been one of the Pack's most active recruiters in the 2023 class. 
Here's his On3 scouting report.
"Talented pass catcher with plus ball skills and the ability to make acrobatic grabs. Touts some of the better ball skills among tight end prospects in the 2023 cycle. Plays as an outside receiver and occasionally lines up as an in-line tight end for his high school. Accounted for 985 yards and 12 touchdowns on just 31 catches as a junior. Has very strong hands and wins in jump-ball situations with consistency. 
"Makes tough catches look routine. Runs well and can pull away from defensive backs when in the open field. Also plays defense, with a productive junior year at linebacker. Has unverified size and will need to continue growing in terms of stature and bulk. Young for the class, not turning 18 years-old until August of his freshman year of college."
Brandon Cisse
New ranking: No. 270
Old ranking: No. 285
Senior year stats: 42 receptions for 764 yards, 1220 all purpose yards, 37 tackles, 13 passes defended, 1 interception, 2 forced fumbles, 2 fumble recoveries, 10 total touchdowns.
The Breakdown: Cisse is one of the fastest-rising recruits in the nation. After starting the summer unranked with no power-five offers, he had a great day at an NC State camp and secured an offer from the Pack. He later became the first defensive commit of the class. After putting together a great senior year on both sides of the ball, the 5-11.5 cornerback picked up a four-star rating. 
Check out his scouting report from On3.
"Middle of the field safety who runs the alley with no regard for his own safety. Violent player when working downhill who is not afraid of contact regardless of his slimmer stature. Stands in at 5-foot-11.5, 165 pounds with a 6-foot-1 wingspan. Shows impressive long speed when working sideline to sideline. Ran a 11.12 100m and a scorching 22.09 200m during his junior track and field season. Flashes high point ability and ball skills on the offensive side of the ball at wide receiver. High ceiling prospect who will only get better as he physically develops. One of the younger prospects in the 2023 recruiting cycle."