Ed Foley gives detailed insight into plan for Nebraska's special teams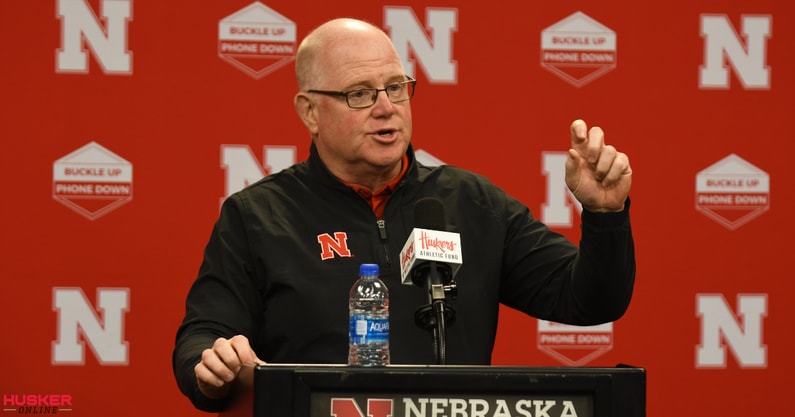 Ed Foley met with local media on Monday for the first time since taking over as Nebraska's new special teams coordinator. 
He'd only been on the job since late November, so it was too early to discuss the "particulars" of NU's personnel. Those conversations could come after NU wraps up its first spring practices under Matt Rhule.
However, Foley had no issues detailing his particular philosophies for Nebraska's special teams going forward.
When he coached special teams under Rhule at Temple, he was also the Owls' tight ends coach. By appointing him as a full-time coordinator in Lincoln, Rhule made it clear how important the third element would be.
"Coach Rhule has designated me to be the special teams guy," Foley said. "You guys can see between the lines, right? I coached the tight ends and did this when I was at Temple. But he thinks it's important enough that he said, 'Foles, I want you to just focus on special teams.'"
Never miss breaking news or another HuskerOnline article again. Click HERE to sign up for HuskerOnline's Daily and Breaking News Newsletters.
Foley already emphasizing importance of return game
Nebraska's lack of success in kickoff and punt returns in recent years has been well-documented. 
While Foley has a long to-do list with taking over special teams, boosting the production in those areas is a clear priority.
Foley said kick and punt returns were "different animals" because each had unique goals. With kickoff returns, Foley said the primary objective was to put the offense in a position for success.
Basically, he wants every runback to reach the 20-yard line at least. After that, it was all dependent on the talent of the returner.
"I'm going to put it directly on the players. 'Listen, guys, I'm here to return kicks. Me, that's Ed Foley's agenda. But I've got a boss. If we want to do this together, we've got to catch the ball, get north and south, and we can't have penalties.'"
Punt returns are a bit more complex. Foley described it as a "puzzle" between finding the right blend of attacking to block punts and creating return opportunities.
Foley said Rhule wants to be aggressive on blocks. For example, in his first season at Baylor in 2018, the Bears led the country with seven blocked kicks. The goal at Nebraska will be to balance that pressure with dynamic returns.
"The net of that is if you block a couple of kicks, particularly if you get one or two early in the season, then you get the protection packed in, and you can block them, and you can return it," Foley said.
"So, the whole thing to me on punt returns is really fascinating in terms of being a game of putting them on their heels a little bit and then hitting the returns."
Foley has high hopes for Tristan Alvano
Foley has already been all over the state and beyond on recruiting trips. But his job for the 2023 class got significantly easier after landing a commitment from Tristan Alvano.
The standout placekicker from Omaha Westside set a state record with 16 made field goals this past season. That obviously included his unforgettable five made kicks in Westside's 43-41 win over Gretna in the Class A championship game.
But it wasn't just Alvano's big leg and production that made Foley call him "an unbelievable kicker." As much as anything, Alvano's knack for making high-pressure field goals was what separated him from most high school kickers.
"The thing I like about Tristan is, more than his leg talent – because he's extremely talented – was the kicks that he made and the style of kicks that he made," Foley said. "One of the things that you get concerned about as a special teams coach evaluating kickers is you see a guy that's got a huge leg, but he's not great under pressure…
"Well, heck, that guy has faced a ton of pressure and came through and did it on this field. That's really important for me in terms of making the big kicks… I'm fired up about him."
Nebraska's situation at placekicker will be interesting to watch this offseason. While Alvano joins the program with much acclaim, the Huskers also bring back last year's starter, junior Timmy Bleekrode. 
The former Furman transfer went 9-for-12 on field goals and 34-for-35 on extra points in his first NU season. 
Foley said evaluating kickers was "cleaner" than other positions because their performance was "quantifiable." He'll chart "competitive kicks" between Bleekrode and Alvano through the offseason, and the best player would win the job.
Never miss breaking news or another HuskerOnline article again. Click HERE to sign up for HuskerOnline's Daily and Breaking News Newsletters.