Historic Nebraska volleyball match in Memorial Stadium is sold out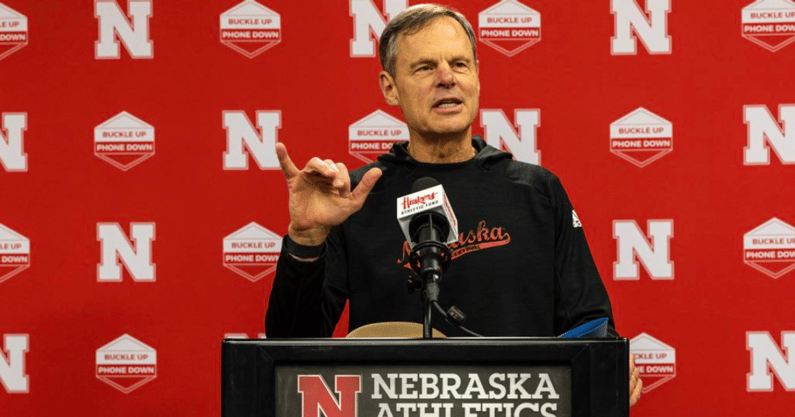 When Nebraska volleyball Head Coach John Cook and Husker Athletic Director Trev Alberts set out to play a typical indoor volleyball game outside in Memorial Stadium, they hoped to make history. They accomplished their goal.
Husker volleyball has sold out its Aug. 30th match in Memorial Stadium. After less than three days of tickets being on sale, Nebraska sold 82,900 of the 90,000-capacity stadium.
Click here for a limited time, register, and get full access until the start of the next football season for only $29.99
Nebraska takes on Omaha at 7:00 p.m. on Aug. 30. Wayne State and Nebraska-Kearney will play an exhibition match beforehand at 4:30 p.m. To end "Volleyball Day in Nebraska," there will be a concert. The artist has not been announced.
Tickets went on sale to season ticket holders and alumni on Tuesday, April 25. 17, 900 tickets were sold then. The rest of the tickets went on Wednesday and Thursday.
The general public bought their tickets at an alarming rate. So Nebraska opened up the south side for the match because of the demand.
The student section will be on the field and around the court and concert set up. The field-level and indoor club seating numbers were not factored into the 82,900 told.
"There is No Place Like Nebraska. What more can you say?" Cook said in a statement. "We knew there was a lot of interest in this event based on the reaction we've had the last couple of months traveling around the state and the country. But to sell out more than 80,000 tickets already? It's unreal. Our team was already pumped up about Volleyball Day in Nebraska, but now I can't even imagine how excited they are going to be for this. It's epic."
Nebraska hoped to surpass the NCAA record for a regular-season match Wisconsin took from them in 2022. The Badgers had 16,833 in the Kohl Center for their match against Florida, which they lost in five sets.
The Huskers crushed that record and every NCAA women's sports attendance record. In fact, they have set themselves up to be in the top four of attendance in any women's sporting event in world history.
| | | | |
| --- | --- | --- | --- |
| Teams | Date | Attendance | Location |
| Barcelona vs. Real Madrid | 3/30/2022 | 91,553 | Madrid, Spain |
| USA vs. China (World Cup Final) | 10/07/1999 | 90,185 | Pasadena, California |
| Australia vs. India (T20 World Cup Final) | 8/03/2020 | 86,174 | Melbourne, Australia |
| USA vs. Japan (Olympic Final) | 9/08/2012 | 80,203 | London, England |
| England vs Germany (World Cup) | 9/11/19 | 77,768 | London, England |
| Atletico Madrid vs Barcelona | 3/17/19 | 60,739 | Madrid, Spain |
Nebraska volleyball hopes for competitive spring exhibition after promising spring
No stranger to sellouts
Not many fan bases can put a volleyball game in a football stadium and expect the fans to fill it up, let alone actually fill it.
As they say, "There is no place like Nebraska."
The Bob Devaney Sports Center, home of Husker volleyball, has sold out for over 300 consecutive matches and averaged 8,172 fans per match in 2021, the most in the country.
Cook, Alberts, UNL Chancellor Ronnie Green and Nebraska system president Ted Carter were confident Nebraska fans would show up.
"This is going to be a special day for the sport of volleyball in this state," Cook said in a statement. "At Nebraska, we're always aiming to 'Dream Big' and raise the bar, and there can't be a much bigger way to do that than to play a match outdoors in a 90,000-seat football stadium."
RELATED – Three takes on Volleyball Day in Nebraska at Memorial Stadium
While Cook was hesitant at first, the head coaches of Omaha, Wayne State and Kearney were all very excited to be a part of the historic day. The entire state of Nebraska will be able to have a piece of this history.
"We're excited that we're going to be able to include three other local schools as well to make it a statewide celebration," Cook said in the statement. "A Nebraska volleyball ticket is one of the hardest tickets in town to get, so we're pumped that this match will give so many more fans an opportunity to come to watch us play and be part of a historic day." 
Never miss breaking news or another HuskerOnline article again. Click HERE to sign up for HuskerOnline's Daily and Breaking News Newsletters.