Final 2022 NBA mock draft roundup: Where Notre Dame guard Blake Wesley is projected to land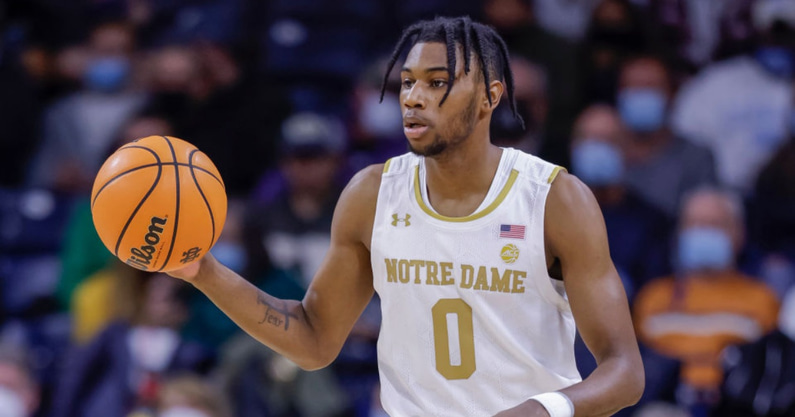 Some NBA team will draft Notre Dame guard Blake Wesley Thursday night. It's a matter of when and where.
The first round is the widely held expectation. That's the consensus of nearly all the draft-day mocks, which project Wesley to be selected somewhere in the 20s. He's in the top 30 on most draft analysts' boards. If that's indeed the outcome, he will be the first one-and-done first-round selection in Notre Dame men's basketball history.
That reality, in itself, is jarring. Wesley bloomed from the No. 100 player in his class into a first-round prospect in just one season. Not even he expected this fast a rise. He averaged a team-high 14.4 points per game in his lone college season, adding 3.7 rebounds and 2.7 assists per outing. He shot 40.4 percent from the field and 30.3 percent on three-pointers.
PROMOTION: Sign up for just $1 for your first year at Blue & Gold
CLICK HERE to order the 2022 Notre Dame Football Preview
First-round buzz began within 10 games of starting his career. It has crescendoed since, even with concerns about his three-point shooting. He's viewed as a high-upside player because of his burst off the dribble and athleticism, but one with a wide range of potential outcomes as a pro.
"He's helped himself as much as anyone the last two months," an NBA Scout told The Athletic's Seth Davis this week. "He's got size, length, speed, quickness. Plays with a high motor. Gotta improve his shooting. He shot in the low 30s (from 3). That's not nearly good enough for a guard in this league. He's long and has good mobility, so he should get better defensively.
"Doesn't shoot it, but he's athletic, he gets downhill, he gets to the rim. He's a Reggie Jackson-type combo guard. His competitiveness and toughness is off the charts. He'll be able to come into the NBA and defend right away. A pretty good package of stuff to work with for a young kid."
RELATED: Notre Dame football recruiting:
• Lucky Charms: Notre Dame football recruiting scoop
• Key dates this summer for Notre Dame football recruiting
Wesley attended the NBA Draft Combine in May, but did not participate in shooting drills and scrimmages there. He has done on-court workouts this month with the Miami Heat, San Antonio Spurs, Washington Wizards, Atlanta Hawks, Denver Nuggets, Cleveland Cavaliers, Charlotte Hornets, Milwaukee Bucks, Chicago Bulls and Detroit Pistons.
Here's where the final batch of draft-day and draft-week mocks predict Wesley to land.
Sports Illustrated: No. 20, Spurs
"Keep in mind that it's unlikely the Spurs use all their picks, as they have three first-rounders plus the 38th pick, giving them options to try and move around in the draft," Sports Illustrated's Jeremy Woo wrote. "Wesley should be on their shortlist of backcourt options, as a bigger guard with untapped upside who could become a downhill slasher and agile defender. They can afford to take a chance on his potential here and won't have to rush him into big minutes right away.
"Wesley didn't have a ton of high-level experience prior to college, so he is at an early point in his development curve, but has shown some flashes of brilliance. He's still quite raw and profiles better as a scoring combo guard than a true point, but he did a pretty good job carrying Notre Dame's offense, all context considered."
The Ringer: No. 23, Philadelphia 76ers
"The Sixers are exploring trades involving this pick and Danny Green, according to sources," The Ringer's Kevin O'Connor wrote. "If they end up trading the pick, I'd imagine a raw, high-upside player like Wesley would have wide appeal. If the Sixers keep it, taking a swing could pay off since they don't have a first again until 2024."
The Athletic: No. 20, Spurs
"I'm higher on Wesley than most, listing him 11th on my board, and think this is a good fit on a team that has prioritized toolsy perimeter players in recent drafts," The Athletic's John Hollinger wrote. "The Spurs have picks 20, 25 and 38 and could easily find themselves trading up, if they can just find a partner willing to trade down."
Other mock drafts
ESPN's Jonathan Givony also has Wesley going to the Spurs at No. 20 in his final mock, released early Thursday. It's the same spot Givony has pegged him in most of his prior June mocks. NBADraft.net's Thursday mock predicts Wesley will go to the Nuggets at No. 21. SB Nation's Ricky O'Donnell has Wesley as the No. 22 pick to the Grizzlies. Wesley is the No. 19 pick to the Minnesota Timberwolves in Bleacher Report analyst Jonathan Wasserman's latest mock draft.
CBS' Sports Kyle Boone has the most extreme prediction on Wesley among draft analysts, slotting him in the second round at No. 33 to the Toronto Raptors. Wesley is the No. 26 player in Boone's draft prospect rankings.
"Wesley was a high-volume scorer at Notre Dame whose efficiency overall left a little to be desired," Boone wrote, "but his combo of size, scoring and movement have NBA evaluators intrigued with his development as a long-term two-way guard who can create."