Notre Dame returns to home sweet home court looking to further its NCAA Tournament push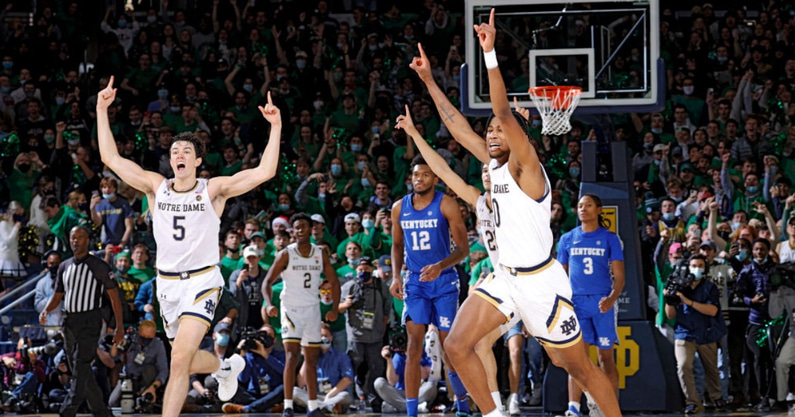 What started as an aspirational objective the last few seasons quickly and rudely became an unrealistic one.
Notre Dame wants to sweep all its home games and send every visiting team trudging back to its bus with a loss, because that's what good teams do. But those visions imploded before Christmas the prior three years. That's often the fate of middling teams.
Last season, Ohio State strolled in and hung 90 points on the Irish in their second home game, a telltale sign of the defensive issues to come. An already empty and cavernous home venue felt even less welcoming. COVID-19 stripped away much of the advantage for everyone last year, turning usually pulsing arenas into airline hangars. Fans can't generate defensive stops, though.
In 2019-20, ACC bottom feeder Boston College visited in early December and snatched a one-point victory, ruining the goal less than a month into the year. The sesaon before, low-major opponent Radford beat the Irish at Purcell Pavilion in their third game of the season. That 2018-19 campaign was expected to contain its share of bumps with a freshman-heavy rotation, but losing a buy game didn't register as a likely outcome.
All told, Notre Dame averaged 5.6 home losses per year the past three seasons. Unsurprisingly, it reached the NCAA Tournament or posted a winning conference record zero times in that span.
On the other side of the coin, the Irish have aided their push toward the NCAA Tournament by defending home court. They're 7-0 at Purcell Pavilion, including wins over Kentucky and North Carolina.
"That has probably come from within from these seniors wanting to protect it," head coach Mike Brey said.
Those seniors lost 17 home games their first three years. Enough was enough, apparently.
RELATED
The most recent Notre Dame home victory, a 72-56 disposal of Clemson Jan. 12, featured a fervent student section. A visit from the Tigers in football would bring the masses out. Basketball, though? Clemson rarely registers as a particularly consequential game for the casual student fan. Brey's dining hall student recruiting trips certainly helped. So did the Irish's then-five game win streak.
"If you can hang in there here, no question, it really helps you," Brey said.
Notre Dame's 5-2 ACC record is largely built on road wins. It has played just two league home games so far, a quirk created in part by the postponement of the Jan. 1 game vs. Duke. That contest is now on the schedule for Jan. 31 as the last of three straight games in South Bend — a stretch that begins Wednesday against North Carolina State (9 p.m. ET, Regional Sports Networks).
The Wolfpack (10-10, 3-6 ACC) are enduring another rough season, but their last visit underscored just how chilly Notre Dame's home floor had become. They beat the Irish 80-69 on March 3, 2021, leading nearly wire-to-wire. As if that wasn't enough, a shrill from one of the couple hundred socially distant students in the upper bowl echoed through the place.
"Fire Brey!"
The home venue never felt so claustrophobic in Brey's 22 years.
Notre Dame's play in the last several weeks has cooled that angst. The Irish are 8-1 since their 64-56 loss to Indiana Dec. 18 and on the periphery of the tournament conversation.
With this upcoming home stretch, they're in prime position to support their place near the top of the ACC standings. Beating North Carolina State, the No. 113 team in the NET, won't do much for the tournament résumé, but it's a game a tournament team should win. Same with Virginia's Saturday evening visit. The Cavaliers are No. 96. Knocking off Duke, of course, would send an emphatic message and jump to the top of the Irish's résumé.
But that's getting ahead of things. Overlooking a team with desperate energy at your own risk. North Carolina State doesn't have much going for it this season, but it ought to have that. If the Wolfpack are to pull the wheel around on a lost season and prevent anxiety surrounding their own coach from boiling over, a win in South Bend would help the cause.
"Everybody talks about what's coming at us in this segment, and we get it," Brey said. "I showed them on the board [Monday]: 'Three days. Two days of practice and a game.' Then we'll address what's coming at us."
North Carolina State (10-10, 3-6) at Notre Dame (12-6, 5-2)
When: Wednesday, Jan. 26 at 9 p.m. ET
Where: Purcell Pavilion
Radio: Notre Dame basketball radio network
KenPom prediction: Notre Dame 76, North Carolina State 70
Leading scorers:
• North Carolina State: guard Dereon Seabron (19.0 points per game), guard Terquavion Smith (14.9 ppg.)
• Notre Dame: guard Dane Goodwin (15.2 ppg.), guard Blake Wesley (15.0 ppg.)
Other notes
• Wesley and Smith are No. 2 and 3 in the ACC in scoring among true freshmen. Duke's Paolo Banchero (17.9 ppg.) is first.
• North Carolina State's offense is 33rd in adjusted efficiency, per KenPom, a ranking supported mainly by a 14.7 turnover rate (12th lowest nationally) and a 32.5 offensive rebounding rate (53rd). The Wolfpack are shooting 48.9 percent on two-pointers and 33.3 percent on threes. Neither is in the top 180.
• North Carolina State is 228th in defensive efficiency, the lowest mark among ACC teams.