Notre Dame at Virginia Tech: Preview, what to know and how to watch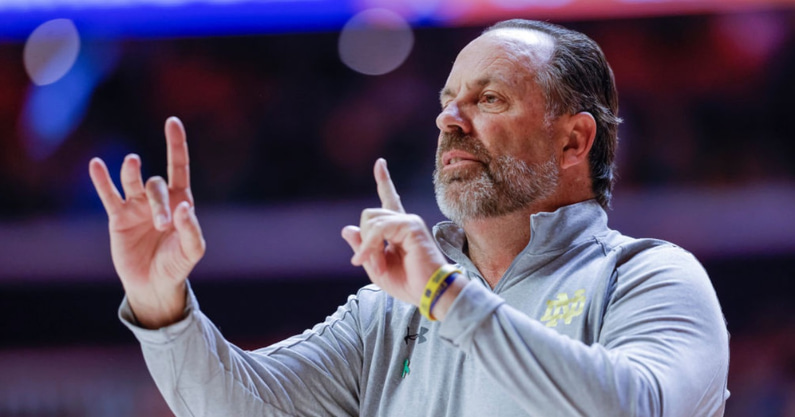 Dane Goodwin can see it and sense it.
There's a different vibe around Notre Dame basketball right now. One that couldn't exist last year when all games were played in empty arenas that felt like airline hangars. One that last year's 11-15 overall record wouldn't have produced – both internally and among the fan base and students.
"In my tenure here, I don't know that we've been on this big a roll," Goodwin said. "We're playing well together."
That's what it feels like.
It looks like a packed student section for a midweek game against Clemson – not exactly an ACC blue blood – and head coach Mike Brey running into it after the Irish beat the Tigers 72-56. Brey vowed to crowdsurf all the way up it by the end of the year.
"I was close to diving up there, and I probably will," Brey said. "I wonder how long it would take me to be surfed from the baseline all the way to the top. We're going to try that before the year is up."
It's all a product of six straight wins and seven in the last eight games. Two of those are over now-No. 18 Kentucky and North Carolina. The Irish were 4-5 following a listless loss to Indiana Dec. 18. They're now 10-5 and 4-1 in the ACC, which puts them alone in second place in the league standings.
Notre Dame goes for seven straight Saturday at Virginia Tech (6 p.m. ET, ACCN), a game it's not overlooking as tripwire despite the Hokies' 0-4 ACC record and 8-7 overall mark.
Brey still has last year's two fistfights against them at the top of his mind. They beat the Irish twice, including a nearly wire-to-wire 62-51 win in South Bend. Notre Dame was 2-of-19 from the field in the second half of a 77-63 road loss to Virginia Tech. It did not clear 40 percent shooting either time.
"They beat us up and took our lunch money, quite frankly," Brey said. "I know they're 0-4, but I think they're really gifted. They're dying for one. For us, it's meeting the physical challenge."
The bulk of Virginia Tech's 2020-21 NCAA tournament roster is still around, including second-team All-ACC forward Keve Aluma. He's averaging a team-best 15.7 points per game and pulling down 6.3 rebounds. Three-point sniper Hunter Cattoor, who put 28 total points and eight threes on Notre Dame last year, is shooting 44.3 percent from behind the arc.
Virginia Tech remains the No. 30 team at KenPom in spite of its record and two losses to teams ranked 90th or worse. The Hokies fell to Dayton (94th) in December and took a home defeat to North Carolina State (104th) on Jan. 4. Their other ACC losses are to Duke, Wake Forest and Virginia.
Notre Dame (10-5, 4-1) at Virginia Tech (8-7, 0-4)
When: Saturday, Jan. 15 at 6 p.m. ET
Where: Cassell Coliseum, Blacksburg, Va.
TV: ACC Network
Line: Virginia Tech -6.5
KenPom prediction: Virginia Tech 70, Notre Dame 64
Last meeting: Virginia Tech won 62-51 on Jan. 27, 2021
Series history: Notre Dame leads 9-6
Other notes:
• As it stands, this game is one of five regular-season Quadrant 1 win opportunities left for Notre Dame. Beating a team in the NET top 30 at home, top 50 on a neutral floor and top 75 on the road counts as a Quadrant 1 victory. Virginia Tech is 41st in the NET.
• Virginia Tech is 15th in three-point percentage (38.7 percent) and ninth in three-point percentage defense (26.7 percent). The Hokies allow a medium volume of shots from deep – they're 159th in percentage of opponent field goal attempts coming on threes. That plays favorably into Notre Dame's offense, which takes 45.7 percent of its shots from beyond the arc.
• Virginia Tech is among the nation's 25 worst foul-drawing teams, per KenPom. This Notre Dame team, though, fouls more often than prior iterations (154th in free throw rate).
ACC announces Notre Dame schedule change
Notre Dame's February game against Syracuse has been moved back a day.
The ACC announced Friday it has shifted the Irish's game against the Orange from Feb. 22 to Feb. 23. A tip time and television info has not yet been announced. The change was made to allow Syracuse to play a makeup game against Georgia Tech on Feb. 21.