Former Notre Dame forward Elijah Taylor announces transfer destination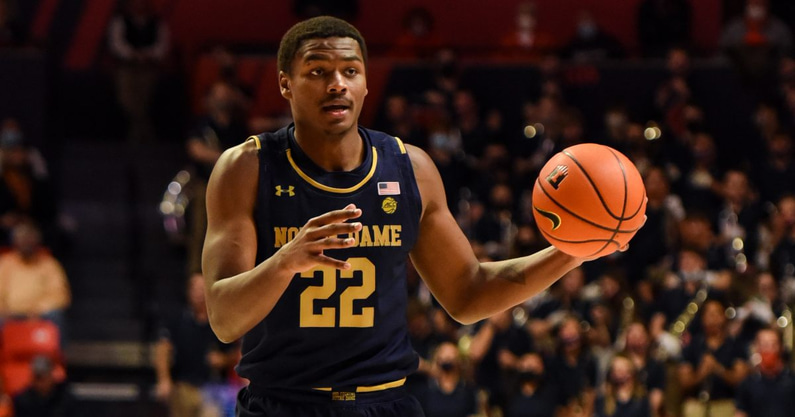 The lone Notre Dame men's basketball scholarship player to enter the transfer portal this offseason has found his new team. He needed less than three weeks to do so.
Forward Elijah Taylor is transferring to Quinnipiac, he announced on social media Tuesday. He will have three seasons of eligibility left for the Bobcats. He can play in 2022-23 because he entered the portal before the May 1 deadline to be immediately eligible as a transfer.
"To Mike Brey and the ND family, I appreciate you guys for nurturing and loving me the last few years," Taylor wrote in a separate tweet.
The 6-8, 242-pound Taylor averaged 2.7 points in three games this season and missed the spring semester due to an academic issue.
PROMOTION: Sign up for just $1 for your first year at Blue & Gold
Taylor began his sophomore season as the primary backup center to Paul Atkinson Jr., but that was more of a designation than an actual rotation role. His first appearance came in the Irish's fourth game of the year, a two-point outing in two minutes during a win over Chaminade. He played a season-high six minutes and scored four points in a Nov. 29 loss at Illinois and logged three minutes in a Dec. 3 loss to Boston College.
Taylor did not appear in any of Notre Dame's next eight contests, though, and was not in the traveling party for a Jan. 8 game at Georgia Tech. Brey said after a Jan. 12 win over Clemson that Taylor would not play the rest of the year as he worked through an academic issue.
"He has some work to do academically," Brey said. "We love him, we support him. He will be back."
RELATED: Notre Dame football:
• How Notre Dame football coach Marcus Freeman strikes balance in recruiting
• How Notre Dame coach Marcus Freeman uses 'C.A.T.I.L' approach in recruiting
Taylor instead entered the portal April 29. Notre Dame has not made any additions in the frontcourt this spring, leaving junior-to-be Matt Zona and incoming four-star recruits Dom Campbell and Ven-Allen Lubin as the only big men on the roster. The Irish hosted Wright State transfer forward Grant Basile for a visit in late April, but he chose Virginia Tech May 4.
Finding a starting center remains Notre Dame's biggest task without Atkinson, the Irish's third-leading scorer in 2021-22 (12.5 points per game). But senior forward Nate Laszewski could be back and provide a frontcourt boost. He's going through the NBA Draft process and has the option to return for a bonus season using the COVID-19 exemption. He has until June 1 to decide his next move.
As it stands, Notre Dame will have 12 scholarship players if Laszewski comes back and 11 if he doesn't. Prior to his exit, Notre Dame was one of just 18 Division I programs that had not seen a scholarship player enter the transfer portal. Walk-on guard Elijah Morgan entered as a grad transfer April 15. The Irish have pulled one player from the portal this offseason: former Niagara guard Marcus Hammond, who committed April 25.
Taylor, a Philadelphia native, was a three-star recruit in Notre Dame's 2020 signing class. He committed to in September 2019 over Florida, Seton Hall and VCU. He played at Imhotep Institute Charter School, leading his team to a 2019 Pennsylvania Class 4A state championship. He was the school's student body president as a senior. He missed his entire freshman season at Notre Dame due to an ankle injury that eventually required surgery.
Quinnipiac went 14-17 and 7-13 in the Metro Atlantic Athletic Conference this season, losing to March Madness darling Saint Peter's in the conference tournament semifinals. The Bobcats ended the year as KenPom's No. 231 team.