Observations from Notre Dame women's basketball exhibition win vs. Truman State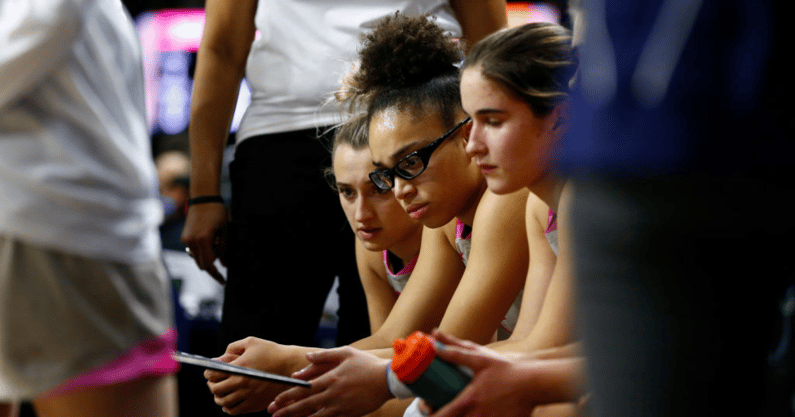 No. 9 Notre Dame women's basketball gave a glimpse at its 2022-23 product in a competitive, public setting for the first time Monday. To none's surprise, head coach Niele Ivey's team took it to the visiting Truman State Bulldogs in a 92-47 exhibition victory.
Here are some observations on the Irish from their tuneup triumph.
Olivia Miles is in for a huge year
The reigning All-ACC first-team member and preseason All-American went to work and made it look easy. Miles had 10 points and 5 assists in the first half and finished with 16 and 8, respectively, and 4 rebounds on 8-of-11 shooting in 25 minutes.
Miles was a menace in transition. Whether she was the one distributing to teammates on the run or finishing at the basket with her signature one-handed extension flip layups, Truman State could not guard her. Competition will obviously stiffen, but Miles showed last season she can be unstoppable at times no matter who's on the floor against her.
Expect that to continue.
Lauren Ebo turns heads in Notre Dame debut
Oregon transfer Kylee Watson got the start for Notre Dame at center, but Texas transfer Lauren Ebo was the better post player for the Irish out of the gates. She had 10 points and 3 rebounds in the first half. Watson had 2 and 4, respectively.
Ebo has a bigger build than Notre Dame was used to with the ultra-athletic Maya Dodson at center last season, but she uses it to her advantage in an efficient manner. Ebo isn't going to race down the floor with the ball in her hands in the way Dodson could, but when she's got the ball in a post-up situation she's difficult to defend. Truman State couldn't do it. And like Miles on the run, Ebo will likely still be able to punish foes in the paint even when the level of competition increases. Ebo finished with 14 points and 6 rebounds. She got to the line effectively and made 4-of-5 foul shots.
"Ebo came in an is somebody I've always known can score," Ivey said. "She has a knack. Great hands. I thought her presence was felt right from the beginning. She does so many things well for us and is such a leader with her experience."
Watson, meanwhile, had 3 turnovers, including two traveling violations deep in the paint. If Monday was an audition for which of the two needs the bulk of minutes at center, Ebo put forth a slightly better overall performance. A sample size of one exhibition game won't tell the whole story, though. It's a developing situation that will resolve itself with game reps. Watson did get going with some easy looks at the rim as a byproduct of good team basketball in the second half, though; she finished with 14 points and 8 rebounds. She was 0-for-2 from the line.
"Kylee and Ebo are different, and I love that about both their games," Ivey said. "We have so much size and depth at that position that it's super excited for me."
Don't forget about Maddy Westbeld
The 2020-21 ACC Freshman of the Year is going to eat up a lot of minutes at the power forward position. Ivey went to a lineup of Watson at the 4 and Ebo at the 5 at times when Westbeld needed a breather, but Westbeld is too important at both ends of the floor to do that for long stretches. She finished with 13 points and 8 rebounds after being the first Irish player to reach double digits.
Notre Dame gets good guard play all around
Notre Dame let Truman State senior guard Hannah Belanger get loose for 16 points, including 5-of-6 from three-point range. Outside of that, though, the Irish were stingy defenders. Sophomore guard Sonia Citron had 5 steals. Graduate student guard Dara Mabrey had 4.
Citron and Miles showed a strong rapport carrying over from last season. Miles found her for a few buckets in the half-court, including once on a cross-court pass to set up a 3-pointer. Citron finished with a team-high 17 points and 14 rebounds, a couple of numbers that just continued to steadily rise in her team-high 33 minutes of time on the floor.
Ivey called Citron Notre Dame's "unsung hero."
"Coach Ivey has definitely been on me about being more aggressive, so I'm working on that for this season," Citron said.
KK Bransford struggles in Notre Dame debut
McDonald's All-American freshman KK Bransford put on a Notre Dame jersey in a game environment for the first time, and it was a night to forget for the first-year player out of Cincinnati.
Bransford missed her first seven shots from the field and finished 2-for-10 with 5 points. She was in the right spot at the right time in plenty of instances, but she just couldn't get the ball to go through the hoop. Sometimes, it's like that. Better in a game that technically does not count than in one that does.
"I think she's still trying to figure it out," Ivey said. "She's a freshman."
Ivey left Bransford on the floor despite her struggles, partly out of necessity because of Notre Dame's short bench and partly because Bransford's miscues were of no consequence in a game Notre Dame was always going to win and one that did not count in the win or loss column either way. Bransford played 22 minutes. She broke the seal on a late three, and the crowd showed her some love for sticking it out and getting on the board. She hit a midrange jumper in the final two minutes for good measure.
"She really kind of found a rhythm," Ivey said. "We found her in transition, and she hit a three. I know that was like a weight off her shoulders. She started getting a little more comfortable. Every game she's going to get more comfortable."