Notre Dame women's basketball runs out of steam in Sweet 16 loss to Maryland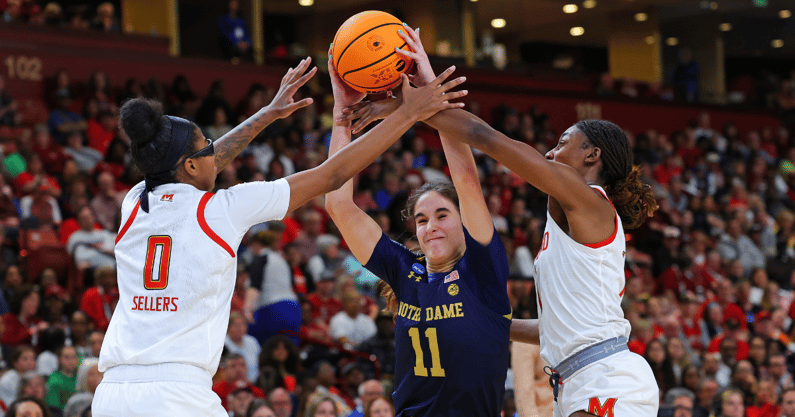 For the second-straight season, the NCAA Tournament road ended in the Sweet 16 for Notre Dame women's basketball. The shorthanded Fighting Irish put up a battle Saturday against Maryland at Bon Secours Wellness Arena in Greenville, S.C., but lost, 76-59.
The two Sweet 16 trips were not created equally.
PROMOTION: Join for only $10 for the next four months to unlock premium access for all of Notre Dame spring practice and beyond. This is a limited time offer, so act fast!
Last year, Notre Dame had two freshmen starting guards and a contingent of players who had, for the most part, never played in an NCAA Tournament game. Abby Prohaska was the lone holdover from the Irish team that lost by one point to Baylor in in the 2019 national championship game.
The Irish earned some NCAA Tournament pedigree by blowing out UMass and Oklahoma and narrowly losing to NC State in the third round. That experience was supposed to carry into March 2023. For some, it did. For others, it didn't. Sophomore point guard Olivia Miles and graduate student shooting guard Dara Mabrey, both sidelined with knee injuries, watched their team's season end from the bench Saturday. The former consoled the teary-eyed latter in the final minutes. Mabrey's college career is officially over, even though it effectively ended on Jan. 22.
Notre Dame's 2022-23 story can't be told without Miles and Mabrey. Their ailments have to appear in the first paragraph. Right at the top of the first page. Without two guards who combined for 23.6 points and 9.3 assists per game, how was No. 3 seed Notre Dame (27-6) ever going to beat No. 2 seed Maryland (28-7) with the Elite Eight on the line?
It wasn't, but for a fourth of Saturday's game it appeared the Irish might actually do it.
Notre Dame built an eight-point lead in the second quarter. The Irish were shutting down the Terrapins defensively and operating a high-flying offense. Sophomore guard Sonia Citron and junior forward Maddy Westbeld took over the game for a stretch in that second frame. The eight-point margin dwindled to one at halftime, though, and the Irish got into foul trouble coming out of the break.
As soon as that occurred, it was game over for the Blue and Gold.
Westbeld picked up her fourth foul in the first 30 seconds of the fourth quarter. By that time, centers Lauren Ebo and Kylee Watson already had four apiece. Foul trouble for head coach Niele Ivey's team prompted her to put junior Nat Marshall on the court in meaningful moments she's not accustomed to contributing in. Marshall did not play a single second in Notre Dame's round of 32 win over Mississippi State. Saturday, she played 12 as one part of a seven-player rotation.
Put simply, Notre Dame didn't have the woman-power to withstand mighty Maryland.
The Terps were led by 18 points apiece from guards Diamond Johnson and Shyanne Sellers. Miller, who scored 31 points vs. Notre Dame in December, didn't make her first field goal until there was 1:18 left in the first half. It was a big bucket that pulled her team within three. And once she got going, she was hard for the Irish to stop — especially playing tentatively with no room for fouling.
Ebo fouled out with five minutes left in the fourth. Coming off a historic 18-rebound outing vs. MSU, she finished with 7 points and 5 rebounds. Citron paced the Irish with 14 points, 7 rebounds and 4 assists. Notre Dame only made 2-of-10 three-point attempts. The Irish went into the final quarter trailing by 12 and only scored 14 in the frame.
An exhausted group down two ultra-important players ran out of steam. Some will be back. Others, namely Mabrey and Ebo, won't. The Irish once again earned experience with a 2-1 showing in the NCAA Tournament. The hope for Ivey is that her squad will be at full-strength to build upon it a year from now.