Niele Ivey, Hannah Hidalgo to represent Notre Dame at USA Basketball U19 Team Trials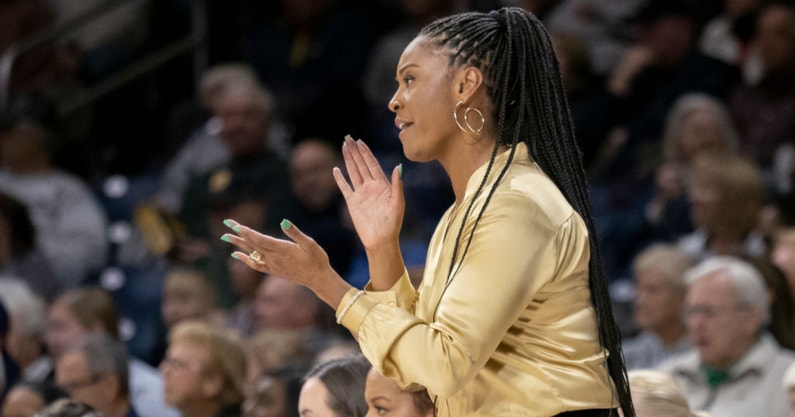 Notre Dame women's basketball head coach Niele Ivey and incoming Fighting Irish five-star freshman Hannah Hidalgo have a big week of basketball on tap. They will be in Colorado Springs, Colorado, for the 2023 USA Women's U19 National Team Trials at the U.S. Olympic and Paralympic Training Center beginning May 12.
Hidalgo is one of 24 players trying out for 12 roster spots for the the 2023 FIBA U19 Women's World Cup, which takes place July 15-23 in Madrid. The 24 players were selected by the USA Basketball Women's Junior National Team Committee, which is chaired by DePaul head coach Doug Bruno.
Ivey is serving as a court coach alongside Oklahoma head coach Jennie Baranczyk. Ivey is making her USA Basketball appointment debut as a coach. Hidalgo was a member of Team USA's gold medal winning national team at the 2022 FIBA U17 World Cup in Debrecen, Hungary.
This year's U19 World Cup roster will be announced May 15 after the conclusion of the team trials. Hidalgo is one of 10 class of 2023 team trials participants. There are eight who were college freshmen this past season and six from the class of 2024.
Here's a full list of the participants.
College freshmen: Sydney Bowles, Talaysia Cooper, Londynn Jones, Chloe Kitts, Talana Lepolo, Cotie McMahon, Kiki Rice and Grace VanSlooten
Class of 2023: Kamorea "KK" Arnold, Madison Booker, Essence Cody, Breya Cunningham, Aalyah Del Rosario, Jadyn Donovan, Hannah Hidalgo, Alyssa Latham, Courtney Ogden and Juju Watkins
Class of 2024: Joyce Edwards, Kiyomi McMiller, Mackenly Randolph, Kennedy Smith, Sarah Strong and Allie Ziebell
"On behalf of the USA Basketball Women's Junior National Team Committee, I am thrilled to announce this group of two dozen gifted athletes who will compete for a spot on the 2023 USA Women's U19 National Team," Bruno said in a statement. "Many of these young women have prior USA Basketball experience which will make trials even more exciting. The FIBA Women's U19 World Cup is a challenging competition and we look forward to selecting a team that will represent the U.S. in the best possible way."
Notre Dame has an extensive history of players competing for USA Basketball. On the current roster alone, Kylee Watson, Jenna Brown, Olivia Miles, Sonia Citron, KK Bransford, Natalija Marshall and Maddy Westbeld have competed for the national team in some capacity. Cassandre Prosper has been a consistent member of Canada's national team scene over the years, too.