WATCH: Former Notre Dame women's basketball star wins WNBA Western Conference Player of the Week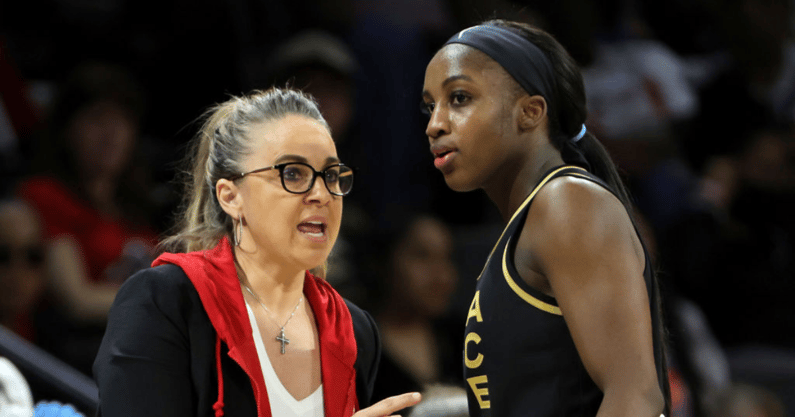 Former Notre Dame women's basketball players have taken over the WNBA. If only for a week before one of her fellow former Irish stars shines brighter, Las Vegas Aces guard Jackie Young led the charge.
Young was named the WNBA Western Conference Player of the Week for the first time in her four-year career for averaging 21.4 points, 3.7 assists and 2.7 steals per game from May 16-22. She made a staggering 55.3 percent of her field goal attempts, an even harder to fathom 50.0 percent of her three-point shots and 88.2 percent of her free throws in three Aces victories.
The moment Young learned of winning the award was captured on camera.
PROMOTION: Sign up for just $1 for your first year at Blue & Gold
"Winning takes care of everybody," said Aces head coach Becky Hammon, a former San Antonio Spurs assistant from 2014-22. "Winning takes care of everybody. Be responsible to yourself. You owe it to yourself and you owe it to your teammates to come out there and compete every night. Every minute. There is no let up. Every night, we are locked in, focused and ready to go."
Young had no issues with any of that during her time at Notre Dame, an abbreviated stay cut short by her own talent. Young left Notre Dame after her junior season and was selected No. 1 overall in the 2019 WNBA Draft. It's not often women's basketball players only stay in school for three seasons, and even more rare for a junior to be the top pick in the draft.
Young was one of those special exceptions.
She was the first Notre Dame player to record two triple-doubles in the same season, matched this past season by freshman Olivia Miles. She had 16 points, 12 rebounds and 10 assists against Tennessee on Jan. 24, 2019, then put forth 22 points, 11 assists and 10 rebounds against Virginia on March 3, 2019.
Young started all 38 games for Notre Dame during the Irish's run to the 2018 national title. She hit the game-tying jumper in the final minute that led to Arike Ogunbowale's game-winning heroics. Young's career-high of 32 points came the game prior against UConn in the national semifinals.
She earned the title "Big-Game Jackie" for efforts like that.
In her second season as a starter for the Aces, Young has broken out for 19.3 points, 4.1 rebounds and 3.9 assists per game. She's making 56.4% of her field goals and 50.0% of her three-pointers. The Aces own the best record in the WNBA, and the former Notre Dame point guard is a major reason why.