Top-50 2025 recruit Trent Sisley visits Notre Dame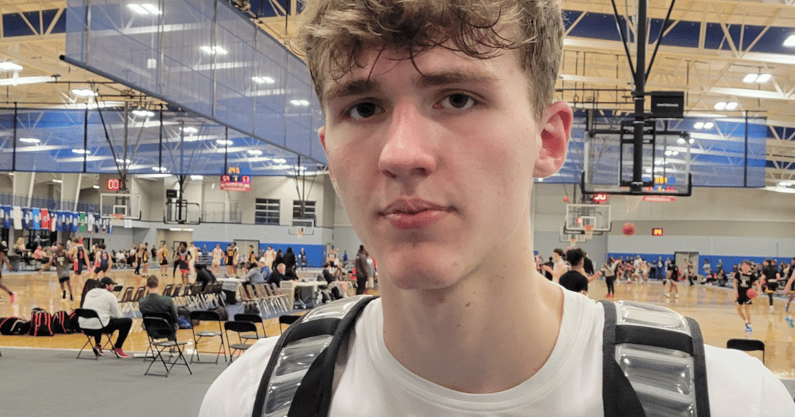 Notre Dame men's basketball hosted a Top-50 2025 recruit Sunday. Heritage H.S. (Santa Claus, Ind.) forward Trent Sisley took an unofficial visit to South Bend on Sunday, he posted on Twitter and Instagram.
Sisley is a consensus four-star recruit and the No. 47 Class of '25 player in On3's industry ranking. He's the No. 2 player in Indiana, only behind consensus 5-star guard Jalen Haralson.
The incoming junior has offers from several Big 10 schools, including Indiana, Purdue and Michigan State, as well as UCF and West Virginia from the Big 12. Notre Dame is Sisley's second visit, coming shortly after Northwestern hosted him Thursday.
Sisley told the basketball website Stock Risers that Notre Dame, along with Northwestern, Indiana, Purdue and Michigan State, are most heavily involved with his recruitment.
"My relationship with Coach (Micah) Shrewsberry is good," Sisley told Stock Risers. "I talked to Coach for the first time when he offered me a scholarship. As far as the rest of the program, they've had coaches in contact with my dad and my coaches right now."
During his sophomore year at Heritage Hills, Sisley averaged 26.3 points, 10.2 rebounds, 2.9 assists, 2.4 blocks and 1.4 steals per game. The 6-foot-7 power forward can shoot from distance, too, as he shot 41% from 3-point range throughout the season. Overall, he shot 65% from the field.
In March, the Evansville Courier & Press rated Sisley as the All-Southwestern Indiana Player of the Year.
Sisley's sophomore year highlights show a player with a wide variety of moves to get to the basket, and he has two more years in high school to develop them further. His three-point stroke was also impressive, as he showed the ability to sink it off the dribble and in catch-and-shoot situations.
While looking to the future on the recruiting trail, Shrewsberry still has spots to fill on the 2023-24 roster. So far, Notre Dame has officially signed four freshmen: forward Carey Booth and guards Markus Burton, Logan Imes and Braeden Shrewsberry (Micah Shrewsberry's son). The Irish have also secured three transfer commitments in sophomore forward Tae Davis (Seton Hall), junior guard Julian Roper II (Northwestern) and sophomore center Kebba Njie (Penn State).
Notre Dame returns three scholarship players in senior guard Tony Sanders Jr., junior guard J.R. Konieczny and senior forward Matt Zona. One walk-on, junior guard Alex Wade, remains with the Irish as well.
Preorder Blue & Gold Illustrated's 2023 Notre Dame Football Preview magazine before June 12 and get free shipping!!! On3 subscribers should go to The Lou Somogyi Board for discounted pricing.