Scarlet Sunrise: Buckeyes make cut for in-state four-star guard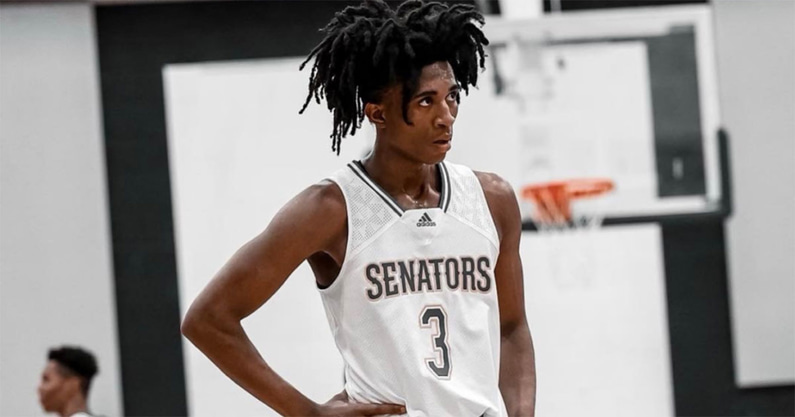 Good morning, Ohio State fans, and welcome to the Scarlet Sunrise. Football will always be our focus, but every day we'll cover news, notes and analysis from across Buckeyes sports. Join us each morning to get caught up on everything you missed in the world of Ohio State football, recruiting, basketball and more in Scarlet Sunrise.
Ohio State makes cut in battle for in-state guard Rayvon Griffith
Ohio State is staying in the battle for the top player in the state of Ohio.
Four-star guard Rayvon Griffith, the No. 44 overall player, No. 13 shooting guard and No. 1 player in the state according to On3, trimmed his list of schools competing for his commitment to five universities. The Buckeyes are among them with other heavy-hitters from around the country.
Kansas, UCLA, Cincinnati and Alabama are the other four schools still in the fight for the superstar guard from Cincinnati Taft High School. He has no date in mind for a potential decision.
Ohio State is fresh off its best recruiting class under Chris Holtmann, and the Buckeyes could have another loaded class in 2023 if Griffith chooses the Buckeyes. They already have commitments from four-star guard George Washington III and three-star center Austin Parks.
Lettermen Live hosted by Roosters
The emotions are obviously still raw for Ohio State with the school's record-breaking quarterback, Dwayne Haskins, having just tragically died two days ago. There are still teammates and coaches on campus four years after Haskins left for the NFL who saw first-hand the impact he had for the Buckeyes, and they don't want to miss an opportunity to pay tribute to a transcendent talent on and off the field.
Ohio State hasn't finalized all the details for the exhibition game itself yet either. But Saturday will certainly be memorable for the Buckeyes on a number of different fronts, and the Lettermen Live crew chatted about all of that on Monday at Roosters.
Former Buckeyes Bobby Carpenter and Justin Zwick, Nicole Cox of Roosters and Lettermen Row staffers Spencer Holbrook and Austin Ward had another wide-ranging conversation, and the spring game was just one of the many topics covered.
As always, Lettermen Live is hosted by Roosters on Olentangy River Road in Columbus.
Ohio State freshman defensive lineman Caden Curry sheds black stripe
 Caden Curry set his sights on early playing time at Ohio State. He took a big step forward in the process of achieving that goal in his first year with the Buckeyes.
The freshman defensive lineman shed his black stripe Monday after practice, signaling that he is officially a part of the program just three months into his time inside the Woody Hayes Athletic Center.
Curry, a former four-star recruit from Cedar Grove High School in Greenwood, Indiana, has been impressing so far this spring as part of a defensive line that can be dominant for the Buckeyes. He was seen flashing into the backfield against the second-team offensive line when the Buckeyes held their open Student Appreciation Day practice last week, the latest sign that he's progressing.
Curry certainly won't let losing the black stripe this early in his first spring slow him down or make him complacent. He has worked for playing time early in his Buckeyes career, and he won't stop now that he is the second freshman to shed the stripe, trailing only safety Kye Stokes, who lost his last week.
READ: Buckeyes freshman defensive lineman Caden Curry loses black stripe
Are you subscribed yet?
Are you ready to get all your latest Ohio State news in one place? Become a member of Lettermen Row today. With your Lettermen Row/On3+ membership, you'll not only have access to the everything that's happening with the Buckeyes, but you'll also be able to peruse other fan sites within the network to hear just how rivals are feeling about Ohio State, as well. Make sure to follow along on Twitter, Instagram and on Youtube for all the latest Ohio State news you need to know.