James Franklin updates Penn State program health: Notes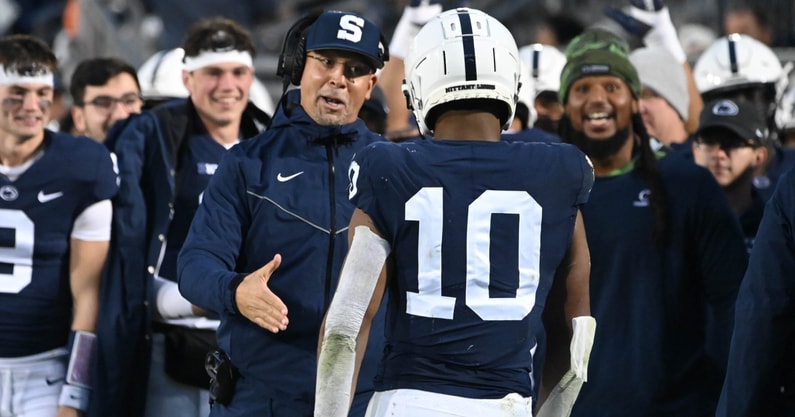 For Penn State head coach James Franklin on Tuesday, the coming Thanksgiving holiday was a jumping-off point. Meeting with reporters at Beaver Stadium for his weekly press conference, the Nittany Lions head coach immediately sought to establish a convivial tone for the final such occasion of the program's regular season.
Highly successful in doing so, the typical 40-minute press conference stretched for more than 50 minutes. 
That included off-script banter from Franklin, turning the tables on questioners regarding their Thanksgiving food preferences, his take on Christmas decorations, and more. 
Managing to concurrently provide an insightful take on his Nittany Lions as they prepare for their last home game of the year, a handful of news and notes items emerged. Here is a look at what stood out the most from Franklin's weekly press conference:
James Franklin press conference news and notes
Parker Washington, Olu Fashanu, and Joey Porter Jr.
Franklin said he knew the first question that was coming, though, once it was asked, admitted he'd only guessed part of it. 
Telling reporters after the Rutgers game that he wanted to wait until Tuesday before making any declarative statements about the health status of receiver Parker Washington, he followed through on the plan at his press conference.
"Parker will be done for the season. I did have that conversation with him and his mom," Franklin said. "So I wanted to make sure I covered that with them first and made sure everybody was comfortable with it."
Asked in a follow-up question about Washington's status with the program moving forward, and whether or not the receiver would return for a fourth year as a Nittany Lion, Franklin said he wasn't avoiding the question but that "not all of those conversations and decisions have been made yet."
The second and third names on the list continue to hold out hopes for coming back this season, though, according to Franklin.
According to the head coach, Olu Fashanu is expected back, stating that he didn't know the timeline but "hopefully" it would be this weekend. And, he said the same was true of Joey Porter, who has been missing since the Maryland game after suffering from appendicitis. 
Receivers filling the void
In Washington's absence, showtime has arrived for some of Penn State's lesser-used receiving options. Specifically asked about Tre Wallace, Liam Clifford, and Omari Evans, each being first- or second-year players, Franklin remained optimistic about their pending contributions.
"Yeah, I am excited for them," Franklin said. "That's kind of the nature of our game and the sport. When opportunity presents itself, you got to be ready,
"I've been impressed with those guys and how they've handled the opportunities they've had this season, and some of the roles have grown without some of the bumps and bruises. Last week, and this week, and moving forward, that's going to be really important for us."
Pointing to Penn State's tight ends taking on more responsibility as well as using the running backs more in the passing game, Franklin also noted the likely impact on Mitchell Tinsley and KeAndre Lambert-Smith.
Last week, Wallace finished third in reps with 45 behind Tinsley (50) and Lambert-Smith (48) while Evans and Clifford saw 17 and 15 reps, respectively. Malick Meiga also saw five reps.
Senior day rundown
Franklin spent much of his time Tuesday being asked about, and answering, his senior class set to be recognized on Saturday. 
The responses ran the gamut from individual player recollections of Sean Clifford to Jon Sutherland and Chris Stoll, to the reactions he hopes the group gets in front of its final Beaver Stadium crowd.
Of Clifford, Franklin said the quarterback's perseverance is what he most attached to his time at Penn State. Saying that he is an entrepreneur and businessman, Franklin said that whenever football ends for Clifford, he doesn't anticipate him to enter the coaching profession.
Of Chris Stoll, Franklin called the long-snapper "Mr. Consistent" in how he carries himself with his steady improvement and the way he handles himself off the field. 
And, regarding Sutherland, Franklin said the linebacker's ability to navigate the evolution of his career, and his influence in getting younger players to understand the necessity of taking care of their bodies would be part of his legacy in the program.
One interesting point to take away was Franklin's hope that Beaver Stadium would show its appreciation for the senior class. Infer, or not, at will, but his disappointment over Clifford being booed by home fans during introductions ahead of the Minnesota game might have been on his mind in this response.
"I hope all of the seniors get cheered the way I think they deserved to be cheered, not only in the Senior Day ceremonies but when they announce the starters and things like that. I think that would be the right thing to do," Franklin said. "As a Penn State community, I think the majority of our fans see it the same way."
James Franklin "at peace"
Given Franklin's fun back-and-forth throughout the session, eventually, he was asked about being more "at peace" this year than in other recent seasons.
Specifically referencing his name being attached to other job openings in previous years, as well as administration alignment, the question led Franklin to lay out the reality of his situation with Penn State as it currently stands. 
Stressing that questions asked about other jobs in previous years were "outside of my control," Franklin noted that indeed, he is in a better place.
"I think probably the biggest factor for that is the alignment. That has been phenomenal," Franklin said. "I think you guys know in the past I've always been happy with the leadership, but I did feel like we needed more alignment, specifically when it comes to football."
Crediting the board of trustees chair, Matt Schuyler, new university president, Dr. Neeli Bendapudi, and new athletic director, Dr. Pat Kraft, Franklin said the changes have been notable for the program, the athletic department, the university, and him personally. 
"I feel like I can focus more of my time and energy on our players and our program right now than probably I ever have in 12 years," he said. "Back to Vanderbilt."