Penn State head coach James Franklin joins The Hard Count with J.D. PicKell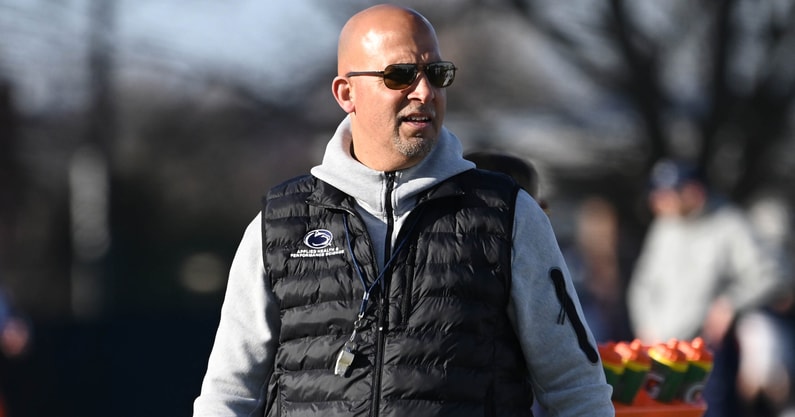 Penn State is exactly 100 days out from the 2023 season opener against West Virginia. It's no secret that the Nittany Lions will have high expectations this season, and that was a major topic of discussion during Thursday's episode of The Hard Count with J.D. PicKell, who was joined by Penn State head coach James Franklin.
Fans can check out the complete episode below. Franklin's interview begins around the 28:00 mark.
As expected, quarterback Drew Allar was a major talking point during the interview. The former five-star backed up Sean Clifford in 2022, although he still managed to total nearly 150 snaps in 10 games last season.
"We've got a competition for the quarterback spot and Drew Allar is a young man that there's a lot of excitement about," said the Penn State head coach. "Coming out of high school he was the No. 1 quarterback recruit in the country, was our backup quarterback last year. And unusually he was able to play in almost every single game, so that was a real positive that we were able to get him a ton of reps and experience last year."
Franklin went on to add, "He's kind of more of the old-school, traditional NFL quarterback. He's 6-foot-5, he's 242 pounds. He can make if not every throw on the field almost all of them. But he actually has a little bit more mobility than people may think, so there's a lot of excitement about him."
Franklin also said that his confidence at other positions on offense should only help Allar and Penn State's overall chances of success this season.
"I think number one, we've got a chance to be better on the O-line, we've got a chance to be better at running back, we've got a chance to be better at tight end," Franklin said. "We have a question mark at wide receiver. I saw some things this spring to get excited about but not ready to stamp 'em yet."