Penn State Prototypes: Building a prototype left tackle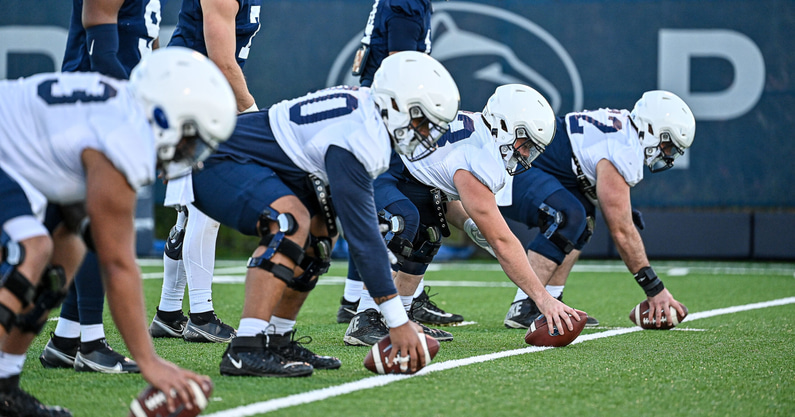 Much has been made, and rightfully so, about Penn State's struggles recruiting along the offensive line. One problem that seems to crop up regularly is the confusion of what position best suits a player when they reach the next level. Here is a handy guide to understanding positional prototypes along the offensive line to understand better what teams are looking for and what Penn State needs. We'll start with the most critical position on the offensive line; tackle.
Penn State Prototypes: Tackle
Height 6-6
Weight: 310-325 lbs
Reach: 33+ inch arms
Measurements Explained:
True offensive tackles are the rarest of the rare. They are jumbo-sized elite athletes with the skills of a much smaller player, expressed on an enormous scale. The main goal of offensive tackles in modern football is to prevent pass rushers from getting to the quarterback. This face remains regardless of right or left designation or scheme. The main traits are foot quickness, lateral agility, length, and power. 
Length:
To understand why length, in particular, is essential, one needs to understand the essentials of blocking. Players who make first contact along the line of scrimmage have a higher chance of dictating the block and therefore winning. Defensive ends and outside linebackers, designated as simply "edge defenders" in modern football, are also built with length in mind. Length means the usable length of your limbs and most commonly refers to the arm length of a player. The longer your arms, like in boxing, the better you can punch first. The threshold for tackle-level arm length is 33 inches, but in this case, more is. 
Height and Weight:
This one isn't rocket science. Height is different from reach as it takes the overall frame of a player into account. The larger that player is, the more weight he can naturally carry. Increased height usually coincides with a more extended reach as well. The reason 6-6 is 'ideal' for a tackle is that the average arm length for a player that size is 34 inches. However, not every 6-6 football player reaches 34 inches, and some shorter players have above-average arm length. That's why height should be secondary to reach in terms of importance for a tackle. A 6-4 college tackle with 33-inch arms can be very successful as long as they have most of the other traits associated with the position. 
Weight is less important than functional strength but is still essential. We all know someone in our lives that is just uncommonly strong compared to what you'd expect for their size, and football is no different. Yet, there's no denying that more mass, as long as it's not an encumbering mass, leads to more impact at the point of contact as a blocker. In other words, bigger people are usually stronger. Again, rocket science. 
Penn State Prototypes: Positional Skills
Foot quickness
What in the world is foot quickness? That sounds like nonsense. 
As we discussed earlier, tackles have the unenviable job of blocking edge defenders, who are some of the most complete athletes in football. Twitchy, fast, explosive defenders with size and length make up the best pass rushers in football. While run blocking is important, protecting the quarterback on passing plays is what sets the prototype for tackles. 
Agility
Because they set the edge of the pocket, tackles have to be agile. Big men that cannot afford to play slowly. So, how quickly can you pick your feet up and put them back down? The positional fundamentals of a kick slide are the focus of this trait. Excellent pass protection demands a player that can quickly move his feet in a precise pattern to preserve balance and strength while also getting to the apex of the pass rush as soon as possible. 
Some run-blocking techniques require more quickness, mobility than raw power. Being in a balanced, powerful position is the foundation of all blocking. Quickness, aided by technique, is the key.
Posterior Chain and Hip Flexibility
Many of these physical skills tie together, so there is some redundancy. Posterior (the muscles running along the back of your body) flexibility is most commonly tied to pad height. That, along with flexibility in the hips, creates a low pad level. As we all have heard, "low man wins" in football. Can a 6-6 football player get into a powerful stance lower than a shorter opponent? Even a close approximation with great technique is enough to make an excellent run-blocker. 
This flexibility also helps pass protection by allowing a player the fluidity to move laterally and backward through space. Pass protection is done in reverse from pass rushing and requires a great deal of coordination. The more flexible a tackle is, the longer his stride can be while maintaining control. This trait is better known as agility. The bottom line is that stiffness leads to a higher pad level, mitigating reach and balance. For the most part, this is a trait that Penn State players have excelled in.
Power
Offensive linemen look fat, but the reality is far from that. The best players may have to carry a certain amount of surface belly fat to maintain their larger size, but make no mistake, they are powerful through their core. A strong abdominal region leads to better balance and a better ability to transition force from the lower body to the point of contact. If there was one thing that it was clear Penn State lacked last season it was power.
This next trait is universal to all offensive linemen, and really, all football players. Explosive power and strength derive from the human body's lower half. Wider hips on a large frame lead to more natural mass and expressively thick legs. Athletes are built from the ground up.