Recapping offensive lineman JB Nelson's path to Penn State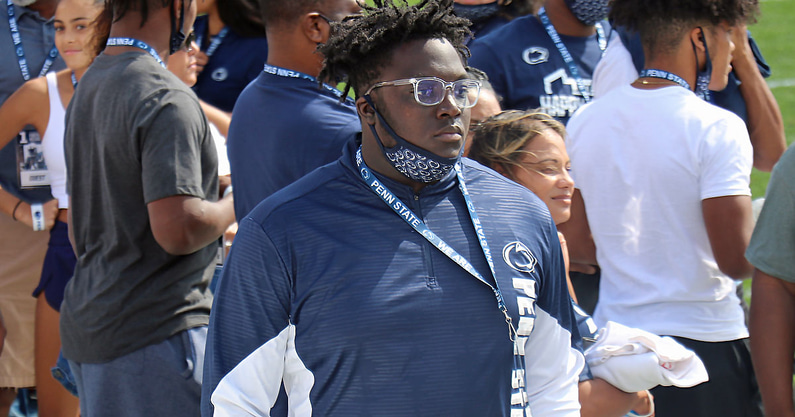 Penn State fans, the following story appears in Blue White Illustrated's upcoming Class of 2022 recruiting magazine. It features over 70 pages of analysis, bios and superlatives on the most recent class. You can order today at BlueWhiteOnline.com.
The top junior college prospect in the country is a Penn State Nittany Lion.
Offensive lineman JB Nelson out of Lackawanna College is a key member of Penn State's Class of 2022. The On3 Consensus rates him as the No. 1 overall junior college prospect, giving the Nittany Lions a crucial boost at a position of need entering the 2022 season. 
"JB's an extremely talented athlete," Lackawanna coach Mark Duda said. "He's very twitchy, quick, long and tall. He can make blocks other people can't make. He's an exceptional athlete. He's really gritty and tough and finishes blocks because he wants to finish them." 
Penn State listed Nelson at 6-foot-5, 300 pounds when he signed his National Letter of Intent at the beginning of the early signing period back in December. 
Nelson, who projects as a guard, is one of nine signees who enrolled early, allowing him to arrive on campus before the spring semester began in January and partake in spring ball and winter workouts. 
Lackawanna offensive coordinator Josh Pardini called Nelson one of the strongest players he's ever coached — a trait that will certainly benefit a Nittany Lion offensive line that seemed to be lacking in brute force during the 2021 season. 
"He's sneaky athletic because he's never in a bad position to get back into a good position," Pardini told BWI this summer. "It's rare that he gets beat across the face or up the field or takes a bad angle, and so you don't get to see that athleticism all the time, but what you do get to see is somebody who is just physically ready to play at the point of attack at that level.
"In the run game, he changes the line of scrimmage. He gets the defense, understands leverage, and opposing players' leverage. He does a great job of accelerating defenders. If they want to go inside, he says I'm going to take the inside, and he's going to go there fast and violent." 
Penn State held interest in Nelson as a high school prospect out of Mount Lebanon in Pittsburgh. 
Nelson, though, elected to go the junior college route instead. He emerged as a top-level prospect who could help the Nittany Lions immediately. 
Nelson chose Penn State from among a group of five offers that also included Ole Miss, Maryland, West Virginia and NC State. 
He announced his commitment on July 2, 2021. Nelson cited a close Penn State relationship with Lackawanna as a major factor in his choice. 
"I know they've been great with Lackawanna players," he said following his commitment. "Another part is just that I had a talk with my whole family about it, and they all want me to go there. My mom really liked the school. She really liked the coaches and we both felt at home there. The coaches were very genuine, and I really liked the campus and everything."
Nelson helped the Falcons average 37.5 points per game on offense in 2021, picking up 434.2 yards per game.
It's unclear if he'll step right into a key role for Penn State, but Duda believes he can make an impact, as many other Lackawanna products have before him. 
"The sky is the limit for him," Duda said.