Penn State sends out new portal offer; Former Lions assistant returning to college football: Newsstand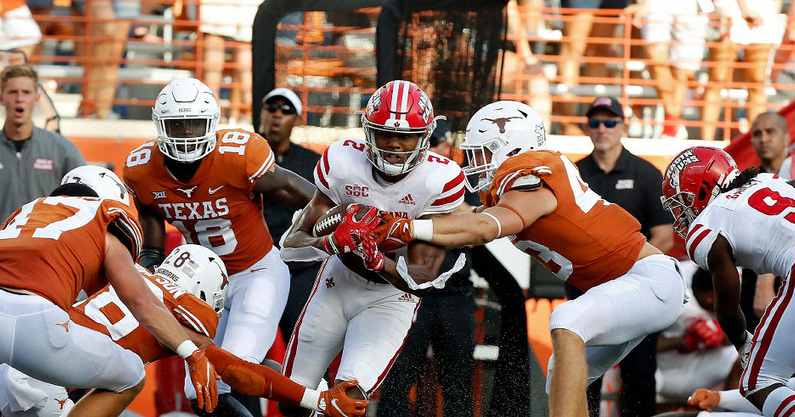 The Penn State football news wheel is spinning again on Wednesday.
A Group of Five receiver who led his team in touchdowns and is now in the transfer portal has reported an offer from the Lions. Elsewhere, a former PSU assistant coach who left for the NFL is returning to the college ranks, albeit in the ACC.
Let's dive into the top tweets and headlines about Penn State and college football on Jan. 12.
Penn State tweets of the day
We start with a new transfer portal offer.
Former Louisiana receiver Kyren Lacy tweeted late Tuesday night that Penn State has offered. The second-year pass catcher led the Rajin' Cajuns with six touchdown receptions in 2022 and finished with a total of 22 catches for 304 yards.
According to On3 reporting, Lacy already took an official visit to Auburn this week and has plans to take one to LSU. It's possible he could see State College, but it's more likely than not that the Louisiana native will decide prior to ever doing so. However, PSU now has its hat in the ring. We'll see how things transpire from here.
Lacy stands 6-foot-3, 213 pounds.
In other news, Sean Spencer is returning to the college ranks, according to multiple reports.
Josina Anderson and Bruce Feldman both reported Tuesday night that the former Penn State defensive line coach is headed to Duke. There, he is expected to be its co-defensive coordinator. Spencer, of course, left the Lions and spent a few seasons with the New York Giants in the NFL. Many assistants are searching for other jobs, however, after head coach Joe Judge was fired on Tuesday.
Finally, PSU has made the top-12 for Harrisburg, N.C., 2023 receiver Christian Hamilton. He's 5-foot-,11, 167 pounds.
Headlines of the day
Report: Former Penn State football defensive line coach Sean Spencer to join Duke staff: Engle, Daily Collegian
Handful of top Penn State prospects confirm plans for Jan. 29 junior day: Snyder, BWI
Penn State Football Early Enrollees 'Set The Standard' During First Week: Onward State
Where is Penn State in the initial early top-25 rankings for 2022?: Pickel, BWI
Schedule change a big break for Penn State: Giger, DkOnPittsburghSports
Penn State builds, maintains lead in 66-49 win over Rutgers: Bauer, BWI
Sources: Star Alabama Crimson Tide WR Jameson Williams has torn ACL: ESPN
Penn State wrestling notebook: Cael Sanderson talks Brady Berge, midseason additions, and more: Pickel, BWI
CFP expansion talks stall and frustration boils over for one conference commissioner: Thamel, Yahoo
Top Penn State defensive back target set to return to State College Saturday: Snyder, BWI
Quote of the day
"At a certain point, we start to put the brakes up. They get the double stop signs. We're going to run some clock right here. It goes back to having two guys (in Pickett and Sessoms) that can handle the basketball and run your offense. 
"Now it takes away what they do in terms of how they guard you late. Because if they trap one, throw it to the other, and vice versa. So that's a challenge. For us to be able to hold that lead was great."
–PSU basketball coach Micah Shrewsberry on his team's 66-49 win over Rutgers Tuesday night.