School record 77 points, three turnovers carry SMU past Houston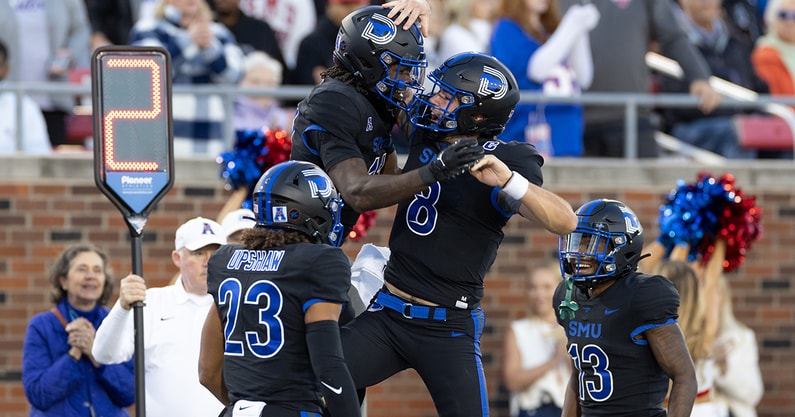 SMU and Houston combined for 140 points in an insane Saturday night American Athletic Conference matchup, but it was the Mustangs who came out on top, 77-63. Rhett Lashlee's squad had its second straight fast start, but the fast start never stopped.
That led to a school record in points, led by quarterback Tanner Mordecai, who threw a whopping nine touchdowns in the contest. The Waco, Texas native completed 28-of-37 for 379 yards and nine touchdowns. He added eight carries for 54 yards and a rushing touchdown, too.
The difference in this contest though, which could be categorized as defense optional for the most part, was three turnovers SMU forced. Safety Nick Roberts notched two interceptions and corner Jahari Rogers put the game on ice with one redzone pick in the final minutes.
"It's obvious, the difference in the game was three turnovers to zero," SMU head coach Rhett Lashlee said. "And we ran the ball 46 times for 263, they only ran 17 times. They had to drop back to pass 54 times, we only had to drop back to pass 37. I didn't know it was going to end up the way it did, but you had the feeling it was back and forth, nobody was breaking serve. That's why we faked the punt.
"The two interceptions by Nick is what allowed us to create the separation. Fortunately, from that point on, we were able to keep holding serve."
The game, which was a record for points scored in regulation between two teams, left Lashlee a bit speechless after the game.
"I haven't seen anything like that before. Just really proud of our guys to get the win. This game's important to us, SMU and Houston, it's a great rivalry," he said. "I don't know when we have to play Houston again. So, we wanted to send it back with the L. I knew we would and we did."
Houston quarterback Clayton Tune tried his best to beat the Mustangs, totaling eight touchdowns while leading the Cougars to 710 total yards.
SMU's balance helped though as the Mustangs leaned on running back Tyler Lavine yet again. After a huge performance against Tulsa, Lavine notched 25 carries for 147 yards and one touchdown. Running back Velton Gardner added eight carries for 69 yards and a score as well.
Wide receivers Dylan Goffney and Rashee Rice combined for 12 catches for 186 yards and three touchdowns. This week, the tight ends also thrived with five touchdowns between Ben Redding and RJ Maryland, who combined for eight catches for 76 yards.
SMU faces USF on the road next Saturday at 11 a.m. CT with a chance to win a third straight contest. The Bulls were bullied by Temple on Saturday, 54-28.