Tennessee football Spring '23 -- Newcomers to watch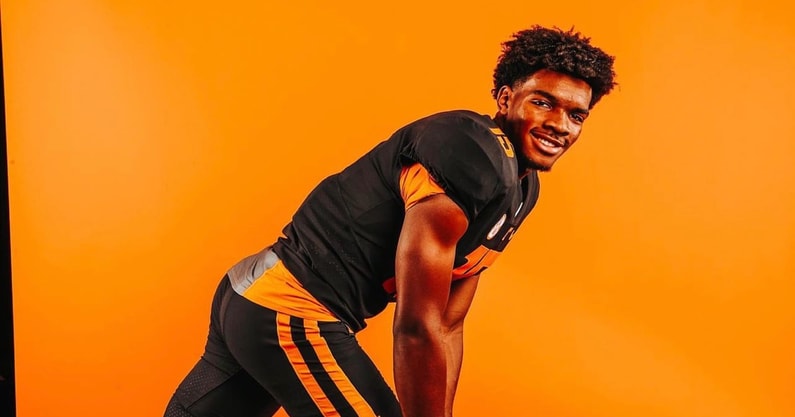 With over two dozen newcomers arriving in January including transfers, the Tennessee football roster looks very different – which makes for plenty of interest in spring practice. 
Spring ball starts on Monday and thanks to bowl practice it won't be completely new to most of the newcomers. The result is that some new comers could make noise than others over the next month. 
Austin Price and Brent Hubbs discuss the arrival of he newcomers and who they are most curious to see starting on Monday.
Brent's trio:
Rickey Gibson — The Vols fought off Georgia late for the cornerback and while most of the talk about the new corners has been around Jordan Matthews, don't sleep on Gibson. The freshman has a lot of tools and is highly competitive. It will be interesting to see his game translate to the college level. 
John Slaughter — Slaughter created some early buzz during bowl practice with his athletic ability. Tennessee needs to be more athletic at the safety position and Slaughter is definitely athletic. The question is, how physical will he be to start his career? Tennessee didn't go full speed, full gear with the newcomers in December, so what do they look like when they start "playing ball?" 
Andrej Karic — The Texas transfer played more football for the Longhorns in 2021 than 2022. Karic has played tackle and guard at the Power Five level, so where does he factor in at Tennessee? The Vols have a need at tackle and they are looking for a guard to replace Jerome Carvin. How does Karic adjust to Tennessee's offensive speed? Is he a guard or a tackle? He's an intriguing guy for sure. 
Austin's trio:
Arion Carter — Arguably the biggest commit, and addition to the class post Nico Iamaleava, Carter has flashed in winter workouts. He is super athletic, and should be able to crack the two deep this fall. It all starts this spring with him pushing a group that is deeper than any moment since Brian Jean Mary got here and his combination of smarts and athleticism give him a real shot.
Caleb Herring — Herring has put on nearly 25 pounds since he arrived in January. I said all along that getting him back around his brother Elijah would be big for his development and buy in. That has obviously been the case and he is pushing himself. If he can handle it mentally, he is going to be a real option for playing time this fall. His frame is really impressive and I'm super intrigued to see how he does in spring.
Nathan Leacock — It's harder for wide receivers to get to the field when Tennessee plays a smaller rotation, but that doesn't hamper my intrigue with Leacock. He is smooth and has really good speed for someone his size. Obviously, getting on the field will be more difficult when it comes to real snaps this fall, but it won't shock me if he is drawing praise this spring. Kelsey Pope did a great job of finding him and getting him in the boat and I know he is excited to see what he can do.