Tennessee's Josh Heupel is college football's newest $9 million man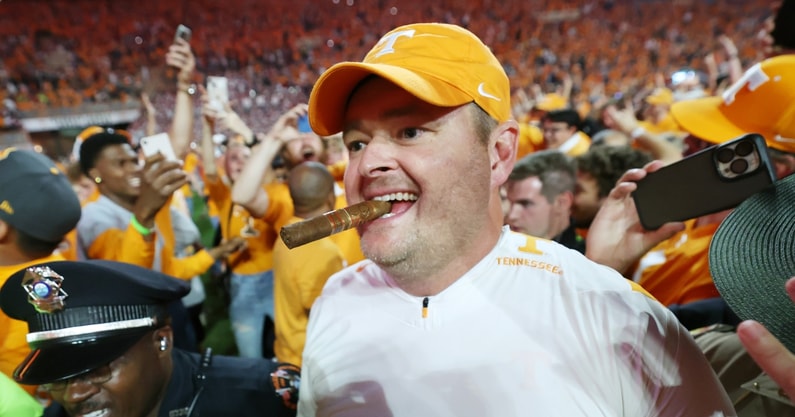 Tennessee's investment into football is at an all-time high following the Vols 11 win season as head coach Josh Heupel has become the newest college football coach in the $9 million club, according to multiple sources.
Heupel's new $9 million deal runs through January of 2029. Heupel made $5 million in 2022. 
Heupel's raise moves him to around fifth in the SEC behind Nick Saban, Kirby Smart, Brian Kelly and Jimbo Fisher. The $4 million dollar raise moves Heupel into the top 10 nationally in head coaches salaries. 
If Heupel were dismissed without cause prior to December 15, 2025, then Tennessee would owe him 100% of what he would be owed through the remained of the contract. The buyout drops to 75% if termination occurs between December 15, 2025 and December 14, 2027. On December 15, 2027, the buyout falls to 50%. 
The head coach's bonus structure sees one change from his original contract. Heupel's bowl bonus structure ranges from $100,000 for making a bowl game up to $1 million for winning the national championship game (up from $500,000). He also has incentives for making the SEC Championship game, coach of the year honors, academic progress achievements and finishing ranked. 
Heupel would receive $50,000 if his team finishes the year ranked in the top 25, $100,000 if in the top 10, and $150,000 if in the top 5. 
Tennessee's 2022 season brought great joy to Rocky Top as the Vols celebrated a 52-49 win over Alabama. Their first victory over the Tide since 2006. Tennessee also found themselves at the center of the college football world as the Vols were ranked #1 in the first college football playoff rankings in 2022. Josh Heupel's offense led the nation in points scored and in yards as Hendon Hooker became a Heisman Trophy candidate and Jalin Hyatt won the Biletnikoff award as the nation's top receiver. 
In two seasons, Heupel has won 18 games and scored 1110 points. 
Tennessee's assistants are also getting re-structured deals that the University are working to finalize in the coming weeks.