How it Happened: Texas A&M ousts Tennessee from the SEC tournament, winning 3-0 in first round
HOOVER — Texas A&M blanked Tennessee by a score of 3-0 in the opening round of the 2023 SEC Baseball Tournament thanks to a career day from southpaw Troy Wansing on the mound.
The lefty tossed eight innings without allowing a run, retiring the first 16 batters he faced on the day. Christian Scott's single in the sixth inning broke up the perfect bid, but Tennessee's offense stayed quiet there on after as well. Wansing (3-3) finished the day tossing eight innings allowing just the one hit, no runs, sevens strikeouts and no walks on 95 pitches.
Seth Halvorsen (2-3) is charged with the loss, though he was decent over the course of four innings where he allowed two runs on three hits with six strikeouts and three walks. Texas A&M (33-23) finished the ballgame with three runs off five hits while the Volunteers mustered only the one hit on the day.  
With the loss, Tennessee was eliminated from the Southeastern Conference Baseball Tournament. The game also consisted of a 2 hour and 5 minute rain delay in the top of the ninth inning. The Vols now await their postseason draw on Selection Monday, May 29. But first, how did it happen for the Tennessee?
Scoring Summary
Top 3rd: With one out, Hunter Haas walked. Jack Moss singled to right and Haas went to third. Trevor Werner reached on a fielder's choice as Moss was out at second on the sharply hit round ball to third. Haas scored. Jace Laviolette struck out.
1R, 1H, 0E, 1LOB – Score: Texas A&M 1-0  
Top 4th: Jordan Thompson singled through the left side and stole second. Thompson was later awarded third base on a balk from Seth Halvorsen. Ryan Targac struck out. Austin Bost singled in the runner on a base-hit to centerfield. Brett Minnich popped out behind the second base bag. Max Kaufer
1R, 1H, 0E, 1LOB – Score: Texas A&M 2-0
Top 6th: Jace Laviolette homered to right-centerfield. Jordan Thompson grounded out. Rya Targac struck out and Austin Bost fouled out.
1R, 1H, 0E, 0LOB – Score: Texas A&M 3-0  
Postgame Video
The Final Stats


SEC Tournament Bracket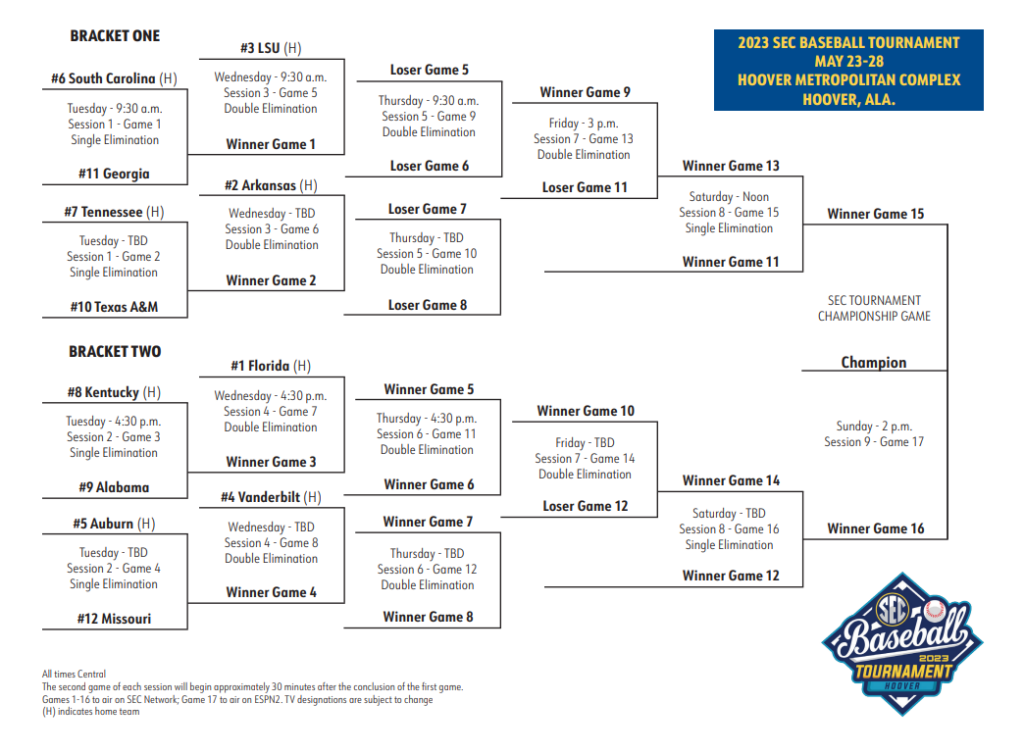 SEC Tournament Schedule (all times Central)
Tuesday, May 23
Game 1 (9:30 a.m.) – South Carolina 9, Georgia 0
Game 2 (TBD) –  Texas A&M 3, Tennessee 0 | Box Score
Game 3 (4:30 p.m.) – #8 Kentucky vs. #9 Alabama [SEC Network]
Game 4 (TBD) – #5 Auburn vs. #12 Missouri [SEC Network]
Wednesday, May 24
Game 5 (9:30 a.m.) – #3 LSU vs. Winner Game 1 [SEC Network]
Game 6 (TBD) – #2 Arkansas vs. Winner Game 2 [SEC Network]
Game 7 (4:30 p.m.) – #1 Florida vs. Winner Game 3 [SEC Network]
Game 8 (TBD) – #4 Vanderbilt vs. Winner Game 4 [SEC Network]
Thursday, May 25
Game 9 (9:30 a.m.) – Loser Game 5 vs. Loser Game 6 [SEC Network]
Game 10 (TBD) – Loser Game 7 vs. Loser Game 8 [SEC Network]
Game 11 (4:30 p.m.) – Winner Game 5 vs. Winner Game 6 [SEC Network]
Game 12 (TBD) – Winner Game 7 vs. Winner Game 8 [SEC Network]
Friday, May 26
Game 13 (3 p.m.) – Winner Game 9 vs. Loser Game 11 [SEC Network]
Game 14 (TBD) – Winner Game 10 vs. Loser 12 [SEC Network]
Saturday, May 27
Game 15 (Noon) – Winner Game 13 vs. Winner Game 11 [SEC Network]
Game 16 ( TBD) – Winner Game 14 vs. Winner Game 12 [SEC Network]
Sunday, May 28 
Game 17 (2 p.m.) –  Winner Game 15 vs. Winner Game 16 [ESPN2]
Tennessee in the weekly polls
Perfect Game – No. 9 (-)
D1 Baseball – No. 13 (+5)
USA Today – No. 13 (+6)
NCBWA – No. 15 (+4)
Baseball America – No. 18 (+1)
Collegiate Baseball Newspaper – No. 25 (+4)