Darnell Wright stayed at Tennessee when 'it felt like the whole house was crumbling' and was rewarded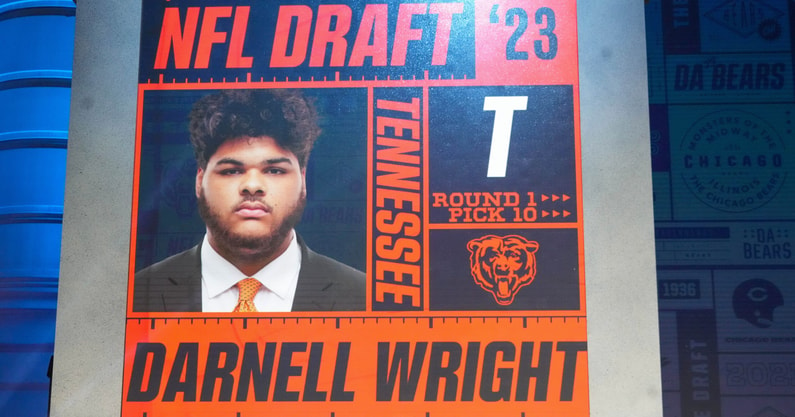 Darnell Wright remembers what it felt like inside Tennessee football's Anderson Training Center back in January 2021. Jeremy Pruitt and his staff had been fired as head coach. Phillip Fulmer was out as athletic director. An NCAA investigation, which caused the mass changes, was having over the program.
"We went through a time, everybody knows, we had some things going on," Wright said last week. "It felt like the whole house was crumbling itself. We didn't know if we were going to get a bowl ban, we didn't know. There were so many things happening."
A parade of Tennessee players headed toward to the NCAA Transfer Portal with the unknowns clouding the future of the Vols. Running back Eric Gray, offensive lineman Wanya Morris, defensive back Keyshawn Lawrence, linebacker Henry To'o To'o and so many others.  
Wright decided to stick around though. And ignore everything that he didn't have a direct impact on.
"I was like you know, just control what you can control," Wright said. "Then just try to do the best you can. It's out of your control, just try to be the best you can be."
Darnell Wright is Tennessee's first first-round pick since 2017
Wright becoming the best version of himself started when Josh Heupel was hired as Tennessee's new head coach. He unlocked his full potential at right tackle last season, starting all 13 games at the position and earning All-SEC First Team honors from the Associated Press, SEC Coaches and USA Today. 
The ultimate testament came last week, when the Chicago Bears picked Wright at No. 10 overall in the NFL Draft. He's Tennessee's first first-round pick since Derek Barnett in 2017, at No. 17 overall to the Philadelphia Eagles, and the highest drafted offensive lineman from the Vols since Ju'Wuan James in 2014, who went at No. 19 overall to the Miami Dolphins. 
Wright initially got the attention of the Bears in February at the Senior Bowl in Mobile, where he was coached by the Chicago coaching staff, including offensive coordinator Luke Getsy and offensive line coach Chris Morgan. 
The Bears had the No. 1 overall pick initially, before trading back with the Carolina Panthers. They traded back again on draft night, moving one spot to No. 10. 
Wright knew he had a strong connection with the Bears. But did he think he could be drafted that high?
"I knew as far as my talent, what I could do, I knew I could go this high," he said. "But it just took the right team to see that, the right coaches to know what they're looking at. They know what I can be. I haven't scratched the surface of what I can be. I think they know that and I know that. And it's going to fun."
Darnell Wright: 'I'm just happy (the Bears) believed in me'
Most draft projections had Wright as the fourth best offensive tackle available in the draft, behind Ohio State's Paris Johnson Jr., Northwestern's Peter Skoronski and Georgia's Broderick Jones. 
Johnson was off the board at No. 6 to the Arizona Cardinals. Skoronski was picked at No. 11, just behind Wright, and Jones went at No. 14 to the Pittsburgh Steelers. 
"I'm just happy (the Bears) believed in me," Wright said, "and saw what I think a lot of people saw, but maybe some people didn't. I'm just happy they believed in me, really."
In the end, Wright treated the draft just like he treated his future at Tennessee. He controlled what he could control. The rest was out of his hands.
"I couldn't control the draft, where I was going to go," Wright said, "although I'm somewhere that I really wanted to be (in Chicago). So it's almost like a plus; I don't think a lot of people get that lucky. But I don't know, just control what you control and do the best with what you've got."