Jalin Hyatt 'got serious with it' at Tennessee and changed his football career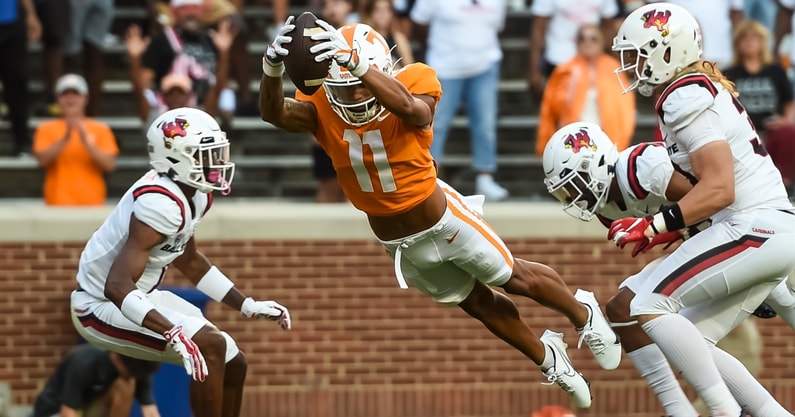 The Jalin Hyatt that exploded onto the scene last season looked like a different player. After a relatively quiet first two years at Tennessee, the speedy slot receiver suddenly couldn't be stopped during his junior season.
He caught 67 passes. He finished with 1,267 receiving yards. He had a staggering 15 touchdowns. He led Tennessee in all three categories, came within 31 yards of Tennessee's single-season record for receiving yards and set a new record with the 15 touchdowns.
He became the Tennessee player to win the Bilenikoff Award, given annually to college football's best wide receiver, too. 
And it all happened after he combined for he caught 41 passes for 502 yards and four touchdowns over his freshman and sophomore seasons, appearing in 17 games.
Jalin Hyatt's breakout junior season came after realization 'that this right here is for me'
What was the difference? How did Hyatt go from unknown to an NFL Draft pick?
"I would just say I got serious with it," Hyatt said last week. "I got serious with it. I started realizing that this right here is for me."
The realization was confirmed in the third round of the NFL Draft last week, when the New York Giants traded up to take Hyatt at No. 73 overall. 
"I knew it was going to come," Hyatt said during his introductory press conference in New York. "So being here, in this moment, seeing all of y'all and seeing my parents here, it's a dream come true. This is something I've been dreaming of for a long time."
Hyatt was a four-star receiver out of Dutch Fork High School in Irmo, S.C. 
He caught his first career touchdown pass and finished with five catches for 81 yards against Alabama in 2020, but finished the year with just 276 yards and two touchdowns. He went down to 226 receiving yards as a sophomore in 2021, ending the season with a touchdown catch against Purdue in the Music City Bowl before his career-changing offseason started.
"I had dreams of coming to the NFL," Hyatt said. "I had dreams of playing here as a kid. Playing basketball, playing football, running track — I had a dream of coming to football."
Jalin Hyatt: 'The Giants took me, traded up to get me, and that's something I'll never forget'
The first round came and went without Hyatt hearing his name called. So did the second round. But he was never concerned about where he might be drafted, only that he would be drafted.
"I wasn't worried if I was sliding up or down or whatever," Hyatt said. "I know for me, whatever team drafted me, I knew I was going to do. The Giants took me, traded up to get me, and that's something I'll never forget. Now it's time to put in work, do what I have to do and make my name here."
Hyatt was already preparing to put that work in after the Giants called him on draft night. He was texting with starting quarterback Daniel Jones, setting up throwing sessions.
He was getting serious about his NFL career the moment is got started. 
"We're going to get on the field soon, I can tell you that," Hyatt said. "I need to text him later, go ahead and get the playbook down. Get him to send me the playbook so we can get rolling. 
"I can't wait. Daniel Jones is a great quarterback, we all know that. He's proven himself. Now it's time for me to prove myself. I can't wait for it."