Where ESPN analysts rank Tennessee players in the 2023 NFL Draft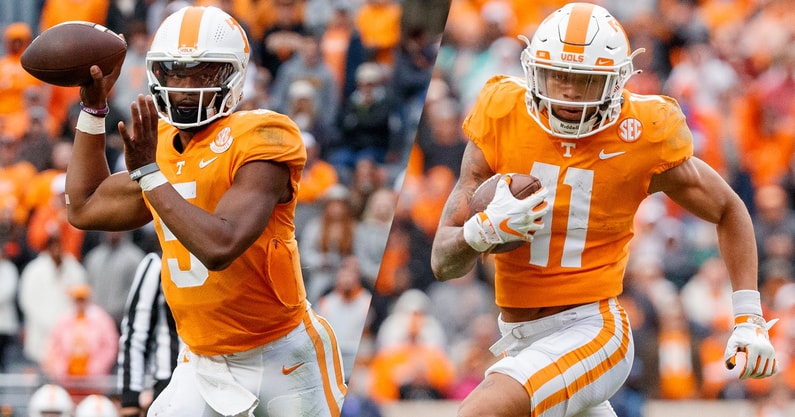 The 2023 NFL Draft is only a day away. And draft day should be a big one for Tennessee football, which should have a first-round pick for the first time since 2017 and could have multiple first-rounders for the first time since 2010.
Both offensive tackle Darnell Wright and quarterback Hendon Hooker have been projected as possible first-round picks, with Wright coming off the board midway through the opening round and Hooker as a possibility late in the round.
Tennessee's last first-round pick was defensive end Derek Barnett at No. 17 overall to the Philadelphia Eagles in 2017. The Vols had two first-round picks in 2010 when safety Eric Berry went at No. 5 overall to the Kansas City Chiefs and defensive tackle Dan Williams went No. 26 overall to the Arizona Cardinals. 
ESPN's NFL Draft coverage includes complete rankings for three analysts — Mel Kiper Jr., Matt Miller and Jordan Reid — as well as a ranking of the best available players in the draft. 
NFL Draft Player Rankings According to ESPN Analysts
What seems to be a consensus is that Wright will hear his name called in the first round after his All-SEC breakout season at right tackle. He was ranked as high as No. 15 overall by McShay and his lowest ranking came from Kiper, at No. 24. 
"Wright has a truly elite combination of height, weight and straight-line speed," McShay wrote. "He also showed exceptional lower-body explosion. But he has smaller-than-average arm length and hand span. In pass pro, his footwork and balance showed significant improvement in 2022, and he shows the ability to mirror-and-slide and keep pass-rushers in front of him when he's playing with urgency. He also rarely gives ground to power rushers. 
"As a run-blocker, Wright is a much better gap blocker than zone blocker," McShay added. "He has a massive frame and excellent overall strength as a drive blocker when he latches on with balance. He fires out with good quickness and shows the ability to reach the second level and dominate linebackers once he gets into their pads. Wright projects best as a right tackle but also would have no trouble kicking inside to guard."
Kiper described Wright as "the best pure right tackle in this draft" and noted he could end up going as high as No. 9 overall to the Chicago Bears.
"He started 42 games in college," Kiper wrote of Wright, "playing both tackle spots and right guard for the Vols. Wright got better every season. Go watch his tape against Alabama and Will Anderson Jr. — he dominated a potential top-three pick. Wright was called for eight penalties in 2021 but just two last season, so he cleaned up his game."
There's more of a difference of opinion for Hooker, who was ranked as high as No. 27 and as low as No. 54. Jalin Hyatt was ranked as high as No. 26 and as low as No. 49, ahead of Cedric Tillman, who was ranked No. 41 overall by Miller and No. 71 overall by Reid. 
NFL Draft: Thursday-Sunday, Kansas City, ESPN
Kiper is higher on Byron Young than others, ranking him at No. 51 overall while Miller has him at No. 100 and Reid at No. 133. Miller is highest on inside linebacker Jeremy Banks at No. 186 overall, while Reid has him at No. 214.
Reid also ranked guard Jerome Carvin at No. 276 overall, well ahead of Miller's ranking of No. 333. Miller had tight end Princeton Fant at No. 350 overall, just ahead of Reid's ranking of No. 366. Kiper has Fant at No. 8 among fullbacks/H-backs. 
Tennessee had five players picked in the 2022 NFL Draft — the most since 2017 — between the second and sixth rounds. There were two Vols picked in both 2020 and 2021 and three picked in 2018. 
Tennessee had seven players drafted in 2017, the most since eight were picked in 2003. There were 10 Vols picked in the 2002 draft, including three first-rounders (John Henderson, Donte Stallworth and Albert Haynesworth).