Robert Ayers Jr. has 'credibility instantly' as Tennessee's new defensive graduate assistant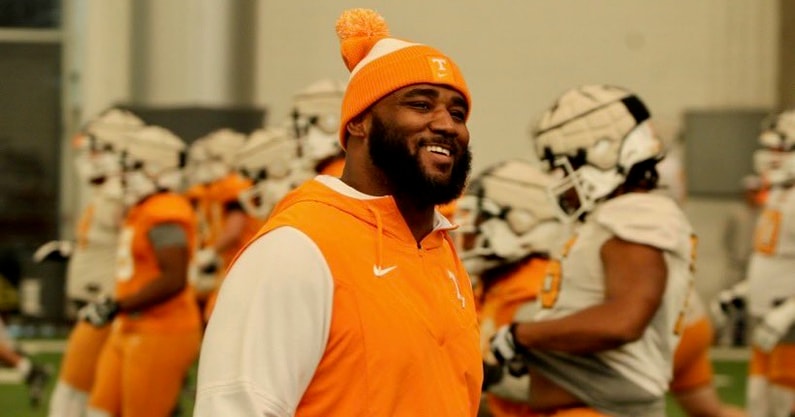 Tennessee defensive line coach Rodney Garner has already seen enough from Robert Ayers Jr., the former standout pass-rusher for the Vols and the newest defensive analyst on the Josh Heupel's coaching staff, to know what's in store in his coaching future.
"I think Robert's going to be a really good young coach," Garner said on Saturday, after Tennessee wrapped up its first week of spring practice. "I'm really excited about him."
Ayers, who played 10 years in the NFL, was defensive coordinator at Oak Ridge High School last season after starting his coaching career as defensive line coach and then defensive coordinator at Knoxville Catholic in 2020 and 2021.
During four seasons at Tennessee, from 2005 to 2008, Ayers had 113 tackles, 31.5 tackles for loss and 9.0 sacks. He had one interception during his career and three passes deflected. 
"Obviously, he's got credibility instantly," Garner said. "He's a first-round draft pick, played 10 years in the NFL. When he says something, those kids believe him and hang on to it. He's very passionate about it. He knows what he is talking about, so I think he's only going to help us to get better and become a better football team."
Robert Ayers had 113 tackles, 31.5 TFLs in four years as Tennessee defensive end
Ayers had a career best 49 tackles and 15.5 tackles for loss as a senior in 2008. He had 34 tackles, 12.0 tackles for a loss and a career-high 4.0 sacks as a junior in 2007, leading Tennessee in tackles for loss over each of his last two seasons. Ayers had 25 tackles as a sophomore in 2006 after recording five tackles in nine games as a freshman in 2005.
Ayers was a first-round pick in the 2009 NFL Draft, going 18th overall to the Denver Broncos. He played 10 years in the league — for the Broncos, New York Giants and Tampa Bay Buccaneers — and recorded 34.5 sacks and 265 tackles in 120 career games.
He retired from the NFL in July 2019, after spending five years with the Broncos, three years with the Giants and two years in Tampa. 
"Hopefully," Garner said, "one of the things we said coming out of last season that we needed to improve on was being better on a four-down pass rush. Hopefully, (Ayers) be able to bring a lot of (insight) to that, to be able to help us improve in that area."
Vols promoted QB coach Joey Halzle to offensive coordinator, Alec Abeln to tight ends coach
The addition of Ayers as a defensive analyst was announced in February.
Heupel promoted quarterbacks coach Joey Halzle to offensive coordinator in January and on February 2 announced the promotion of Alec Abeln, an offensive analyst the last two seasons for the Vols, to tight ends coach. Golesh was offensive coordinator and quarterbacks coach during his two season at Tennessee.  
"Alec has played an integral role in our offensive staff room over the past two years, and we are excited to elevate him to tight ends coach," Heupel said in a press release. "Alec played for me and has been a part of our staff at multiple programs. He is detail-oriented with a relentless work ethic. 
"He has built great relationships among our players and staff. Alec is eager to get on the field, and I know we will continue to raise the standard of our tight end unit under his watch."