Lincoln Riley throws out first pitch at Dodger Stadium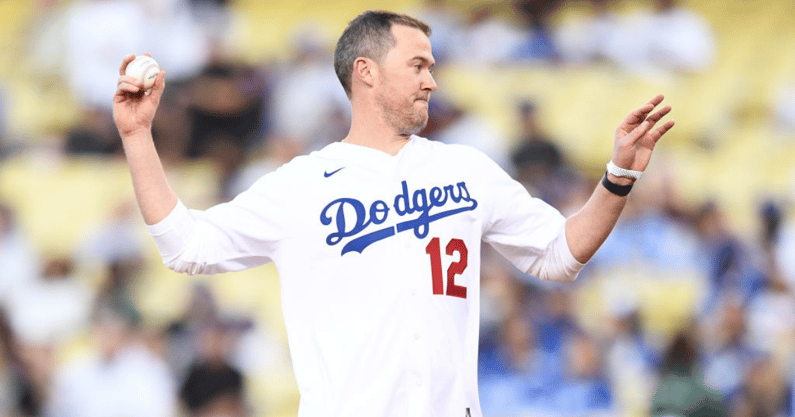 Friday marked USC night at Dodger Stadium and head coach Lincoln Riley was front and center, throwing out the first pitch before the Los Angeles Dodgers hosted the Philadelphia Phillies.
Riley delivered the pitch to third baseman Justin Turner. And then he delivered the iconic line made famous by legendary announcer Vin Scully: "It's time for Dodger baseball."
USC night is an annual event at Dodger Stadium. Former USC head coach Clay Helton threw out the first pitch on multiple occasions.
Riley's presence has been felt in the sports world since arriving at USC. He was the subject of multiple interviews on Radio Row ahead of the Super Bowl, which was held in Los Angeles at SoFi Stadium. He drew headlines during and after that event as well. Riley was spotted watching Super Bowl LVI from Rams owner Stan Kroenke's box.
Riley isn't shying away from the spotlight. This is a town that has seen the Lakers, Dodgers and Rams win championships in the past two years. But the buzz surrounding a 4-8 USC football team this spring was palpable. USC had the most fans in attendance at a spring game in at least 20 years.
USC fans are as energized and enthusiastic about the Trojans as they've been in more than a decade.
There were cheers all around, but there was one person who took a bit of an issue with Riley's delivery.
USC wide receiver Mario Williams said recently he plans to join the USC baseball team next season. He said the Trojans coach needs to step his game up if he's going to pitch for real.
"Would've hit it out the park," Williams said in response to the video. He tagged Riley in his comment, complete with a laughing emoji.