Solomon Byrd is the Word After Another Productive Performance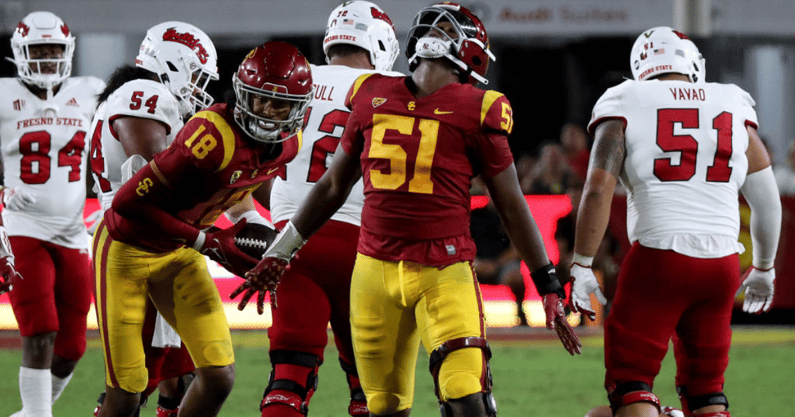 USC head coach Lincoln Riley is used to answering questions during the Trojans' postgame press conference. But he took a quick second to ask one of rush end Solomon Byrd following USC's 45-17 win against Fresno State on Saturday night. It was a quick one, but he wanted to make a point about the progress Byrd has made in just two weeks.
"How many reps did you take in the Rice game," Riley said to Byrd.
The 6-foot-4, 250-pound defensive lineman responded immediately.
"Five," he said.
Two weeks after being on the field for just five snaps against Rice, Byrd was arguably USC's most impactful defender against Fresno State. He started against the Bulldogs. And he finished the game with four tackles, two tackles for loss, and a game-changing play where he recorded a sack, forced fumble and fumble recovery. Riley said Byrd received a game ball in the locker room after the win.
It was a long way from just five snaps in the season opener.
"A couple weeks ago he wasn't even repping for us," USC defensive coordinator Alex Grinch said. "The guy just kept working."
The depth chart at rush end saw a big change when Romello Height left the Stanford game in the first quarter due to a shoulder injury. Byrd saw extended time there and responded with two sacks and four total tackles. It won't be surprising to see more of Byrd moving forward.
"We've talked before, post-scrimmages, about guys not taking advantage of opportunities," Grinch said. "And man, he has. And really has had an impact for us. Thrilled for him and obviously thrilled for us because we're dying to find those playmakers for us."
Byrd's ranks seventh on the team with eight tackles and is tied for the team lead with three sacks. His four tackles for loss ranks second, behind Tuli Tuipulotu.
Byrd's Fight Up The Depth Chart
Byrd's push into the starting lineup has been impressive. But his time at USC hasn't been easy. Some Trojan transfers immediately found starting spots as stars of the team. Byrd struggled a bit while buried on the depth chart.
"It was hard," Byrd said. "I'm not going to lie. I came from Wyoming and I was a starter and a big name up there. So when I came down here, you know, there's a lot of talent. I just had to keep working and keep doing what I've been doing. It's starting to pay off."
Grinch sees a message to the entire roster in what Byrd has accomplished the past two weeks.
"We talk about effort all the time and he plays with max effort darn near on every play," Grinch said." So he's kind of become a poster child for it. The nice thing is the visual. He does those things. It should be a message to everybody else. Maybe if I played this way, I could have some production, too."
Riley found a few things in the Fresno State game that will help the Trojans moving forward during his tenure. Byrd's path is one of them.
"That is what we're trying to build," Riley said. "A guy that, first game of the season, takes five reps and is a three. Gets an opportunity, keeps working and then now look at him. Now a starter, came in and really impacted the last two weeks. Was even better this week than he was last week from what I saw on the field. And we would expect him to continue to get better. But it's been huge."
The Big Play
Fresno State might never have been able to go score-for-score with USC on Saturday night. But Byrd's sack was a huge play in the game. The Bulldogs received the second-half kickoff facing a 21-10 deficit but driving with a chance to significantly cut into the lead.
Byrd got around the edge on a first-and-ten play from the USC 47-yard line and crushed Fresno State quarterback Jake Haener.
"I don't even know what happened on that play," Byrd said. "I just keyed the ball, got off and just reached my arm out to get a sack/fumble. They've been talking about it all week and that's what I tried to execute."
Grinch highlighted the significance of the play in the game.
"You come out of halftime and that's a huge drive in the game," Grinch said. "A huge drive in the game. Obviously, we talk about takeaways all the time because of the impact of that…You steal a possession that way. It was critical. Absolutely critical."