10 under-the-radar players in the transfer portal to keep an eye on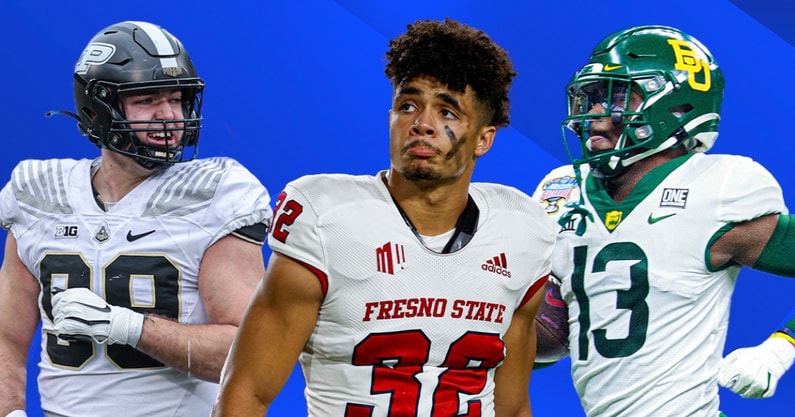 While there has been a paucity of "big-name" players in the transfer portal this cycle, there still are a lot of players available who can help teams in the 2023 season and beyond.
Using the 2022 season as an example, let's forget Caleb Williams and Jahmyr Gibbs. Focus instead on players who didn't generate much interest when they picked their new school but produced big numbers anyway. Players like TCU linebacker Johnny Hodges, a Navy transfer who leads the Horned Frogs in tackles. Like Purdue wide receiver Charlie Jones, who transferred from Iowa and proceeded to lead the Big Ten in receptions and receiving yardage and finish second in TD receptions. Or Western Kentucky quarterback Austin Reed, who transferred from Division II West Florida and then led the nation in passing yards. Or Tulane cornerback Jarius Monroe, a transfer from Nicholls State who became a first-team All-AAC player for the surprising Green Wave.
There always are a lot more of those types of players available in the porta. Sometimes, the right player gets in the right situation and produces at a high rate.
Here's a look at 10 players currently in the portal who aren't getting much media notice. And, no, we're not saying these guys are going to be ultra-productive. But ….
The players are listed alphabetically.
WR Joshua Cobbs
Transfer from: Wyoming
The skinny: Don't go by production when looking at Joshua Cobbs; instead, look at his size (6 feet 4, 204 pounds) and potential. Cobbs led run-first Wyoming with 35 receptions for 407 yards and two TDs; remember, though, that Wyoming averaged just 132.2 passing yards per game. Cobbs had 25 receptions as the Cowboys' No. 2 receiver (to Isaiah Neyor) in 2021. He has two seasons of eligibility remaining.
EDGE Gilber Edmond
Transfer from: South Carolina
The skinny: Gilber Edmond (6-5, 250) was a starter this season and led the Gamecocks with nine tackles for loss. He didn't do much in his first two seasons before emerging this fall. This season, he finished with 39 tackles and also had nine quarterback hurries. Edmond has two seasons of eligibility remaining.
OT Marcellus Johnson
Transfer from: Eastern Michigan
The skinny: Marcellus Johnson (6-4, 308) was a three-year starter at left tackle and started the final 32 games of his Eagles career. After redshirting as a true freshman in 2018, Johnson didn't miss a game in the next four seasons at EMU. He was a key part of offensive lines that helped EMU average a combined 30.1 points per game over the past three seasons. Johnson, who played 2022 as a graduate student, was a four-time All-MAC Academic selection. He has one season of eligibility remaining.
OL Jarrett Kingston
Transfer from: Washington State
The skinny: T Jarrett Kingston (6-5, 302) started the first nine games at left tackle this season before suffering a leg injury and missing the rest of the season; he started at guard for the Cougars in 2020 and '21. Kingston is regarded as an especially good run blocker, and his versatility is a selling point. He has one year of eligibility left.
TE Jake Roberts
Transfer from: North Texas
The skinny: Jake Roberts (6-5, 250) was a two-year starter for the Mean Green.  He had 28 receptions for 394 yards and three TDs this season in an offense that used the tight end extensively; UNT backup TE Var'Keyes Gumm, who had 34 receptions, was a first-team All-Conference USA player. Roberts has two seasons of eligibility remaining.
DE Jack Sullivan
Transfer from: Purdue
The skinny: Jack Sullivan (6-5, 275) was one of three starting Purdue defensive linemen to enter the transfer portal in December, and all three are plug-and-play guys. Sullivan led Purdue with 5.5 sacks this season, his first as a starter, and earned honorable mention All-Big Ten notice. He was a key reserve from 2019-21 and does a nice job against the run. Sullivan has one season of eligibility left.
DB Al Walcott
Transfer from: Baylor
The skinny: Al Walcott (6-2, 219) was a two-year starter who was second on the Bears with 82 tackles this season, when he was a second-team All-Big 12 selection. He also had 10 tackles for loss, an interception, four pass breakups and three forced fumbles. Walcott played the Bears' "star" position this season, which is more of a safety role. Last season, he started at corner and had three interceptions (including a 96-yard pick-six against Ole Miss in the Sugar Bowl) and five pass breakups. Walcott spent one season at a junior college and has one year of eligibility left.
S Evan Williams
Transfer from: Fresno State
The skinny: Evan Williams (6-1, 194) was a three-year starter for Fresno State who never redshirted; he has one season of eligibility left. He was a second-team All-Mountain West selection this season despite missing three games with a knee injury; Williams was second on the team with 69 tackles and also had six tackles for loss and four pass breakups. He was a first-team all-conference selection in 2021, when he had 92 tackles, 4.5 tackles for loss, three interceptions and six pass breakups. Williams was a two-year captain for Fresno State, and his veteran presence will be missed as much as his production.
S Jireh Wilson
Transfer from: East Carolina
The skinny: Jireh Wilson (6-3, 219) was a three-year starter for the Pirates. He has the size and versatility to play a hybrid safety/linebacker role. Wilson had 162 tackles, 15 tackles for loss, four interceptions and 10 pass breakups in the past three seasons. Wilson, who played as a grad student in 2022, has one season of eligibility remaining.
WR Xavier Weaver
Transfer from: USF
The skinny: USF had two productive receivers this season and both entered the portal. Jimmy Horn Jr. has committed to Colorado, but Xavier Weaver (6-1, 180) – a second-team All-AAC pick – is still available. Weaver was a two-year starter for the Bulls and was productive despite playing with less-than-accurate quarterbacks; USF's team completion percentage in 2021 and '22 was a combined 55.7 percent. Weaver, who missed three games this season, led USF in receptions, receiving yards and TD receptions in each of the past two seasons. He leaves USF with 116 career receptions (sixth in school history) and 1,735 receiving yards (fourth). Weaver, who has one season of eligibility remaining, also has had success in a limited role as a punt returner.