LOOK: Former Alabama receiver Javon Baker announces transfer destination to UCF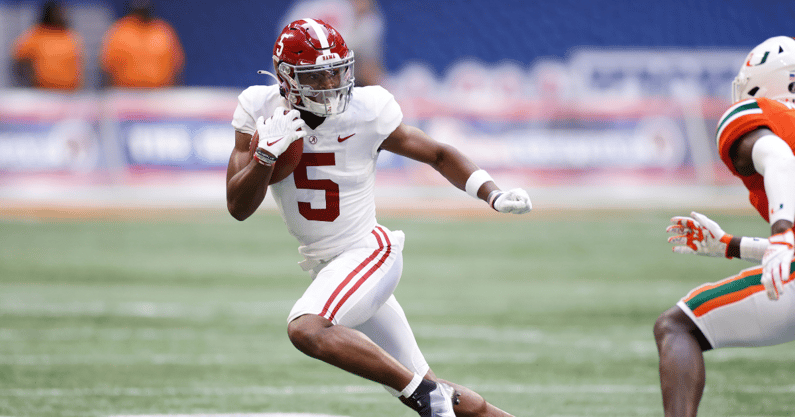 Former Alabama wide receiver Javon Baker, who entered the transfer portal and initially committed to Kentucky, announced on Wednesday that he's headed to UCF. The class of 2020 signee tweeted, "Let's get to work!" along with his commitment graphic.
Prior to his decision to join Gus Malzahn, Baker visited Florida and Ole Miss this spring. He was going to go to Kentucky but a change of plans have him headed to Orlando.
Baker caught nine passes in his two years at Alabama, including seven in 2021 for 101 yards and a touchdown. He has not caught a pass since Alabama's win over New Mexico State on November 13.
The former four-star recruit ranked No. 204 overall in the country and No. 40 among wide receivers in the 2018 On3 Consensus. The Georgia product also ranked No. 21 in his home state.
The news that Baker would not be going to Kentucky came as a surprise. KSR initially reported that Kentucky decided to "move on" from Baker with his summer arrival date approaching. Apparently, that news shocked the former four-star receiver, as he took to Instagram to share a few questions of his own. His first post read:
"Just woke up how y'all gone decommitt [sic] for me what kinda 'sources' is y'all," he wrote.
Baker then followed it up with a second post after receiving the news.
"O well [never mind] guess They did decommit me there self [sic] damn I wanted to play for Kentucky," he later added. "Bigger and better plans the most high got me."
Now committed to the Knights, Baker can move on and focus on having a breakout campaign in 2022. At 6-foot-1, 196 pounds, he provides Malzahn with a strong route runner with some experience playing at the SEC level.