Transfer Portal: Ranking the Centers, Top 10 on 4/13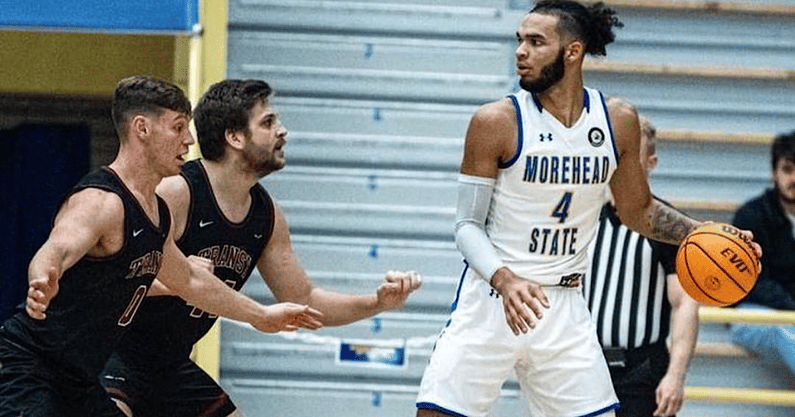 It's transfer portal season! The college basketball transfer portal is officially in full gear, and On3 is on top of it, attempting to make portal life easier for all involved.
Let's start with rankings. Everyone loves rankings. Today's date is April 13, 2022, and the time is 7:00 PM EST. Here are the ten best centers in the transfer portal as of this writing.
1. Sophomore Johni Broome
*Committed to Auburn on 4/30
Johni Broome
2021-22 Stats: 28.3 minutes, 16.8 points, 10.5 rebounds, 1.2 assists, 3.9 blocks, 55.5% FG, 63.6% FT
Height/Weight: 6-10/235
Previously: Morehead State
Originally from Plant City, Florida
2020 On3 Consensus: NA
2. Junior Fardaws Aimaq
*Committed to Texas Tech on 4/29
Fardaws Aimaq
2021-22 Stats: 34.4 minutes, 18.9 points, 13.6 rebounds, 1.7 assists, 1.3 blocks, 40% FG, 43.5% 3P, 72.3% FT
Height/Weight: 6-11/245
Previously: Utah Valley
Originally from Vancouver, BC
2018 On3 Consensus: NA
3. Sophomore Makhel Mitchell
*Committed to Arkansas
Makhel Mitchell
2021-22 Stats: 26.5 minutes, 10.7 points, 5.6 rebounds, 1.3 assists, 2.4 blocks, 50.2% FG, 52.5% FT
Height/Weight: 6-10/245
Previously: Rhode Island. Spent first year at Maryland
Originally from Washington, DC
2019 On3 Consensus: No. 104
4. Freshman Efton Reid
Efton Reid
2021-22 Stats: 19.6 minutes, 6.3 points, 4.3 rebounds, 0.5 assists, 0.8 blocks. 51.9% FG, 48.3% FT
Height/Weight: 7-0/240
Previously: LSU
Originally from Richmond, VA
2021 On3 Consensus: No. 28
5. Grad transfer Kevin Samuel
*Committed to UAB on 4/19
Kevin Samuel
2021-22 Stats: 30.0 minutes, 11.5 points, 9.7 rebounds, 1.1 assists, 2.9 blocks, 64.4% FG, 29.7% FT
Height/Weight: 6-11/255
Previously: Florida Gulf Coast. Played first three years at TCU.
Originally from Codrington Village, Antigua and Barbuda.
2017 On3 Consensus: No. 123
6. Grad transfer Grant Basile
Grant Basile
2021-22 Stats: 32.6 minutes, 18.4 points, 8.5 rebounds, 2.0 assists, 1.6 blocks, 49.8% FG, 28.3% 3P, 78.4% 3P
Height/Weight: 6-9/225
Previously: Wright State
Originally from Pewaukee, WI
2018 On3 Consensus: NA
7. Junior Qudus Wahab
Qudus Wahab
2021-22 Stats: 19.3 minutes, 7.7 points, 5.6 rebounds, 0.4 assists, 0.8 blocks, 55.9% FG, 66.7% FT
Height/Weight: 6-11/240
Previously: Maryland. Played first two seasons at Georgetown.
Originally from Lagos, Nigeria.
2019 On3 Consensus: No. 105
8. Junior Manny Bates
Manny Bates
2021-22 Stats: Missed full season with shoulder injury
2020-21 Stats: 27.4 minutes, 9.8 points, 4.9 rebounds, 0.7 assists, 2.7 blocks, 64.1% FG, 68.6% FT
Height/Weight: 6-11/230
Previously: NC State
Originally from Fayetteville, NC
2018 On3 Consensus: No. 98
9. Sophomore Makhi Mitchell
*Committed to Arkansas
Makhi Mitchell
2021-22 Stats: 24.1 minutes, 9.9 points, 7.3 rebounds, 1.5 assists, 1.4 blocks, 52.2% FG, 52.2% FT
Height/Weight: 6-9/230
Previously: Rhode Island. Spent first year at Maryland
Originally from Washington, DC
2019 On3 Consensus: No. 46
10. Sophomore Franck Kepnang
*Committed to Georgia on 4/30
Franck Kepnang
2021-22 Stats: 14.5 minutes, 4.7 points, 3.1 rebounds, 0.1 assists, 1.2 blocks, 57.5% FG, 65.1% FT
Height/Weight: 6-11/225
Previously: Oregon
Originally from Yaounde, Cameroon
2020 On3 Consensus: No. 80
Others: 6-10 sophomore Frank Anselem (Syracuse), 7-1 junior Callum McRae (UC Riverside), 6-10 sophomore Mylyjael Poteat (Rice), 6-9 juniorAkok Akok (UConn)