Alabama lands coveted 5-star TE Jaleel Skinner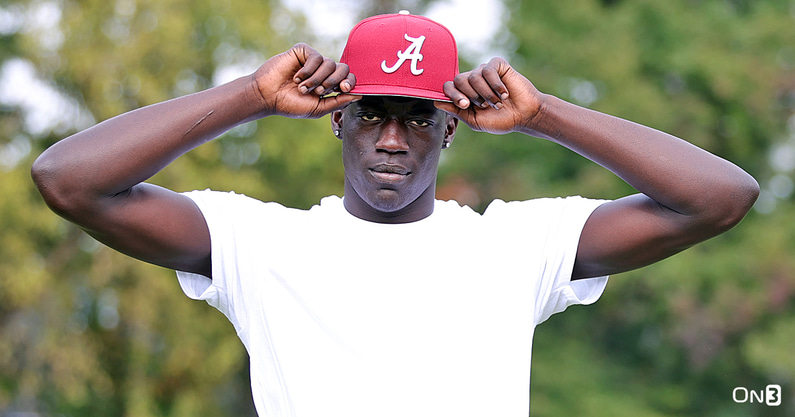 Coming out of the summer, it looked five-star Jaleel Skinner was going to end up playing in the state of Florida as a Florida State Seminole or Miami Hurricane.
There was not a lot of chatter around Alabama for the no. 1 tight end in the country, but after an official visit to Tuscaloosa in June, the Crimson Tide was in this a lot more than most realized.
There was much more talk around the no. 17 player in the On300 about the Texas Longhorns too, but Nick Saban, and Alabama were just lurking in the background getting ready to strike when it needed to.
"My interest in Alabama really started when coach Saban called me and offered me himself," Skinner said. "That was back in the spring, and when he called me personally, that meant something to me.
"That was special to me. Then I went on my official visit and it opened my eyes. I saw Alabama, I saw what it was about, and I started to really think about them."
Skinner was not one that talked too much about his top schools, and he was very guarded when asked about his interest in schools, so not many knew how high his interest was.
"Everyone thought I was going to Clemson early on, then it was Florida State or Miami. Nobody was ever talking about Alabama, but I knew how much I liked them after my official visit.
"Alabama is a great school, I always had them higher on my list than most thought, and I made the decision a few days ago. I know Alabama is the best school for me."
It was a business decision for Skinner
Youv'e heard it before if you follow Alabama recruiting. Numerous recruits have called their commitment to Alabama a business decision.
Skinner didn't say those exact words when describing his decision, but what he said had the same meaning.
"Players don't go to Alabama to play around, you go for business," Skinner said. "It is like going to work. You have a job to do at Alabama.
"you are going to grind every day at practice against great players. Nobody is going to take it easy on you. The coaches are going to push you. Everyone is going to compete.
"It is a business at Alabama where the best players will play. I love to compete. That is why I transferred to IMG Academy. I want to be pushed, and that is what it will be for me at Alabama. I know I will get better."
The new Alabama pledge knows he will have to go in and work. That is one reason he committed to the Crimson Tide.
"At Alabama, nothing is going to be given to you. You have to work. I will come in the lowest totem pole and have to earn everything. All players have to work and earn everything they get at Alabama.
"I like to chase things. I like to work for things. Having things given to me is not for me. I want to go in there and earn it. Alabama is just different, and I like that about them."
Skinner picked Alabama over Florida
Most thought it came down to Alabama and Texas, or maybe Alabama and Miami, but it really came down to Alabama and Florida.
"I made the decision a while back that I was going to play in the SEC, and it was between Alabama and Florida," Skinner said. "I am a big competitor, and I feel the best play in the SEC, so I wanted to play with the best, and compete against the best."
The Gators never were truly eliminated. Skinner did not list Florida in his final five, but Florida continued to recruit him, they got him on campus for the Alabama game, and that visit put them right back in the thick of the race.
"Florida is a great school, and they were telling me I could be the next Kyle Pitts, so I thought about them a lot. I liked their offense, I like the class they are bringing in, but for me, Alabama just felt like the best school for me.
"Alabama is the best. It is all about Alabama around Tuscaloosa, the coaches are going to work you hard, and there is going to be competition every day. I love what they do as a team, the feeling I had on my visit was great, and Alabama cares about me and my family."
Skinner loves the fit in the Alabama offense
Over the last five years or so, the Alabama offense has evolved, and it is now one of the most explosive in college football. It used to be about ball control, wearing teams down, and Alabama's physicality taking over late to win games.
Now, it is explosive plays, much more vertical passing game, and the offense is full of playmakers. Skinner can't wait to be a part of that.
"I have watched Alabama play a lot, and I love my fit into their offense," Skinner. "Seeing what they do with Jahleel Billingsley and Cameron Latu is something I really like.
"When I see Billingsley, I see myself. How he plays is how I play, so I can see myself making plays in that offense."
Skinner said from the beginning this fall would play a role in his decision. He was only able to attend a couple of games due to IMG Academy's schedule, but he watched a lot.
"The Alabama offense has been catching my attention for a few years, but watching them this season really made an impact on me. They are passing more, they are recruiting more athletic tight ends, and they have really opened things up.
"They used to be about the big backs and running the ball, but now, they throw the ball, they get a lot of players involved, and I am excited to be able to play in it."