On300 2022 Football Prospect Rankings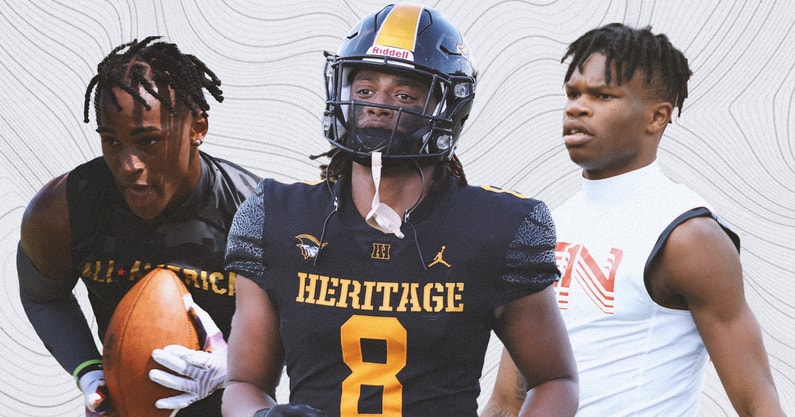 Welcome to the On300, our football prospect rankings for the 2022 recruiting cycle. Our goal is to assess a prospect's long-term potential in college football, ultimately manifested by the NFL Draft.
Each prospect is listed with their position, On3 grade, hometown, high school and commitment status if applicable.
The rating scale is as follows: Five-star prospects have grades 98-100, four-star recruits have grades 90-97, while 80-89 grades are for three-stars.
We will finish each recruiting cycle with 32 five-stars. The rankings will be updated on a regular schedule throughout the year as we gain information and further exposure to the prospects.
2021 On300 I 2021 On3 Consensus I 2022 On300 I 2022 On3 Consensus I 2023 On300 I 2023 On3 Consensus I 2022 Quarterback Rankings I 2022 Running Back Rankings I 2022 Wide Receiver Rankings I 2022 Tight End Rankings I 2022 Interior Offensive Line Rankings I 2022 Offensive Tackle Rankings I 2022 Edge Rankings I 2022 Defensive Line Rankings I 2022 Linebacker Rankings I 2022 Cornerback Rankings I 2022 Safety Rankings I 2022 Athlete Rankings
2022 On300
EDGE Marvin Jones Jr. (99)
Fort Lauderdale (Fla.) American Heritage

ATH Travis Hunter (99)
Suwanee (Ga.) Collins Hill – Florida State commit

DL Gabriel Brownlow-Dindy (99)
Lakeland (Fla.) High – Oklahoma commit

WR Evan Stewart (99)
Frisco (Texas) Liberty

DL Mykel Williams (99)
Columbus (Ga.) Hardaway – Georgia commit

DL Walter Nolen (98)
Powell (Tenn.) High

CB Daylen Everette (98)
Norfolk (Va.) IMG Academy – Clemson commit

LB Harold Perkins (98)
Cypress (Texas) Cy Park

ATH Malaki Starks (98)
Jefferson (Ga.) High – Georgia commit

CB Domani Jackson (98)
Santa Ana (Calif.) Mater Dei – USC commit

DL Shemar Stewart (98)
Opa Locka (Fla.) Monsignor Pace

CB Denver Harris (98)
Houston North Shore

DL Anthony Lucas (98)
Scottsdale (Ariz.) Chaparral

WR Barion Brown (98)
Nashville (Tenn.) Pearl-Cohn

CB Terrance Brooks (98)
Little Elm (Texas) – Ohio State commit

OT Kiyaunta Goodwin (98)
Charlestown (Ind.) High – Kentucky commit

TE Jaleel Skinner (98)
Greer (S.C.) IMG Academy – Alabama commit

EDGE Jeremiah Alexander (98)
Alabaster (Ala.) Thompson – Alabama commit

IOL Devon Campbell (98)
Arlington (Texas) Bowie

LB C.J. Hicks (98)
Dayton (Ohio) Archbishop Alter – Ohio State commit

QB Drew Allar (97)
Medina (Ohio) High – Penn State commit

WR Jordan Hudson (97)
Garland (Texas) High – SMU commit

S Bryce Anderson (97)
Beaumont (Texas) West Brook – Texas A&M commit

RB Nicholas Singleton (97)
Reading (Pa.) Governor Mifflin – Penn State commit

CB Toriano Pride (97)
East St. Louis (Ill.) – Clemson commit

CB Earl Little Jr. (97)
Fort Lauderdale (Fla.) American Heritage

OT Kelvin Banks (97)
Humble (Texas) Summer Creek – Oregon commit

EDGE Jihaad Campbell (97)
Sicklerville (N.J.) IMG Academy – Clemson commit

QB Cade Klubnik (97)
Austin (Texas) Westlake – Clemson commit

IOL Joey Tanona (97)
Zionsville (Ind.) High – Notre Dame commit

LB Jaylen Sneed (97)
Hilton Head Island (S.C.) Hilton Head – Notre Dame commit

TE Jake Johnson (96)
Bogart (Ga.) Oconee County – LSU commit

DL Bear Alexander (96)
Fort Worth (Texas) IMG Academy – Georgia commit

CB Gentry Williams (96)
Tulsa (Okla.) Booker T. Washington – Oklahoma commit

CB Jaheim Singletary (96)
Jacksonville (Fla.) Riverside

ATH Kendrick Law (96)
Shreveport (La.) Captain Shreve

OT PJ Williams (96)
Dickinson (Texas) High – Texas A&M commit

EDGE Ernest Cooper IV (96) – Stanford commit
Arlington (Texas) Martin

DL Dani Dennis-Sutton (96)
Owings Mills (Md.) McDonogh School – Penn State commit

WR Brenen Thompson (96)
Spearman (Texas) High – Texas commit

QB Ty Simpson (96)
Martin (Tenn.) Westview – Alabama commit

S Jacoby Mathews (96)
Ponchatoula (La.) High

OT Elijah Pritchett (96)
Columbus (Ga.) Carver – Alabama commit

EDGE Cyrus Moss (96)
Las Vegas Bishop Gorman

DL Travis Shaw (96) – North Carolina commit
Greensboro (N.C.) Grimsley

OT Jake Taylor (96)
Las Vegas Bishop Gorman – Oklahoma commit

IOL Tyler Booker (96)
New Haven (Conn.) IMG Academy – Alabama commit

CB Will Johnson (96)
Grosse Point (Mich.) Grosse Point South – Michigan commit

TE Amari Niblack (96)
Clearwater (Fla.) Lakewood – Alabama commit

QB Conner Weigman (96)
Cypress (Texas) Bridgeland – Texas A&M commit

EDGE Enai White (96)
Philadelphia Imhotep Institute

OT Josh Conerly (95)
Seattle Rainier Beach

CB Jalil Tucker (95) – Oregon commit
San Diego Lincoln

IOL Joe Brunner (95)
Milwaukee Whitefish Bay – Wisconsin commit

DL Quency Wiggins (95)
Baton Rouge (La.) Madison Prep Academy

WR Darrius Clemons (95)
Portland Westview

CB Jeadyn Lukus (95)
Mauldin (S.C.) – Clemson commit

QB Nick Evers (95)
Flower Mound (Texas) High – Florida commit

DL Kristopher Ross (95)
Houston North Shore – Texas commit

RB Trevonte' Citizen (95)
Lake Charles (La.) Lake Charles Prep – LSU commit

IOL Neto Umeozulu (95)
Allen (Texas) High

S Xavier Nwankpa (95)
Altoona (Iowa) Southeast Polk

QB Devin Brown (95)
Draper (Utah) Corner Canyon – USC commit

WR Chris Marshall (95)
Missouri City (Texas) Fort Bend Marshall

WR Tetairoa McMillan (95) – Oregon commit
Anaheim (Calif.) Servite

QB Walker Howard (95)
Lafayette (La.) St. Thomas More – LSU commit

LB Jalon Walker (95)
Salisbury (N.C.) – Georgia commit

CB Deyon Bouie (95)
Bainbridge (Ga.) High – Texas A&M commit

RB Branson Robinson (95)
Madison (Miss.) Germantown – Georgia commit

DL Jaray Bledsoe (95)
Marlin (Texas) High – Texas commit

WR Matthew Golden (95)
Houston Klein Cain – TCU commit

WR Kobe Prentice (95)
Calera (Ala.) High – Alabama commit

EDGE Joshua Josephs (95)
Kennesaw (Ga.) North Cobb

IOL Will Campbell (95)
Monroe (La.) Neville – LSU commit

DL Isaiah Hastings (95)
Clearwater (Fla.) Clearwater Academy International

CB Jahlil Florence (94)
San Diego Lincoln – Oregon commit

LB Jaren Kanak (94)
Hays (Kan.) High – Clemson commit

ATH Emmanuel Henderson (94)
Hartford (Ala.) Geneva County – Alabama commit

IOL Tristan Wilson (94)
Lebanon (Mo.) High – Missouri commit

WR Nicholas Anderson (94)
Katy (Texas) High – Oklahoma commit

RB Le'Veon Moss (94)
Baton Rouge (La.) Istrouma

EDGE Kevonte Henry (94)
Lawndale (Calif.) Leuzinger – Michigan commit

S Keon Sabb (94)
Williamstown (N.J.) IMG Academy – Clemson commit

DL Chris McClellan (94)
Owasso (Okla.) High

RB Jovantae Barnes (94)
Las Vegas Desert Pines

TE Oscar Delp (94)
Cumming (Ga.) West Forsyth – Georgia commit

S Sam McCall (94)
Lakeland (Fla.) Lake Gibson – Florida State commit

WR Talyn Shettron (94)
Edmond (Okla.) Santa Fe – Oklahoma State commit

EDGE Dasan McCullough (94)
Bloomington (Ind.) Bloomington South – Indiana commit

WR Luther Burden (94)
East St. Louis (Ill.) East St. Louis – Missouri commit

OT Zach Rice (94)
Lynchburg (Va.) Liberty Christian Academy – North Carolina commit

WR Tychaun Chapman (94)
Virginia Beach (Va.) Landstown – North Carolina commit

S Zion Branch (94)
Las Vegas Bishop Gorman

RB Jamarion Miller (94)
Tyler (Texas) Tyler Legacy – Texas commit

DL Tyson Ford (94)
St. Louis (Mo.) John Burroughs School – Notre Dame commit

TE Kaden Helms (94)
Bellevue (Neb.) Bellevue West – Oklahoma commit

LB Sebastian Cheeks (94)
Evanston (Ill.) Evanston Township – North Carolina commit

DL Nyjalik Kelly (94)
Fort Lauderdale (Fla.) Dillard

QB Gunner Stockton (94)
Tiger (Ga.) Rabun County – Georgia commit

DL Khurtiss Perry (94)
Montgomery (Ala.) Pike Road

WR Shazz Preston (94)
St. James (La.) High

S Bryan Allen Jr. (94)
Aledo (Texas) High – Texas commit

LB Shawn Murphy (94)
Manassas (Va.) Unity Reed – Alabama commit

CB Chris Graves (94)
Fort Myers (Fla.) Bishop Verot – Miami commit

S Antonio Kite (94)
Anniston (Ala.) High – Alabama commit

IOL Patrick Kutas (94)
Memphis (Tenn.) Christian Brothers – Arkansas commit

LB Shemar James (94)
Mobile (Ala.) Faith Academy

EDGE Kenyatta Jackson (94)
Hollywood (Fla.) Chaminade-Madonna – Ohio State commit

TE Ryan Otton (94)
Olympia (Wash.) Tumwater – Washington commit

DL Aaron Graves (94)
Gowrie (Iowa) Southeast Valley – Iowa commit

S Devin Moore (94)
Naples (Fla.) High – Notre Dame commit

QB Henry Belin (94)
Bronx (N.Y.) Cardinal Hayes – Duke commit

LB Gabe Powers (94)
Marysville (Ohio) High – Ohio State commit

WR Aaron Anderson (94)
New Orleans (La.) Edna Karr – Alabama commit

RB Gavin Sawchuk (94)
Littleton (Colo.) Valor Christian – Oklahoma commit

OT Aamil Wagner (94)
Dayton (Ohio) Wayne

EDGE Tyreese Fearbry (93)
Pittsburgh Perry Traditional Academy – Kentucky commit

OT Hunter Erb (93)
Haslet (Texas) Eaton – Texas A&M commit

WR Adam Randall (93)
Myrtle Beach (S.C.) High – Clemson commit

LB Joshua Burnham (93)
Traverse City (Mich.) Central – Notre Dame commit

IOL Kam Dewberry (93)
Humble (Texas) Atascocita

WR Kyion Grayes (93)
Chandler (Ariz.) High – Ohio State commit

EDGE James Pearce (93)
Charlotte Chambers

CB Marquis Groves-Killebrew (93)
Kennesaw (Ga.) North Cobb – Georgia commit

IOL Carson Hinzman (93)
Hammond (Wis.) Saint Croix Central

WR Antonio Williams (93)
Irmo (S.C.) Dutch Fork

DL Jaheim Oatis (93)
Columbia (Miss.) High – Alabama commit

WR Marquarius White (93)
Pinson (Ala.) Clay-Chalkville – Tennessee commit

IOL Billy Schrauth (93)
Fond Du Lac (Wis.) St. Mary's Springs

CB Ja'Cari Henderson (93)
Sanford (Fla.) Seminole

IOL Earnest Greene (93)
Bellflower (Calif.) St. John Bosco

QB Justyn Martin (93)
Inglewood (Calif.) High – UCLA commit

RB Demond Claiborne (93)
King William (Va.) High – Wake Forest commit

EDGE Malick Sylla (93)
Katy (Texas) High – Texas A&M commit

EDGE DJ Wesolak (93)
Boonville (Mo.) High

OT Andrew Chamblee (93)
Maumelle (Ark.) High – Arkansas commit

CB JaDarian Rhym (93)
Valdosta (Ga.) High – LSU commit

WR Raleek Brown (93)
Santa Ana (Calif.) Mater Dei – Oklahoma commit

TE Keyan Burnett (93)
Anaheim (Calif.) Servite – Arizona commit

DL Daniel Lyons (93)
Homestead (Fla.) High – Florida State commit

OT Fisher Anderson (93)
Franklin (Tenn.) High – Stanford commit

S Kamari Wilson (93)
Fort Pierce (Fla.) IMG Academy

S Azareye'h Thomas (93)
Niceville (Fla.) High

LB David Bailey (93)
Santa Ana (Calif.) Mater Dei

OT George Fitzpatrick (93)
Englewood (Colo.) Cherry Creek – Ohio State commit

LB C.J. Washington (93)
Cedartown (Ga.) High – Georgia commit

S Davison Igbinosun (93)
Union (N.J.)

LB DeMario Tolan (93)
Orlando Dr. Phillips – LSU commit

WR Isaiah Sategna (93)
Fayetteville (Ark.) High – Oregon commit

RB Ollie Gordon (93)
Euless (Texas) Trinity – Oklahoma State commit

OT Daughtry Richardson (93)
Miami Central –Florida State commit

S TJ Hall (93)
Fresno (Calif.) San Joaquin Memorial – Washington commit

QB Conner Harrell (93)
Alabaster (Ala.) Thompson – North Carolina commit

WR Tobias Merriweather (92)
Camas (Wash.) Union – Notre Dame commit

TE Holden Staes (92)
Atlanta Westminster School – Notre Dame commit

WR Caleb Burton (94)
Austin (Texas) Lake Travis – Ohio State commit

S Zeke Berry (92)
Concord (Calif.) De La Salle

DL Derrick Moore (92)
Baltimore St. Frances Academy – Oklahoma commit

S Markeith Williams (92)
Orlando Evans – Miami commit

OT Blake Miller (92)
Strongsville (Ohio) High – Clemson commit

S Chace Biddle (92)
Garland (Texas) High – SMU commit

IOL Austin Kawecki (92)
Frisco (Texas) Lebanon Trail – Oklahoma State commit

CB Cam Miller (92)
Jacksonville (Fla.) Trinity Christian – Penn State commit

WR DJ Allen (92)
Gladewater (Texas) High – TCU commit

EDGE Micheal Ibukun-Okeyode (92)
Rowlett (Texas) High – SMU commit

DL Christen Miller (92)
Ellenwood (Ga.) Cedar Grove

IOL Tegra Tshabola (92)
West Chester (Ohio) Lakota West – Ohio State commit

WR Kaden Saunders (92)
Westerville (Ohio) Westerville South – Penn State commit

S Robert Spears-Jennings (92)
Broken Arrow (Okla.) High – Oklahoma commit

WR Kaleb Brown (92)
Chicago St. Rita – Ohio State commit

EDGE Darren Agu (92)
Rabun Gap (Ga.) Rabun Gap-Nacoochee School – Vanderbilt commit

LB Abdul Carter (92)
Glenside (Pa.) La Salle College – Penn State commit

DL Anthony Smith (92)
Shippensburg (Pa.) Shippensburg Area – Minnesota commit

LB Wesley Bissainthe (92)
Miami Central

EDGE J'Mond Tapp (92)
Donaldsonville (La.) Ascension Catholic – Texas commit

S Austin Brown (92)
Johnson City (Ill.) High – Wisconsin commit

LB Lander Barton (92)
Salt Lake City Brighton

EDGE Omari Abor (92)
Duncanville (Texas) High

RB Ajay Allen (92)
Monroe (La.) Neville – TCU commit

WR Jayden Gibson (92)
Winter Garden (Fla.) West Orange – Florida commit

EDGE Anto Saka (92)
Towson (Md.) Loyola Blakefield – Northwestern commit

CB Laterrance Welch (92)
Lafayette (La.) Acadiana – LSU commit

QB Garret Rangel (92)
Frisco (Texas) Lone Star – Oklahoma State commit

DL Zxavian Harris (92)
Madison (Miss.) Germantown – Ole Miss commit

EDGE Aiden Gobaira (92)
Chantilly (Va.) High – Notre Dame commit

LB Harrison Taggart (92)
Draper (Utah) Corner Canyon – Oregon commit

IOL Ashton Craig (92)
Lawrenceburg (Ind.) – Notre Dame commit

RB Jaydon Blue (92)
Houston Klein Cain – Texas commit

DL Hero Kanu (92)
Rancho Santa Margarita (Calif.) Santa Margarita Catholic

OT Drew Shelton (92)
Downington (Pa.) Downington West – Penn State commit

WR Jaron Glover (92)
Sarasota (Fla.) Riverview – Michigan State commit

S Sherrod Covil (91)
Chesapeake (Va.) Oscar Smith – Clemson commit

DL Tyre West (91)
Tifton (Ga.) Tift County – Georgia commit

TE Elijah Brown (91)
Dayton (Ohio) Wayne – Alabama commit

WR Marquez Dortch (91)
Lucedale (Miss.) George County – Ole Miss commit

OT Barrett Nelson (91)
Stoughton (Wis.) Fall River – Wisconsin commit

QB Nate Johnson (91)
Clovis (Calif.) High – Utah commit

TE Jerry Cross (91)
Milwaukee King – Penn State commit

S Jaeden Gould (91)
Oradell (N.J.) Bergen Catholic – USC commit

CB Jaylon Guilbeau (91)
Port Arthur (Texas) Memorial – TCU commit

IOL Deshawn Woods (91)
Omaha (Neb.) Central – Missouri commit

EDGE Jared Badie (91)
Oswego (Ill.) East – Illinois commit

QB Katin Houser (91)
Bellflower (Calif.) St. John Bosco – Michigan State commit

WR Andre Greene Jr. (91)
Richmond (Va.) St. Christopher's School

EDGE Darris Smith (91)
Baxley (Ga.) Appling County – Georgia commit

ATH Isaiah Bond (91)
Buford (Ga.) High – Florida commit

LB Jalen Woods (91)
Bellflower (Calif.) St. John Bosco – UCLA commit

ATH Omari Kelly (91)
Trussville (Ala.) Hewitt-Trussville – Auburn commit

LB Nolan Ziegler (91)
Grand Rapids (Mich.) Catholic Central – Notre Dame commit

WR Chas Nimrod (91)
Bentonville (Ark.) – Tennessee commit

RB George Pettaway (91)
Suffolk (Va.) Nansemond-Suffolk Academy – North Carolina commit

CB Jaden Mickey (91)
Corona (Calif.) Centennial – Notre Dame commit

OT Alvin Ebosele (91)
Coppell (Texas) High – Baylor commit

WR Mekhi Fox (91)
Pasadena (Calif.) High – UCLA commit

DL Ben Roberts (91)
Salt Lake City East – Oregon commit
DL Aaron Bryant (91)
Southaven (Miss.) High – Texas commit

CB Jackson Vick (91)
Bailey (N.C.) Southern Nash – NC State commit

WR Zavion Thomas (91)
Marrero (La.) John Ehret

TE Jack Velling (91)
Seattle Seattle Prep School – Oregon State commit

OT Collin Sadler (91)
Greenville (S.C.) High – Clemson commit

EDGE Derrick Brown (91)
Texarkana (Texas) Texas – Texas commit

LB Xavier Simmons (91)
Greensboro (N.C.) Northwest Guilford – Missouri commit

WR Kevin Coleman (91)
St. Louis (Mo.) St. Mary's

LB Jaron Willis (91)
Leesburg (Ga.) Lee County – Georgia Tech commit

WR Omar Cooper (91)
Indianapolis Lawrence North – Indiana commit

ATH Kaian Roberts-Day (91)
Festus (Mo.) High – Baylor commit

S Austin Jordan (91)
Denton (Texas) Ryan – Texas commit

IOL Emery Jones (91)
Baton Rouge (La.) Catholic – LSU commit

CB Julian Humphrey (91)
Houston Clear Lake – Florida commit

WR Chandler Smith (91)
Orlando Bishop Moore Catholic – Florida commit

LB Ernest Hausmann (91)
Columbus (Neb.) High – Nebraska commit

S Phillip Dunnam (91)
North Miami Beach – Indiana commit

CB Trequon Fegans (91)
Alabaster (Ala.) Thompson – Alabama commit

LB Martrell Harris (90)
The Woodlands (Texas) High – Texas A&M commit

TE Eli Raridon (90)
West Des Moines (Iowa) Valley – Notre Dame commit

CB Emory Floyd (90)
Powder Springs (Ga.) Hillgrove – South Carolina commit

WR Jeremiah Dillon (90)
Tylertown (Miss.) High – Ole Miss commit

S Malcolm Jones (90)
Leesburg (Ga.) Lee County – Virginia Tech commit

WR Kojo Antwi (90)
Suwanee (Ga.) Lambert – Ohio State commit

WR Anthony Ivey (90)
Lancaser (Pa.) Manheim Township – Penn State commit

OT Ashton Lepo (90)
Grand Haven (Mich.) – Michigan State commit

EDGE Jaleel Johnson (90)
Oklahoma City Putnam City North – Oklahoma State commit

RB Major Everhart (90)
Amarillo (Texas) Tascosa – TCU commit

DL Isaac Hamm (90)
Sun Prairie (Wis.) High

OT Tony Nelson (90)
Tracy (Minn.) High – Minnesota commit

TE Donovan Green (90)
Dickinson (Texas) High – Texas A&M commit

CB Tayon Holloway (90)
Virginia Beach (Va.) Green Run – North Carolina commit

EDGE Malaki Hamrick (90)
Shelby (N.C.) High – North Carolina commit

CB Xavion Brice (90)
Arlington (Texas) Seguin – Oklahoma commit

S Demari Henderson (90)
Sanford (Fla.) Seminole

DL Joseph Adedire (90)
Arlington (Texas) Mansfield Summit – TCU commit

S Jordan Allen (90)
Lafayette (La.) Lafayette Christian Academy

IOL Connor Robertson (90)
Austin (Texas) Westlake – Texas commit

RB Omarion Hampton (90)
Clayton (N.C.) Cleveland – North Carolina commit

S Jake Pope (90)
Buford (Ga.) High – Alabama commit

WR Armani Winfield (90)
Lewisville (Texas) High – Texas commit

ATH Tyler Griffin (90)
Brooklet (Ga.) New Southeast Bulloch – UCF commit

DL Jadon Scarlett (90)
Argyle (Texas) High – Texas A&M commit

WR Jay Fair (90)
Rockwall (Texas) Rockwall-Heath – Auburn commit

WR Tyler Morris (90)
Bolingbrook (Ill.) Nazareth Academy – Michigan commit

CB Joshua Thompson (90)
Washington (D.C.) St. John's – Stanford commit

OT Julian Armella (90)
Fort Lauderdale (Fla.) St. Thomas Aquinas

EDGE DeSean Brown (90)
Choctaw (Okla.)

S Croix Stewart (90)
Benicia (Calif.) – UCLA commit

EDGE Mario Eugenio (90)
Tampa (Fla.) Gaither – Michigan commit

CB Jyaire Brown (90)
West Chester (Ohio) Lakota West – Ohio State commit

DL Caden Curry (90)
Greenwood (Ind.) Cedar Grove

IOL Addison Nichols (90)
Norcross (Ga.) Greater Atlanta Christian – Tennessee commit

IOL Antavious Woody (90)
Lafayette (Ala.) High – Florida State commit

LB Ish Harris (90)
Pilot Point (Texas) High – Texas A&M commit

RB Jordan James (90)
Murfreesboro (Tenn.) Oakland – Georgia commit

WR Ja'Marion Wayne (90)
Ballwin (Mo.) West – Missouri commit

QB AJ Duffy (90)
Moreno Valley (Calif.) IMG Academy – Florida State commit

CB Bobby Taylor (90)
Katy (Texas) High – Texas A&M commit

S Kye Stokes (90)
Seffner (Fla.) Armwood – Ohio State commit

IOL Aliou Bah (90)
Memphis (Tenn.) IMG Academy

CB Ephesians Prysock (90)
Mission Hills (Calif.) Bishop Alemany – USC commit

ATH Treyveon Longmire (90)
Corbin (Ky.) High – Kentucky commit

CB Zamari Stevenson (90)
Statesville (N.C.) High – Wake Forest commit

RB CJ Brown (90)
Beggs (Okla.) High – Oklahoma State commit

DL Gracen Halton (90)
San Diego St. Augustine – Oregon commit

LB Aaron Alexander (90)
Belleville (Mich.) – Michigan commit

RB Dallan Hayden (90)
Memphis Christian Brothers – Ohio State commit

DL Caden Story (90)
Lanett (Ala.) High – Auburn commit

DL Justice Finkley (91)
Trussville (Ala.) Hewitt-Trussville –Texas commit

QB Tayven Jackson (90)
Greenwood (Ind.) Center Grove – Tennessee commit

LB Tevarua Tafiti (90)
Honolulu Punahou – Stanford commit

WR Tyler Johnson (90)
Ridgeway (Va.) Magna Vista – Penn State commit

CB Benjamin Morrison (90)
Phoenix Brophy Prep – Notre Dame commit

WR Dane Key (90)
Lexington (Ky.) Frederick Douglass – Kentucky commit

IOL Gunner Givens (90)
Daleville (Va.) Lord Botetourt – Virginia Tech commit

DL Walter Bob (90)
Lafayette (La.) Acadiana – Alabama commit

CB Jayden Rowe (90)
Tulsa (Okla.) Union – Oklahoma commit

WR Isaiah Horton (90)
Murfreesboro (Tenn.) Oakland – Miami commit

IOL Hunter Deyo (90)
Council Bluffs (Iowa) Lewis Central – Iowa State commit

WR Reggie Fleurima (90)
Naperville (Ill.) Naperville Central – Northwestern commit

ATH Rashad Rochelle (90)
Springfield (Ill.) High – Rutgers commit

WR Dominique McKenzie (90)
St. George (Utah) Pine View – Virginia commit

EDGE Ikenna Ezeogu (90)
Blue Springs (Mo.) High – Iowa State commit

EDGE Keaten Wade (90)
Spring Hill (Tenn.) Summit – Kentucky commit