LOOK: Alabama offensive lineman officially announces he is returning to Crimson Tide for 2022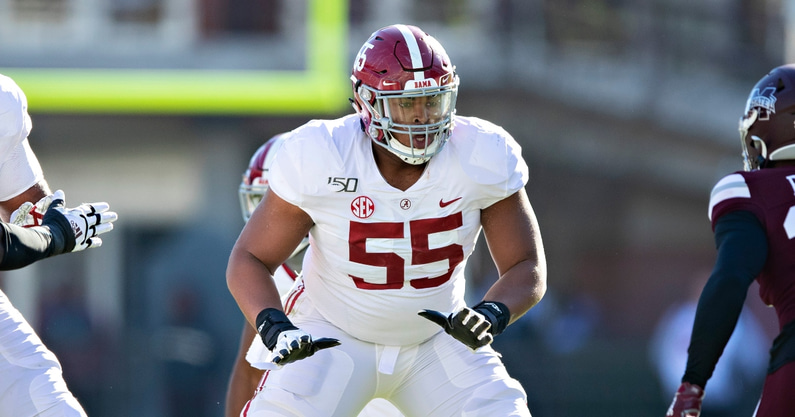 Alabama offensive guard Emil Ekiyor Jr. officially announced Friday on Twitter he will be returning to the Crimson Tide for the 2022 season. The announcement comes on the heels of reports that he was returning earlier Friday afternoon.
He wrote: "Making the decision to attend and play for the University of Alabama four years ago was one of the best decisions of my life. My family's consistent support and commitment has been unwavering and priceless; I wouldn't have made it this far without them. My teammates and coaches are family to me and have made this journey even more special.
"The positive impact the University of Alabama has had on my life goes far beyond the football field. The support staff surrounding this program—medical, strength and conditioning, academic, equipment, athletic department leadership, university leadership, and more–is of the same championship-caliber that the fans and world witness on the field."
Against Cincinnati in the Cotton Bowl, Ekiyor injured his right shoulder. The redshirt junior left the field and went to the medical tent late in the first quarter, according to Michael Casagrande.
Ekiyor Jr. played a critical role in blocking for Alabama running back Brian Robinson Jr. all season long. He also helped give Heisman Trophy-winning quarterback Bryce Young tons of time in the SEC Championship blowout victory against Georgia.
The offensive guard allowed just half of a sack in 14 games, while surrendering 9.5 quarterback pressures and five quarterback hits this season. Ekiyor also had 16 knockdown blocks in 947 snaps during the season.
In returning to Alabama for the 2022 season, Ekiyor joins linebacker Henry To'o To'o, defensive lineman Byron Young, safety Jordan Battle, nose guard DJ Dale and safety DeMarco Hellams.