Florida offensive guard O'Cyrus Torrence questionable for LSU game with injury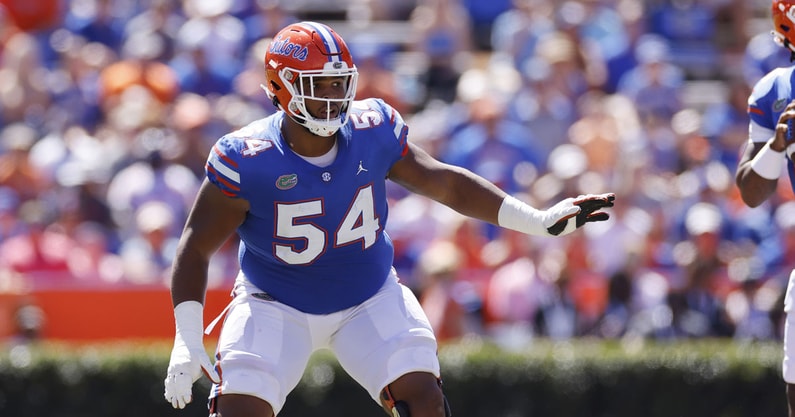 Florida could be without one of its top players for this weekend's home matchup with LSU. Offensive guard O'Cyrus Torrence has been listed as questionable for the game on the team's official depth chart, which is released on Wednesday evenings.
The depth chart lists Torrence as questionable with a lower body injury.
"I think we'll be OK," coach Billy Napier said on Wednesday evening. "We're just telling you the truth. He's a guy who hasn't participated 100% in practice and we'll make some decisions over the next couple of days."
A transfer from Louisiana, Torrence has had a huge impact up front for the Gators. He's arguably been the team's top lineman on a unit that has relied heavily on the run so far this season.
Florida currently ranks 19th nationally in rushing offense, averaging 213.0 yards per game.
The Gators would like to have a little more balance to the offense coming off a season-low in passing yardage in a 24-17 win over Missouri. Starting quarterback Anthony Richardson threw for just 66 yards against the Tigers.
But having the luxury of the run game to fall back on has certainly been big for the first-year starter. That could be in jeopardy if Torrence, a road-grader inside at right guard, can't play this weekend.
O'Cyrus Torrence questionable, others listed on injury report
The inclusion of the O'Cyrus Torrence injury wasn't the only notable listing for the Gators ahead of the annual showdown with the Tigers, which has typically produced plenty of drama.
In addition to Torrence being questionable, freshman tight end Arlis Boardingham has also been listed as questionable with an upper-body injury. He has yet to appear in a game this season.
Meanwhile, a handful of players have already been ruled out.
Among those who will not play against LSU are freshman cornerback Devin Moore (upper body), junior linebacker Diwun Black (lower body), junior starting long snapper Marco Ortiz (upper body) and redshirt freshman tight end Nick Elksnis (upper body).
Florida and LSU are set to kick off at 7 p.m. ET on Saturday with a national broadcast on ESPN.