On3 No. 1 TE Jaden Reddell reportedly sets three official visits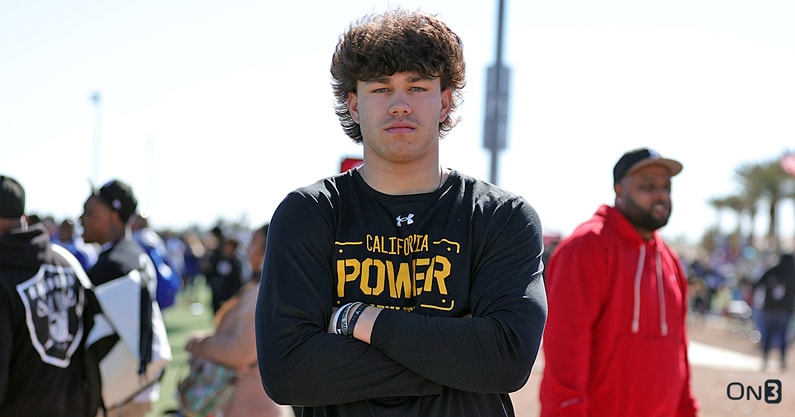 Raymore (Mo.) Raymore-Peculiar four-star tight end Jaden Reddell will be busy on three consecutive weekends in June. According to Steve Wiltfong of 247 Sports, Reddell has locked in official visits to Tennessee (June 2), Alabama (June 9) and Georgia (June 16).
Reddell is the No. 58 overall prospect and No. 3 tight end in the 2024 cycle, according to the On3 Industry Ranking, a weighted average that utilizes all four major recruiting media companies. He is also the No. 3 player in Missouri.
On3 rates Reddell higher than other recruiting services, according to the Industry Comparison. Per the 2024 On300, he is the No. 31 overall prospect, No. 1 tight end and No. 2 player in Missouri.
"I want to go a school that's for (the) development of tight ends, a school for tight ends," Reddell told On3's Chad Simmons on Jan. 17. "I like to win."
Reddell discusses his interest in Georgia and Tennessee
The 6-foot-4, 230-pound recruit recently visited the Bulldogs on the weekend of March 18. Georgia already has a commitment from Moultrie (Ga.) Colquitt County five-star tight end Landen Thomas.
"I got the full visit experience at Georgia on this visit," Reddell shared with Simmons on March 22. "I got to spend time with the coaches, watch practice, tour the campus, see the facilities and it easily met my expectations. The overall visits exceeded my expectations. I was very impressed with Georgia and it was a great visit all around."
"Me and coach Hartley have a great connection," he added. "We talk at least once a week, we text throughout the week and he is a great coach with a great personality.
"We sat down and had some one-on-one time and it was great. He showed me how I would be used. We went over how my skills are like (Brock) Bowers' in Georgia's offense and it was great."
Meanwhile, Reddell returned to Tennessee on the weekend of April 1. He was last in Knoxville on Oct. 15 for the Volunteers' win over Alabama.
"I went to the Tennessee-Alabama game and that was great, my first college visit and I couldn't ask for a better visit," Reddell told On3's Sam Spiegelman on March 14. "After the game, we got to rush the field, it was a cool experience."
"I want to meet the new TE coach (Alec Abeln) in-person and talk to him and see how he coaches," he added.
In addition to Georgia and Tennessee, the four-star has recently visited other programs. They include Nebraska (March 24) and Notre Dame (March 25).