Kirby Smart gives blunt assessment on state of golf game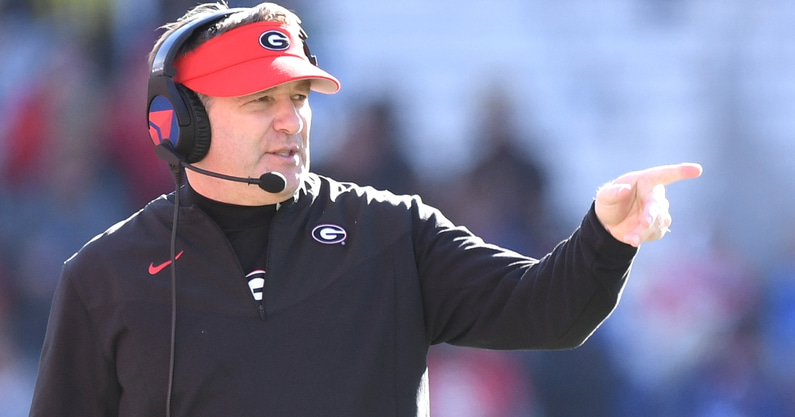 Georgia Bulldogs head football coach Kirby Smart doesn't get to play a ton of golf nowadays, especially coming off of a National Championship last season. Earlier in the week, Smart participated in the 2022 Peach Bowl Challenge charity golf tournament alongside Tommy Tuberville.
Smart and Tuberville finished in fourth place with a combined final score of +44. Following the tournament, Smart assessed the state of his golf game and revealed how often he has played lately in comparison to during COVID.
"My golf game was never very good, so COVID probably helped my golf game because we had a lot more time on our hands and downtime," Smart said. "We couldn't work with the student athletes, so I got to play more. Since COVID and recruiting started back up, it's non-existent. So it went from non-existent, to winning the National Championship, to remaining non-existent."
CLICK HERE to get 30% OFF your Georgia Bulldogs National Championship apparel
By coming in fourth place in the 2022 Peach Bowl Challenge, Smart earned $12,500 that will be donated to The Kirby Smart Foundation, and Tuberville earned the same amount for the Tommy Tuberville Foundation.
Smart was also pranked before his round, as his ball was replaced with a fake one that exploded upon impact while hitting on the driving range.
Smart also has some go-to shows to watch in his downtime
When Smart does have some downtime now, he likes to watch some shows on Netflix and other platforms. Following the golf tournament this week, Smart broke down some of his favorite shows to watch when he's not coaching the Bulldogs.
"We've done Ozark, we've done Yellowstone, we've done 1883, it's off of Yellowstone," Smart said. And we've done a couple others recently to kind of look around. Anatomy of a Scandal and a couple others, but we go with Ozark and Yellowstone mostly."
Smart and the Bulldogs will be looking to repeat as national champions next season. Georgia has won six bowl games under Smart, dating back to 2016. Smart is 66-15 in his career as Georgia's head coach, and he hopes to add even more wins on top of that next season.
The Bulldogs begin the 2022 season on Saturday, September 3 against Oregon in a rematch against former Georgia defensive coordinator Dan Lanning, who is now the Ducks' head coach.