Kirby Smart reveals the one golfer he'd like to play a round with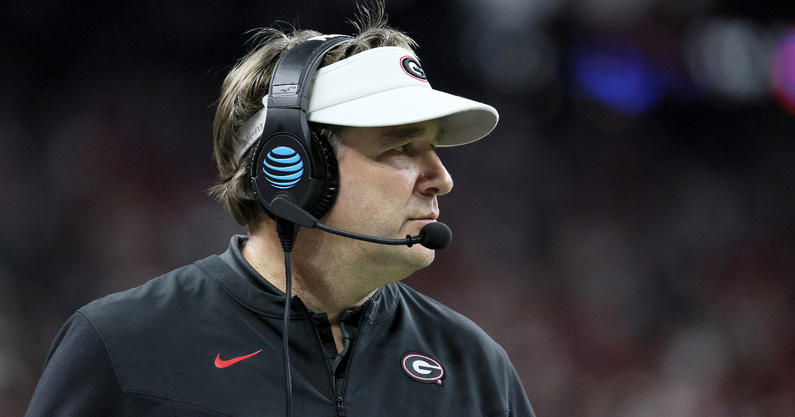 Although Kirby Smart's golf game is admittedly lacking, the Georgia Bulldogs head coach still loves to play. While hitting the course for a round of 18 last week, Smart revealed who he'd like to play golf with if he could pick anyone.
"I don't know, I'd probably play with Tiger Woods," Smart said. "He's always been almost exactly my age, we were born the same month, same year. I've always followed him and admired him. His comeback and climb have really been incredible. The last Masters he won. As a college student, I was going and I was watching him win the Masters. It's really been cool to watch that."
The reporter also asked Smart which professional golfer he typically roots for when he watches the sport in his free time.
"I pull for all the Georgia golfers," Smart said. "I pull for the guys I've known and been around. Justin Thomas was at Alabama when I was there, so I have a lot of respect for him."
CLICK HERE to get 30% OFF your Georgia Bulldogs National Championship apparel
This week, the national championship-winning head coach competed at the Regions Tradition pro-am golf tournament at Greystone Golf and Country Club in Birmingham, Ala. Smart and Nick Saban reportedly had $1,000 on Wednesday's round, at least according to Smart.
Smart and Saban were just two of many SEC figures playing in the pro-am. Auburn head football coach Bryan Harsin, Alabama head basketball coach Nate Oats and Tiger legends Bo Jackson and Charles Barkley also participated.
Kirby Smart rags on rusty golf game
Smart didn't get to play much golf as he took his team to a National Championship last season. However, last week, Smart participated in the 2022 Peach Bowl Challenge charity golf tournament alongside Tommy Tuberville.
The duo finished in fourth place with a combined final score of +44. Following the tournament, Smart assessed the state of his golf game and revealed how often he has played lately in comparison to during COVID.
"My golf game was never very good, so COVID probably helped my golf game because we had a lot more time on our hands and downtime," Smart said. "We couldn't work with the student athletes, so I got to play more. Since COVID and recruiting started back up, it's non-existent. So it went from non-existent, to winning the National Championship, to remaining non-existent."
By coming in fourth place in the 2022 Peach Bowl Challenge, Smart earned $12,500 that goes to The Kirby Smart Foundation, and Tuberville earned the same amount for the Tommy Tuberville Foundation.
He was also pranked before his round, as his ball was replaced with a fake one that exploded upon impact while hitting on the driving range.