Kansas State QB Adrian Martinez remains 'game-time decision' for Texas game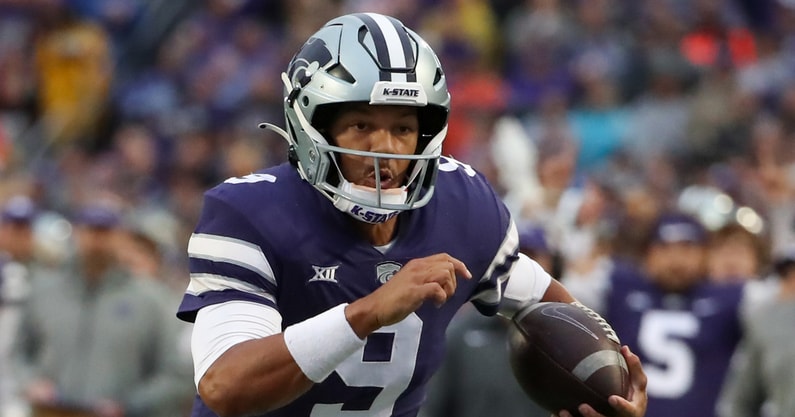 Kansas State isn't ready to declare who will start Saturday's game against Texas. Wildcats quarterback Adrian Martinez will be a game-time decision once again, offensive coordinator Collin Klein announced Thursday.
Martinez is dealing with a leg injury and missed last week's 48-0 blowout of Oklahoma State with the injury. Now, his status is again up in the air with Texas looming on Saturday. If he can't go, Will Howard could jump back under center after leading the Wildcats to a massive win over the Cowboys last week.
CLICK HERE to subscribe for FREE to the On3 YouTube channel
Martinez, a transfer from Nebraska, is putting together a solid year for Kansas State. He has thrown for 904 yards and four touchdowns in the air while contributing 565 rushing yards and nine touchdowns on the ground in seven games. He was also a game-time decision last week against Oklahoma State before ultimately missing the matchup.
Steve Sarkisian breaks down preparing for two Kansas State QBs
The Texas Longhorns defense has a unique challenge coming off of their bye week as they take on No. 13 Kansas State on the road this Saturday. Wildcats starting quarterback Adrian Martinez suffered an injury two games ago, and his backup Will Howard is fresh off of a dominant performance in his first start of the season versus Oklahoma State.
It's still unclear who will be K-State's starter this week, forcing the Longhorns to prepare for two quarterbacks instead of one, as head coach Steve Sarkisian broke down the two QBs ahead of their game.
"I think one the experience of each Adrian Martinez you can't discount, started a lot of football games, started a lot of games at Nebraska," Sarkisian said. "I think he's taken his game to another level now at Kansas State, he's protecting the ball much better than he ever has, he's obviously an elite runner from the quarterback position and a more than capable passer."