WATCH: Brian Kelly weighs in on NIL, discusses sustainability of 'mega deals'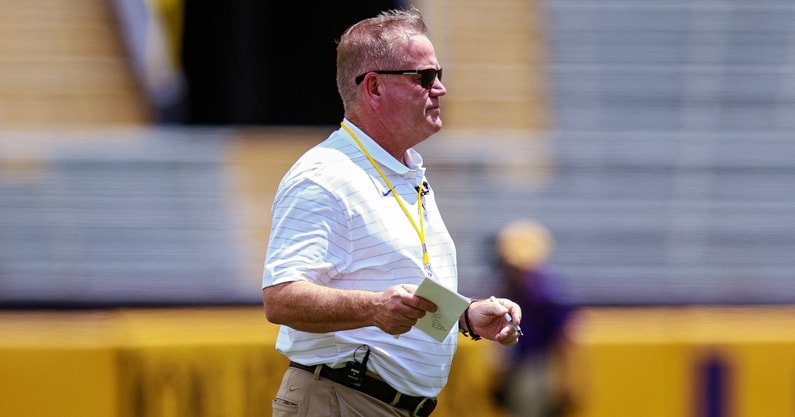 The state of NIL is an interesting one and a topic of conversation around college football. LSU head coach Brian Kelly weighed in with his thoughts this week and brought up "mega deals."
Kelly, speaking during a visit to Shreveport, Louisiana, addressed NIL and what's happening around the game. He pointed to the "mega deals" and said those aren't sustainable. Instead, he said schools and programs should be putting their resources toward "short money" to help their players reach their goals of "big money" in the NFL.
"If we can help a young man with transportation for his family to the game or getting around during the week — remember, they're getting educational grant money now," Kelly said. "They're getting cost of attendance. They're in a much better place than they have been at any time. So if they can add a little bit more to that through name, image and likeness and understand that that's short money and the real big money — like [Derek] Stingley, for example — and you focus on that, then they're going to be in a really good position."
The NIL and the transfer portal are two huge parts of the current college football landscape. Both are at the forefront of discussion after Pittsburgh star wide receiver Jordan Addison put his name into the portal amid rumors of an NIL deal waiting for him if he heads to USC.
As that goes on, college football leaders are reportedly starting to look into the role of NIL collectives. Discussions are ongoing about potential rule changes about recruiting, according to Sports Illustrated's Ross Dellenger reported.
"College leaders are gearing up to issue a warning to hundreds of wealthy boosters who are using name, image and likeness (NIL) ventures to involve themselves in recruiting," Dellenger wrote in a Wednesday story.