LSU's Mason Taylor recalls highs and lows of his freshman season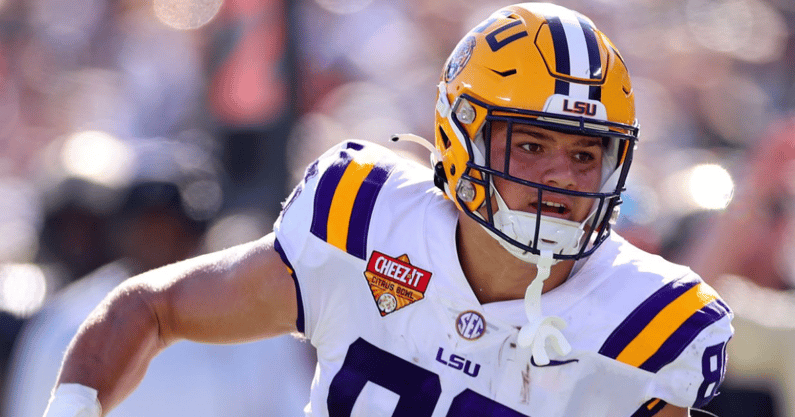 Mason Taylor showed a lot during his freshman season at LSU. As an effective piece of the Tiger's passing game, he got to see and experience all kinds of things en route to an SEC Championship appearance and a Citrus Bowl victory.
Now, Taylor shared his thoughts about his first year of collegiate football in an interview on 'Bussin' With The Boys'. He said that he had to learn quickly that college was a whole new ball game but that he truly enjoyed every part of the experience.
"The whole season was crazy. Coming from high school? It was 100% different from how you prepare, the games, the crowd…But the whole season was amazing," said Taylor. "Through the ups and downs, your bad games and your good games. The 'Bama game was insane. And after that was even more fun. But the whole season, the whole experience has been awesome. A great ride and I'm looking forward to next year too."
Still, there are some not-so-glamorous things that come with that spotlight. In the interview, Taylor hit on the idea of criticism, specifically from fans and on social media. He went on to share his experiences with it, what makes it so hard to handle, and how he did end up powering through it over the course of the year.
"The first wake-up call to college was probably after the first game. I've gotten so many hate comments and DMs. My phone was blowing up," Taylor said. "That was my big wake-up and welcome to college football. Just a bunch of people talking s*** about you or whatever."
"At first…you kind of try to defend yourself," continued Taylor. "But more than half the people don't know what they're talking about. That's a big thing. But, basically, just looking at your support. Your teammates and coaches like this is the only people we need, the only people we have besides our family…I just let it brush off my shoulders now. I really don't mind it at all…The tough part is trying not to respond back."
When you look back, it's hard to find too much to come at Taylor for considering all things. In his first season, he finished third at LSU in receptions (38) and receiving yards (414) and fourth in receiving touchdowns (3). If nothing else, he showed he could be a valuable offensive piece for them as he continues his development.
That growth will continue this spring and head into next fall where, to Taylor, he has one game circled for the Tigers considering what they left on the table a year ago.
"Florida State. 100%," Taylor answered as his most anticipated matchup. "The way we lost last year was brutal. And I think we have a lot to prove this year. When we played them last year? It was our first time all together. New staff, a bunch of new players. So definitely Florida State."
It sounds as though Taylor had the typical greeting into college athletics with what all took place in 2022. With all that under his belt, though, he should now be even more prepared to take the next step in his career in 2023 down in Baton Rouge.