Paul Finebaum hammers LSU following NFL Draft results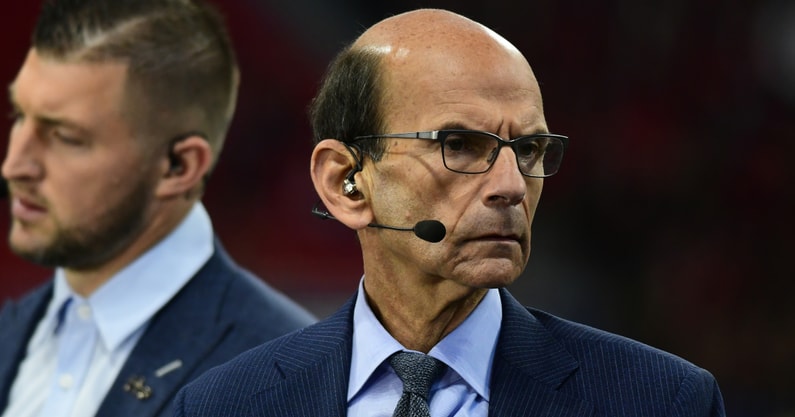 One of the more impressive stats to come out of the 2022 NFL Draft was Georgia, which set a record with 15 draft picks. It makes sense since the Bulldogs won the national championship last season and had the most dominant defense in the FBS.
But an unexpected team had the second-most picks — and Paul Finebaum wasn't impressed.
LSU, which finished 6-7 last year, had 10 players go to the NFL. Alabama — the runner-up in the national title game — saw seven players from that roster head to the league.
Finebaum tweeted a graphic from his show breaking down those stats, and he hammered the Tigers in the process.
"Similar talent levels…different results," he tweeted. "How do you explain what happened here?"
Derek Stingley Jr. was the first LSU player off the board, going No. 3 overall to the Houston Texans while lineman Ed Ingram went in the second round to the Minnesota Vikings. But six of the 10 picks from LSU came on the final day of the draft in rounds 4-7, including kicker Cade York, who went to the Cleveland Browns as a fourth-round pick.
By comparison, all seven Alabama players were off the board by the end of round four, including four picks in the second round. Lineman Evan Neal and wide receiver Jameson Williams were both first-round selections and the first Crimson Tide players off the board.
2022 NFL Draft: Georgia defense sets impressive first round record
The Georgia defense was the best in college football last year. It certainly looks like the NFL took notice.
Five Bulldogs defenders were taken in the first round of the 2022 NFL Draft — a new record. Florida State and Miami held the previous record with four in 2006 and 2004, respectively.
Travon Walker was the first Georgia player off the board. Well, he was the first overall player off the board, going to the Jacksonville Jaguars as this year's No. 1 pick. Jordan Davis went No. 13 overall to the Philadelphia Eagles, who traded up to get him. The Green Bay Packers took the duo of Quay Walker and Devonte Wyatt with their two picks, and the Minnesota Vikings closed out the opening round by drafting safety Lewis Cine with the No. 32 overall selection.
Georgia held opposing teams to just 10.2 points per game — the best in the FBS last season by more than four points. The Bulldogs also ranked second in total defense with 267.9 yards allowed per game, and still have some prospects left on the board. Most notably, Nakobe Dean is still available, and he'll likely hear his name called Friday when the second and third rounds get underway in Las Vegas.