Urban Meyer says recruiting is key to Matt Rhule's success at Nebraska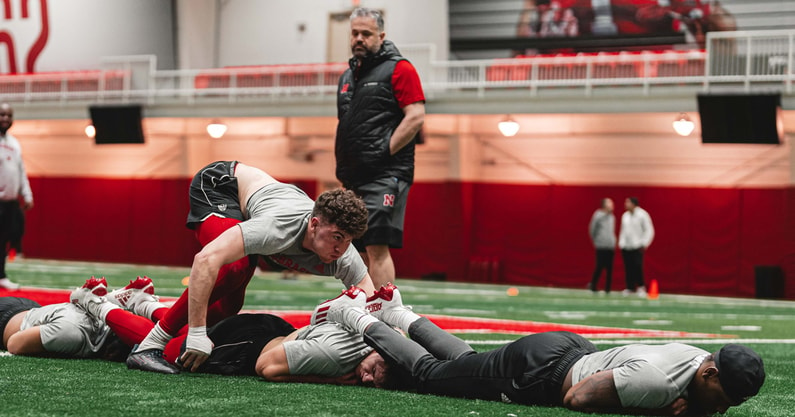 As new Nebraska coach Matt Rhule gets underway at Nebraska, he'll have plenty of challenges.
Former Ohio State coach and three-time national champion Urban Meyer believes one of those challenges is considerably more important than most others: recruiting.
"I think it changed when Nebraska went to the Big Ten," Meyer said. "I think recruiting took a hit. I don't think, I know. You just look at the numbers."
Meyer made that claim on The Hard Count with JD PicKell, and he provided ample reasoning for it. It all stems from the availability of athletes.
The former Ohio State coach pointed out that the Midwest corridor used to provide programs with a ton of great recruits. But Meyer noted those recruits became tougher to pull for Nebraska when the Big Eight and even the Big 12 began to splinter.
As Arkansas, Missouri and Texas A&M eventually left for the SEC, Nebraska left for the Big Ten and Colorado left for the Pac-12, it became harder to sell recruits in those footprint areas.
Why? Because you'd still have some pull with parents if you played a program in their area annually. When those matchups disappeared, though, it became harder to convince them to send their sons to Nebraska.
Which is a shame, Meyer noted, because Nebraska still has plenty of natural advantages in recruiting.
"Nebraska is a great school, arguably one of the top three or four fanbases in America, great facilities," he told PicKell. "They've had good coaches. It's can they recruit the quality athlete? Because Nebraska going to play Penn State, Michigan State, that's not the same allure when Nebraska played Oklahoma, Texas and Oklahoma State."
Can Matt Rhule overcome that hurdle? It'll certainly be interesting to watch.
Nebraska's 2024 recruiting class currently ranks 25th in the country. Of course, Rhule hasn't had a whole lot of time just yet to build relationships and begin putting the class together.
The past few classes for Nebraska?
They've ranked 29th (2023), 40th (2022), 23rd (2021), 20th (2020) and 17th (2019).
There's a clear trend in the wrong direction there, though it's one that coincides with things going south on the field for former coach Scott Frost. And that's kind of the rub.
Nebraska has to do well enough in recruiting to have success, but do the recruiting results have to precede the results on the field? That remains to be seen.
But Meyer is underscoring the importance of recruiting well in Rhule lasting in Lincoln.