Mack Brown weighs in on pressure placed on transfer quarterbacks to perform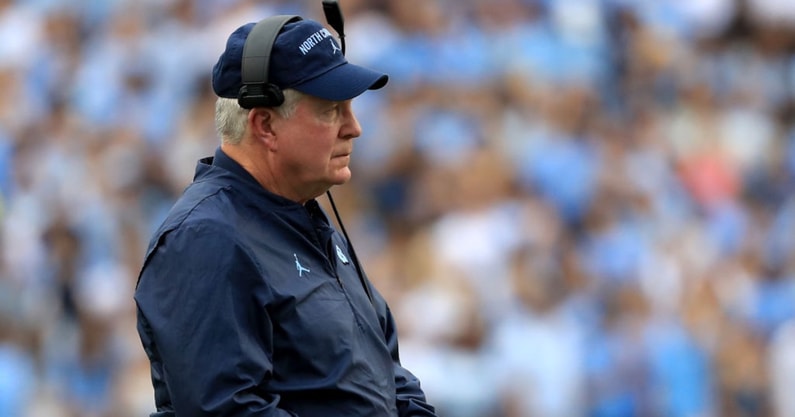 Mack Brown couldn't say enough good things about former USC quarterback tuned Pittsburgh signal caller Kedon Slovis ahead of facing the Panthers on Saturday.
Speaking with the media, the North Carolina leader weighed in on the pressure placed on transfer quarterbacks like Slovis to perform immediately, sympathizing with the immense expectations placed on their shoulders.
CLICK HERE to subscribe for FREE to the On3 YouTube channel
"I relate it to a rookie quarterback that goes into a franchise," began Brown. "You take Peyton Manning, and he didn't win any games early. You take Troy Aikman, they didn't win any games. The expectation are there, because they're the No. 1 pick, but it takes awhile. With this young man, you've got a new coordinator. This team took Tennessee, who's one of the best teams in the country, to overtime. So they're obviously a very talented team. He got hurt, on top of that. He's really, really talented and really good. So a lot of times, modern day, we were talking about patience. Our expectations get out of control with young people. 
"We've seen that with some of our recruits. People are saying, 'What's wrong? Why isn't he out there?' Well, these are human beings that are 17, 18 years old, and they're not ready to play yet. There's a process, and it takes awhile. But he's very, very talented, he's got a great arm, he was talented enough to be recruited at USC, and play. So we're very concerned about his ability to throw the ball."
While expectations may have been high for Kedon Slovis coming to Pittsburgh, an uneven season filled with injuries and a couple disappointing losses have led the Panthers to a 4-3 record. Still, they've had some great performances this season, and Mack Brown and company will be hoping to limit their opponents come Saturday night.
Mack Brown calls Pittsburgh's Israel Abanikanda 'the best running back in the country'
Moreover, the North Carolina Tar Heels have had extra time to prepare for Week 9 opponent the Pittsburgh Panthers, as they're coming off a bye week. It's extra preparation they'll need to try to limit Pitt star running back Israel Abanikanda.
On Monday, Tar Heels head coach Mack Brown called Abanikanda the best running back in the country.
"Pat (Narduzzi) loves to run the ball and be physical, they've got the best running back in the country, he's leading the nation in rushing," Brown said. 
Brown says Abanikanda leads the nation, which he does in rushing touchdowns with 13, however, he's fourth in rushing yards per game (137) and total yards (959). Through seven games, the 5-foot-11, 215-pound back is averaging 6.1 yards per carry.
Despite his overall statistics, Abanikanda has proven to be fallible. He suffered a shoulder injury in the Panthers' loss versus Georgia Tech and finished with 10 carries for just 31 yards. He also had just 15 yards in the season opener versus West Virginia. All of his other performances this season, however, have been 125+ yard games. Abanikanda's best performance so far came against Virginia Tech. He had 320 yards on 36 carries with six touchdowns.
"He's so thick and he's really hard to tackle," Brown said. "He's got really good patience and he just breaks so many tackles and when he breaks a tackle he goes for explosive plays. You don't rush for 320 yards unless you're really good… He's so impressive."