Paul Finebaum rips Notre Dame's No. 5 ranking in preseason AP Top 25: 'It's laughable'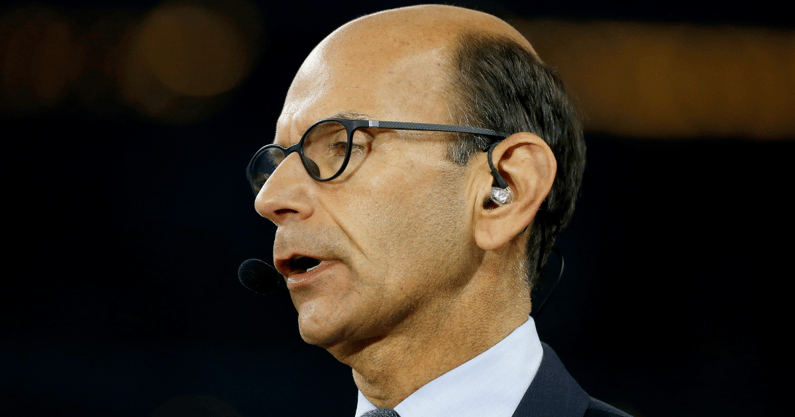 When the preseason AP Top 25 dropped on Monday, Notre Dame came in at No. 5. That means the Week 1 matchup with Ohio State is a top-five matchup — but not everyone thinks the Fighting Irish should've been ranked that high.
SEC Network host Paul Finebaum joined "Get Up" on ESPN Tuesday morning and ripped the voters for ranking Notre Dame in the top five. He pointed to that opening matchup with No. 2 Ohio State as a reason why he didn't like it, saying the Fighting Irish are going to get run out of The Horseshoe — not The Big House, as he called it during the answer — in their season opener.
"They should not even be in the top 10, Greeny," Finebaum said. "This is an absolute joke, and it happens every year with the AP poll, which is just as worthless as preseason NFL football. It's ridiculous.
"Notre Dame is going to get run in the first game of the season. They're going to get destroyed at [The Horseshoe] and then, after that, they have to go to North Carolina a couple weeks later … they have Clemson on the schedule and they have [USC]. They'll be fortunate to go 9-3. Laughable that they're in the top five or six."
Finebaum even went one step further later in the interview when talking about how impactful that opening night matchup with Ohio State will be for the College Football Playoff picture.
"I think we can eliminate Notre Dame today," Paul Finebaum said. "We don't have to wait until the first week of the CFP."
Notre Dame underwent multiple changes this offseason, notably at head coach. Marcus Freeman is in at head coach after Brian Kelly departed for LSU and last year's starting quarterback, Jack Coan, is now in the NFL. Last week, Freeman named sophomore Tyler Buchner the starting quarterback for the season-opening matchup against the Buckeyes, which is set for Sept. 3 at 7:30 p.m. ET on ABC.