Ohio State adding former NFL head coach Joe Philbin to staff as analyst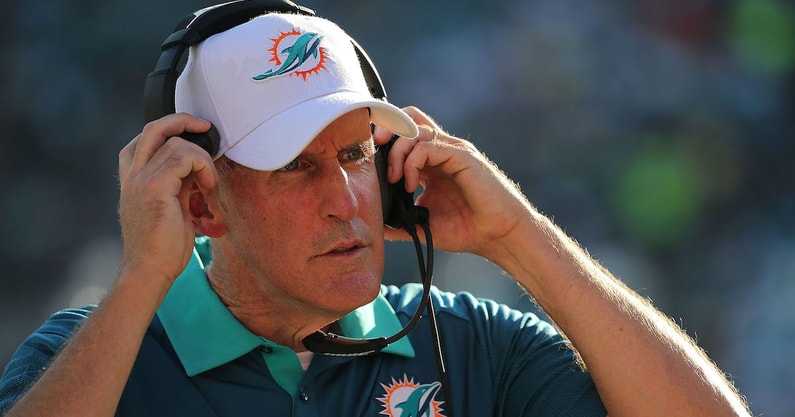 Ohio State and head coach Ryan Day have brought some Super Bowl winning experience to the coaching staff in Columbus. The Buckeyes have hired former Miami Dolphins head coach Joe Philbin to join the staff as an offensive analyst, according to On3's Matt Zenitz
Philbin won a Super Bowl with the Green Bay Packers as an offensive coordinator during the 2011 season. He was most recently the offensive line coach for the Dallas Cowboys.
Philbin has been a football coach for nearly 40 years, coaching predominantly along the offensive line. He jumped from Iowa to the NFL ranks in 2003, becoming and assistant offensive line coach for the Packers, staying with the franchise through the 2010 Super Bowl season. During his five years as the Packers offensive coordinator (2007-11), Philbin oversaw an offense that finished Top 10 in the league in points scored and total yards.
From there, Philbin became the Dolphins head coach, where he lasted until 2015. Philbin was fired following a 1-3 start to the 2015 campaign. His interim replacement, Dan Campbell, is the current head coach of the Detroit Lions.
Philbin was one of eight coaches ultimately let go by Dallas after losing in the playoffs. He wasn't fired, per se, but his contract was up and one or both sides clearly didn't have a desire to renew the deal. The Cowboys eventually hired Mike Solari as a replacement.
In a league where winning in the trenches is necessary to win at all, the Buckeyes and Day are betting on Philbin to give them a jolt as Ohio State retools the offensive line.
Ohio State is one of two Big Ten teams projected to hit 10 wins, according to the ESPN FPI
Ohio State and Michigan are the only two teams in the conference with a projected win total of 10 or more.
Below are the Big Ten teams ranked by the Football Power Index, followed by the projected win-loss records for 2023.
1. Ohio State – FPI: 31.5, Record: 11.8-1.0
2. Michigan – FPI: 21.4, Record: 10.0-2.1
3. Penn State – FPI: 17.5, Record: 9.3-2.7
4. Wisconsin – FPI: 12.3, Record: 8.6-3.8
5. Michigan State – FPI: 8.7, Record: 6.9-5.1
6. Minnesota – FPI: 7.7, Record: 6.5-5.7
7. Iowa – FPI: 7.3, Record: 7.4-4.8
8. Maryland – FPI: 5.6, Record: 6.6-5.4
9. Illinois – FPI: 5.5, Record: 6.8-5.4
10. Purdue – FPI: 4.4, Record: 5.4-6.7
11. Nebraska – FPI: 3.1, Record: 5.7-6.3
12. Northwestern – FPI: -1.1, Record: 4.9-7.2
13. Indiana – FPI: -2.9, Record: 3.9-8.1
14. Rutgers – FPI: -3.2, Record: 4.1-7.9