Former UCF running back Bentavious Thompson commits to Oklahoma for 2022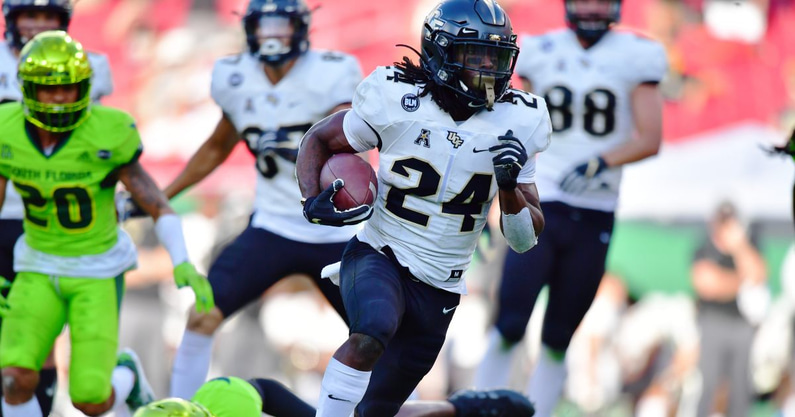 Former University of Central Florida running back Bentavious Thompson has announced his commitment for the 2022 season. Thompson will head to Norman to join the Oklahoma Sooners and reunite with former Knights quarterback Dillon Gabriel. He made the announcement with this new profile picture.
Thompson spent the last four years with the Knights and played every season except for last year. In the three years prior to UCF's 2021 campaign, he recorded a total of 189 rushing attempts for 1,136 yards averaging 6 yards per carry. He also tacked on 13 rushing touchdowns for good measure. Heading into the 2021 season, Thompson was viewed as the likely starter at running back. But before the season could get underway, the Knights head coach Guz Malzhan announced that Thompson was no longer with the team.
The former three-star running back who played high school football for Southridge high school in Miami joins a crowded veteran Sooners backfield. Oklahoma still has senior running back Eric Gray and junior running back Marcus Major in the backfield before the 2022 season.
Transfer portal background information 
The NCAA Transfer Portal, which covers every NCAA sport at the Division I, II and III levels, is a private database with names of student-athletes who wish to transfer. It is not accessible to the public.
The process of entering the portal is done through a school's compliance office. Once a player provides written notification of an intent to transfer, the office enters the player's name in the database and everything is off and running. The compliance office has 48 hours to comply with the player's request and that request cannot be refused.
Once a player's name shows up in the portal, other schools can contact the player. Players can change their minds at any point and withdraw from the portal. However, once a player enters the portal, the current scholarship no longer has to be honored. In other words, if a player enters the portal but decides to stay, the school is not obligated to provide a scholarship anymore.
The database is a normal database, sortable by a variety of topics, including (of course) sport and name. A player's individual entry includes basic details such as contact info, whether the player was on scholarship and whether the player is transferring as a graduate student.
A player can ask that a "do not contact" tag be placed on the report. In those instances, the players don't want to be  contacted by schools unless they've initiated the communication.